Cyclo(Pro-Trp)
Cyclo(Pro-Trp) and cyclo(Phe-Pro) show broad spectrum antibacterial properties.
Inquire / Order: manager@chemfaces.com
Technical Inquiries: service@chemfaces.com
Tel: +86-27-84237783
Fax: +86-27-84254680

Address:
1 Building, No. 83, CheCheng Rd., Wuhan Economic and Technological Development Zone, Wuhan, Hubei 430056, PRC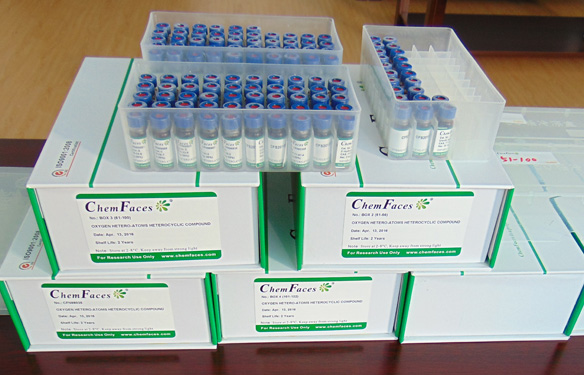 Providing storage is as stated on the product vial and the vial is kept tightly sealed, the product can be stored for up to
24 months(2-8C)
.
Wherever possible, you should prepare and use solutions on the same day. However, if you need to make up stock solutions in advance, we recommend that you store the solution as aliquots in tightly sealed vials at -20C. Generally, these will be useable for up to two weeks. Before use, and prior to opening the vial we recommend that you allow your product to equilibrate to room temperature for at least 1 hour.
Need more advice on solubility, usage and handling? Please email to: service@chemfaces.com
The packaging of the product may have turned upside down during transportation, resulting in the natural compounds adhering to the neck or cap of the vial. take the vial out of its packaging and gently shake to let the compounds fall to the bottom of the vial. for liquid products, centrifuge at 200-500 RPM to gather the liquid at the bottom of the vial. try to avoid loss or contamination during handling.
Psychopharmacology (Berl).2020, 10.1007
Universidade Estadual Paulista2017, 11449
Analytical sci. & Tech2016, 186-193
Nutrients.2019, 12(1)
Neuropharmacology.2018, 131:68-82
FEMS Microbiol Lett.2017, 364(11)
Universite de Bordeaux2017, 2017BORD0867
J Ethnopharmacol.2019, 235:406-414
Korean Journal of Pharmacognosy2018, 49(1):76-83
New Journal of Chemistry2019, 43:12538-12547
Pharmazie. 1999 Oct;54(10):772-5.
Antimicrobial activity of selected cyclic dipeptides.[Pubmed:
10563376
]
Cyclic dipeptides are products of rational drug design, which may exhibit both antimicrobial and antitumor properties. The aim of this study was to investigate both the antimicrobial effects of the cyclic dipeptides cyclo(L-phenylalanyl-L-prolyl), cyclo(L-tyrosyl-L-prolyl), cyclo(L-tryptophanyl-L-prolyl) and cyclo(L-tryptophanyl-L-tryptophanyl) and the effects of these cyclic dipeptides on the gastrointestinal epithelium in vitro. Furthermore, a relevant solvent for the possible pharmaceutical application of the products was sought concurrently.
METHODS AND RESULTS:
The antimicrobial effect of the cyclic dipeptides was assayed using the Kirby-Bauer disc diffusion assay against Escherichia coli, Pseudomonas aeruginosa, Klebsiella pneumoniae, Staphylococcus aureus, Bacillus subtilis, Streptococcus pneumoniae, Candida albicans, Aspergillus niger and Penicillium notatum. The effect of the cyclic dipeptides on the gastrointestinal epithelium was assessed by changes in alkaline phosphatase expression of HT-29 cells. Cyclo(Pro-Trp) and cyclo(Phe-Pro) show broad spectrum antibacterial properties and cyclo(Trp-Pro) and cyclo(Trp-Trp) show broad spectrum antifungal properties. The maturation of the gastrointestinal cells was enhanced by cyclo(Phe-Pro), cyclo(Tyr-Pro), cyclo(Trp-Trp) and cyclo(Trp-Pro).
CONCLUSIONS:
The activity of these cyclic dipeptides thus indicates potential application of these compounds as pharmacological agents.