Cyclo(L-Phe-L-Pro)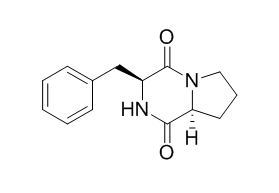 Cyclo(L-Phe-L-Pro) shows antifungal and broad spectrum antibacterial activities, it exhibits activity against methicillin-resistant S. aureus ATCC 43300 and Enterococcus raffinosus, with low toxicity against human hepatoma HepaRG cells.
Inquire / Order: manager@chemfaces.com
Technical Inquiries: service@chemfaces.com
Tel: +86-27-84237783
Fax: +86-27-84254680

Address:
1 Building, No. 83, CheCheng Rd., Wuhan Economic and Technological Development Zone, Wuhan, Hubei 430056, PRC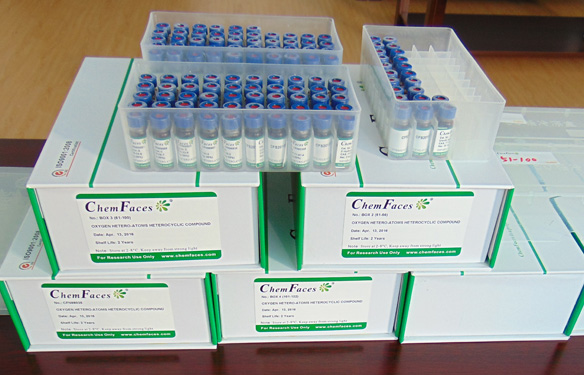 Providing storage is as stated on the product vial and the vial is kept tightly sealed, the product can be stored for up to
24 months(2-8C)
.
Wherever possible, you should prepare and use solutions on the same day. However, if you need to make up stock solutions in advance, we recommend that you store the solution as aliquots in tightly sealed vials at -20C. Generally, these will be useable for up to two weeks. Before use, and prior to opening the vial we recommend that you allow your product to equilibrate to room temperature for at least 1 hour.
Need more advice on solubility, usage and handling? Please email to: service@chemfaces.com
The packaging of the product may have turned upside down during transportation, resulting in the natural compounds adhering to the neck or cap of the vial. take the vial out of its packaging and gently shake to let the compounds fall to the bottom of the vial. for liquid products, centrifuge at 200-500 RPM to gather the liquid at the bottom of the vial. try to avoid loss or contamination during handling.
Molecules.2018, 23(2)
J Pharm Anal.2016, 6(6):363-373
FASEB J.2019, 33(8):9685-9694
University of Limpopo2016, 1-237
J Nat Prod.2015, 78(6):1339-4
Anat Rec2018, 24264
Food Research International2020, 108987
Chin J Pharm Anal.2019, 39(7):1217-1228
Nat Prod Commun.2018, 10.1177
Journal of Ginseng Research2019, 10.1016
Appl Environ Microbiol. 2002 Sep;68(9):4322-7.
Lactobacillus plantarum MiLAB 393 produces the antifungal cyclic dipeptides cyclo(L-Phe-L-Pro) and cyclo(L-Phe-trans-4-OH-L-Pro) and 3-phenyllactic acid.[Pubmed:
12200282
]
We have isolated a Lactobacillus plantarum strain (MiLAB 393) from grass silage that produces broad-spectrum antifungal compounds, active against food- and feed-borne filamentous fungi and yeasts in a dual-culture agar plate assay.
METHODS AND RESULTS:
Fusarium sporotrichioides and Aspergillus fumigatus were the most sensitive among the molds, and Kluyveromyces marxianus was the most sensitive yeast species. No inhibitory activity could be detected against the mold Penicillium roqueforti or the yeast Zygosaccharomyces bailii. An isolation procedure, employing a microtiter well spore germination bioassay, was devised to isolate active compounds from culture filtrate. Cell-free supernatant was fractionated on a C(18) SPE column, and the 95% aqueous acetonitrile fraction was further separated on a preparative HPLC C(18) column. Fractions active in the bioassay were then fractionated on a porous graphitic carbon column. The structures of the antifungal compounds Cyclo(L-Phe-L-Pro), cyclo(L-Phe-trans-4-OH-L-Pro) and 3-phenyllactic acid (L/D isomer ratio, 9:1), were determined by nuclear magnetic resonance spectroscopy, mass spectrometry, and gas chromatography. MIC values against A. fumigatus and P. roqueforti were 20 mg ml(-1) for Cyclo(L-Phe-L-Pro) and 7.5 mg ml(-1) for phenyllactic acid.
CONCLUSIONS:
Combinations of the antifungal compounds revealed weak synergistic effects. The production of the antifungal cyclic dipeptides Cyclo(L-Phe-L-Pro) and cyclo(L-Phe-trans-4-OH-L-Pro) by lactic acid bacteria is reported here for the first time.
J Microbiol Biotechnol. 2017 Jul 28;27(7):1249-1256.
Isolation, Purification, and Characterization of Five Active Diketopiperazine Derivatives from Endophytic Streptomyces SUK 25 with Antimicrobial and Cytotoxic Activities.[Pubmed:
28535606
]
In our search for new sources of bioactive secondary metabolites from Streptomyces sp., the ethyl acetate extracts from endophytic Streptomyces SUK 25 afforded five active diketopiperazine (DKP) compounds.
METHODS AND RESULTS:
The aim of this study was to characterize the bioactive compounds isolated from endophytic Streptomyces SUK 25 and evaluate their bioactivity against multiple drug resistance (MDR) bacteria such as Enterococcus raffinosus, Staphylococcus aureus, Klebsiella pneumoniae, Acinetobacter baumanii, Pseudomonas aeruginosa, and Enterobacter spp., and their cytotoxic activities against the human hepatoma (HepaRG) cell line. The production of secondary metabolites by this strain was optimized through Thornton's medium. Isolation, purification, and identification of the bioactive compounds were carried out using high-performance liquid chromatography, high-resolution mass liquid chromatography-mass spectrometry, Fourier transform infrared spectroscopy, and nuclear magnetic resonance, and cryopreserved HepaRG cells were selected to test the cytotoxicity. The results showed that endophytic Streptomyces SUK 25 produces four active DKP compounds and an acetamide derivative, which were elucidated as cyclo-(L-Val-L-Pro), cyclo-(L-Leu-L-Pro), Cyclo(L-Phe-L-Pro), cyclo-(L-Val-L-Phe), and N-(7-hydroxy-6-methyl-octyl)-acetamide. These active compounds exhibited activity against methicillin-resistant S. aureus ATCC 43300 and Enterococcus raffinosus, with low toxicity against human hepatoma HepaRG cells.
CONCLUSIONS:
Endophytic Streptomyces SUK 25 has the ability to produce DKP derivatives biologically active against some MDR bacteria with relatively low toxicity against HepaRG cells line.