Tuberosin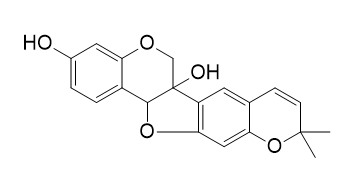 Tuberosin shows anti-inflammatory and antioxidant activities.It demonstrated a significantly potent inhibition on yeast α-glucosidase in a dose dependent manner.
Inquire / Order: manager@chemfaces.com
Technical Inquiries: service@chemfaces.com
Tel: +86-27-84237783
Fax: +86-27-84254680

Address:
1 Building, No. 83, CheCheng Rd., Wuhan Economic and Technological Development Zone, Wuhan, Hubei 430056, PRC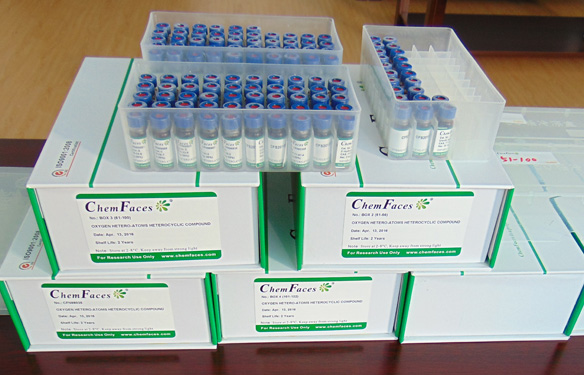 Providing storage is as stated on the product vial and the vial is kept tightly sealed, the product can be stored for up to
24 months(2-8C)
.
Wherever possible, you should prepare and use solutions on the same day. However, if you need to make up stock solutions in advance, we recommend that you store the solution as aliquots in tightly sealed vials at -20C. Generally, these will be useable for up to two weeks. Before use, and prior to opening the vial we recommend that you allow your product to equilibrate to room temperature for at least 1 hour.
Need more advice on solubility, usage and handling? Please email to: service@chemfaces.com
The packaging of the product may have turned upside down during transportation, resulting in the natural compounds adhering to the neck or cap of the vial. take the vial out of its packaging and gently shake to let the compounds fall to the bottom of the vial. for liquid products, centrifuge at 200-500 RPM to gather the liquid at the bottom of the vial. try to avoid loss or contamination during handling.
Front Nutr.2021, 8: 687851.
Chem Pharm Bull (Tokyo).2017, 65(9):826-832
Biomed Pharmacother.2022, 145:112410.
J Biol Chem.2021, 297(6):101362.
ACS Synth Biol.2020, 9(9):2282-2290.
Int J Mol Sci.2022, 23(13):7115.
Tumour Biol.2015, 36(9):7027-34
Sains Malaysiana2022, 51(4):1143-1154
Biochem Biophys Res Commun.2018, 505(4):1148-1153
Antioxidants.2022, 11(3):592.
Nat Prod Res. 2014;28(23):2111-27.
Pueraria tuberosa: a review on its phytochemical and therapeutic potential.[Pubmed:
24980468
]
Pueraria tuberosa (Willd.) DC is a perennial herb commonly known as 'vidarikanda', distributed throughout south east Asia.
METHODS AND RESULTS:
The plant's tuber is widely used in ethanomedicine as well as in traditional systems of medicine, particularly in ayurveda. It has been used in various ayurvedic formulations as restorative tonic, antiaging, spermatogenic and immune booster and has been recommended for the treatment of cardiovascular diseases, hepatosplenomegaly, fertility disorders, menopausal syndrome, sexual debility and spermatorrhoea. Numerous bioactive phytochemicals, mostly isoflavonoids such as puerarin, genistein, daidzein, Tuberosin and so on have been identified in the tuber. In vivo and in vitro studies have provided the support against traditional demands of the tuber as spermatogenic, immune booster, aphrodisiac, anti-inflammatory, cardiotonic and brain tonic. However, further studies are required to define the active phytochemical compositions and to validate its clinical utilisation in the herbal formulations for human uses.
CONCLUSIONS:
This review provides an overview of traditional applications, current knowledge on the phytochemistry, pharmacology and toxicology of P. tuberosa. This review also provides plausible hypotheses about how various isoflavones particularly puerarin, genistein and daidzein, individually or collectively, may be responsible for the therapeutic potential against a wide range of ailments.
J Inflamm (Lond). 2010 Sep 14;7:47.
Antioxidant activity of tuberosin isolated from Pueraria tuberose Linn.[Pubmed:
20836891
]
Antioxidant activity of Pueraria tuberose DC, (PT) Leguminosae (Fabaceae) has already been reported by us and here an active compound has been isolated and its action on expression of iNOS protein has been explored by using LPS induced changes in attached rat peritoneal macrophage cell culture.
METHODS AND RESULTS:
The pure compound was isolated by column chromatography and its structure was characterized by spectral studies, which was identified as Tuberosin (5 hydroxy 3,4,7,3',4' pentamethoxy flavone). Its antioxidant capacity was determined and compared with alcoholic extract as EC50 value for scavenging potential towards pre-generated monocation ABTS* radical, superoxide radicals, hydroxyl radicals, metal chelation property and on lipid peroxidation. Further, rat peritoneal macrophages were isolated, cultured and the attached macrophages were exposed to lipopolysaccharide (LPS) with different concentrations of Tuberosin (pretreatment for 30 min). After 17 h the released NO content, in culture supernatant, was indirectly estimated as accumulated nitrite by Griess reagent. To understand the mechanism of action, the extent of expression of inducible nitric oxide synthase genes, the iNOS protein was assessed in macrophage lysate by using its antibody on western blot analysis. Tuberosin significantly scavenged all the species of FRs, described above and it also inhibited the LPS induced release of NO and amount of iNOS protein in macrophages. All the changes were significant and concentration dependent.
CONCLUSIONS:
Thus it could be suggested that Tuberosin, is one of the active principles of Pueraria tuberose, which directly scavenges various species of Free radicals (FRs) and also inhibits LPS induced inflammatory changes in macrophages.
J Agric Food Chem. 2010 Sep 22;58(18):9988-93.
Yeast α-glucosidase inhibition by isoflavones from plants of Leguminosae as an in vitro alternative to acarbose.[Pubmed:
20734984
]

METHODS AND RESULTS:
In the course of searching for new classes of α-glucosidase inhibitors originated from natural resources, 11 kinds of isoflavones, i.e., medicarpin (1), formononetin (2), mucronulatol (3), (3R)-calussequinone (5), (3R)-5'-methoxyvestitol (6), tectorigenin (7), biochanin A (8), Tuberosin (9), calycosin (10), daidzein (11), and genistein (12), as well as a flavone, liquritigenin (4), were isolated as active principles responsible for the yeast α-glucosidase inhibitory activity from two leguminous plant extracts, i.e., the heartwood extract of Dalbergia odorifera and the roots extract of Pueraria thunbergiana.
CONCLUSIONS:
Each components (1-12) demonstrated a significantly potent inhibition on yeast α-glucosidase in a dose dependent manner when the p-nitrophenyl-α-D-glucopyranoside was used as a substrate in vitro. The concentration required for 50% enzyme inhibition (IC50) were calculated as 2.93 mM (1), 0.51 mM (2), 3.52 mM (7) 0.35 mM (8), 3.52 mM (9), 0.85 mM (11), and 0.15 mM (12) when that of reference drug acarbose was evaluated as 9.11 mM, in vitro. However, isoflavone glycosides, i.e., puerarin (13), daidzin (14), formononetin-7-O-β-glucopyranoside (15), and genistin (16), exhibited a relatively poor inhibitory activity on yeast α-glucosidase as compared with the corresponding isoflavone (2, 11, 12), respectively.