Cyclo(Tyr-Pro)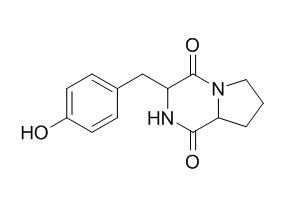 Cyclo(Tyr-Pro) shows antibacterial activity towards several marine bacterial species, it also shows weak antagonistic activity against VEGFR2 -CD. Cyclo(Tyr-Pro) and cyclo(Pro-Val) are toxic to both suspension cells and seedlings of Pinus thunbergii, which may offer some clues to research the mechanism of pine wilt disease caused by pine wood nematode.
Inquire / Order: manager@chemfaces.com
Technical Inquiries: service@chemfaces.com
Tel: +86-27-84237783
Fax: +86-27-84254680

Address:
1 Building, No. 83, CheCheng Rd., Wuhan Economic and Technological Development Zone, Wuhan, Hubei 430056, PRC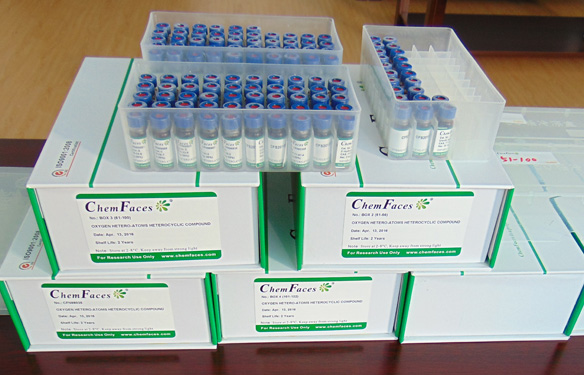 Providing storage is as stated on the product vial and the vial is kept tightly sealed, the product can be stored for up to
24 months(2-8C)
.
Wherever possible, you should prepare and use solutions on the same day. However, if you need to make up stock solutions in advance, we recommend that you store the solution as aliquots in tightly sealed vials at -20C. Generally, these will be useable for up to two weeks. Before use, and prior to opening the vial we recommend that you allow your product to equilibrate to room temperature for at least 1 hour.
Need more advice on solubility, usage and handling? Please email to: service@chemfaces.com
The packaging of the product may have turned upside down during transportation, resulting in the natural compounds adhering to the neck or cap of the vial. take the vial out of its packaging and gently shake to let the compounds fall to the bottom of the vial. for liquid products, centrifuge at 200-500 RPM to gather the liquid at the bottom of the vial. try to avoid loss or contamination during handling.
Neuropharmacology.2018, 131:68-82
Pharm Biol.2016, 54(7):1255-62
Phytomedicine.2018, 47:48-57
Exp Ther Med.2019, 18(6):4388-4396
Academic J of Second Military Medical University2018, 39(11)
Korean Journal of Pharmacognosy2019, 50(4):285-290
J Pharm Biomed Anal.2019, 164:119-127
Int J Mol Sci.2019, 20(9):E2244
J Pharm Anal.2016, 6(6):363-373
Saf Health Work.2019, 10(2):196-204
Die Pharmazie - An International Journal of Pharmaceutical Sciences,2011,66(6):421-3.
Antimicrobial activity of liposome encapsulated cyclo(L-tyrosyl-L-prolyl)[Reference:
WebLink
]
Various studies have shown the potentially beneficial biological activities of cyclic dipeptides and in particular, cyclo(L-tyrosyl-L-prolyl) (Cyclo(Tyr-Pro)) has shown fair antibacterial activity in vitro. This study aimed to determine if liposome encapsulation would have any significant effects on the antibacterial activity of this compound.
METHODS AND RESULTS:
The thin-film hydration method with extrusion was used to produce small unilamellar vesicles containing Cyclo(Tyr-Pro) that were shown to have an average encapsulation of 9.4% with a mean particle size of 160.4 nm. Minimum inhibitory concentrations tested against Staphylococcus aureus, Escherichia coli, Klebsiella pneumoniae and Bacillus subtillis were shown to be lower in liposome encapsulated Cyclo(Tyr-Pro) than for the free form, while no antimicrobial activity was noted for either encapsulated nor non-encapsulated drug against the fungus Candida albicans or two methicillin-resistant strains of Staphylococcus aureus (MRSA). A positive control of liposome encapsulated amoxicillin was shown to be extremely active against both MRSA strains.
CONCLUSIONS:
The results confirm that liposome encapsulation has the potential to enhance activity as well as to overcome bacterial resistance towards current antibacterial agents.
J Nematol. 2007 Sep;39(3):243-7.
Two Cyclic Dipeptides from Pseudomonas fluorescens GcM5-1A Carried by the Pine Wood Nematode and Their Toxicities to Japanese Black Pine Suspension Cells and Seedlings in vitro.[Pubmed:
19259494
]

METHODS AND RESULTS:
Pseudomonas fluorescens GcM5-1A, isolated from the pine wood nematode (PWN), Bursaphelenchus xylophilus, was cultured in Luria Broth medium (LB). The clarified culture was extracted with ethyl acetate, and two dipeptides were purified from the extract. The chemical structures of 1 and 2 were identified as cyclo(-Pro-Val-)and Cyclo(Tyr-Pro), respectively, by MS, (1)H NMR, (13)C NMR,(1)H-(1)H COSY, 1H -(13)C COSY spectra.
CONCLUSIONS:
Bioassay results showed that the two compounds were toxic to both suspension cells and seedlings of Pinus thunbergii, which may offer some clues to research the mechanism of pine wilt disease caused by PWN.
Natural Product Research & Development, 2009,21(3): 420-3.
Antibacterial Metabolites from Marine Bacterium Pseudomonas sp.[Reference:
WebLink
]

METHODS AND RESULTS:
Nine cyclic dipeptides,Cyclo(Tyr-Pro)(1),cyclo-(Tyr-Ile)(2),cyclo-(Phe-Pro)(3),cyclo-(Val-Pro)(4),cyclo-(Ile-Pro)(5),cyclo-(Leu-Pro)(6),cyclo-(Ala-Pro)(7),cyclo-(Ala-Val)(8),cyclo-(Ala-Leu)(9) together with two benzene compounds p-hydroxy-benzaldehyde(10),bis(2-ethylhexyl) phthalate(11) were isolated from the culture broth of marine bacterium Pseudomonas sp.,and identified on the basis of spectroscopic evidences and by comparison of the data reported compounds 1-4 showed antibacterial activity towards several marine bacterial species.
Chinese Journal of Antibiotics,2014,6:408-12,421.
Discovery on antagonists of VEGFR2-CD produced by Streptomyces strain I06A-02832.[Reference:
WebLink
]
To discover antagonists of VEGFR2-CD from the fermentation broth produced by streptomyces strain I06A-02832.
METHODS AND RESULTS:
Under the guidance of ELISA assay against VEGFR2-CD, Compounds 2832B and 2832C were isolated and purified by combination of different column chromatographies and HPLC. The structures of compounds 2832B and C were identified by combination of analysis of UV, IR, MS and 1D-NMR, 2D-NMR. Compounds 2832B and 2832C were purified and structurally identified as cyclic dipeptides, and were the same with Cyclo(Tyr-Pro) and cyclo-(Phe-Gly) respectively. Compounds 2832B and 2832C showed weak antagonistic activity against VEGFR2-CD by ELISA assay.
CONCLUSIONS:
They are firstly reported compounds 2832B and 2832C had antagonistic activity against VEGFR2-CD.
Journal of Crystallographic and Spectroscopic Research December 1992,22(6):643-649.
Cyclodipeptides: Structure and conformation of cyclo(tyrosyl-prolyl)[Reference:
WebLink
]

METHODS AND RESULTS:
The structure and conformation of the cyclodipeptide, cyclo(Tyrosyl-Prolyl), Cyclo(Tyr-Pro) have been investigated with X-ray crystallographic and spectroscopic methods. Two conformations of Cyclo(Tyr-Pro) crystallized in the space groupP21212 with cell dimensionsa=11.890(3),b=12.057(1),c=18.528(4). Both these conformations are uncommon for cyclodipeptides containing a proline residue. The tyrosyl side chains of these conformers are folded towards the diketopiperazine (DKP) ring. The DKP ring adopts a flattened chair conformation in contrast to the typical boat conformation generally observed for DKP rings. The conformation of the pyrrolidine ring can be described as a pseudo C2 symmetrical twist. One intermolecular hydrogen bond was observed for each of the two conformations of Cyclo(Tyr-Pro). The hydrogen of the hydroxyl group of the tyrosyl residue is hydrogen bonded to the oxygen of the carbonyl group of the diketopiperazine ring, i.e., the carbonyl group originating from the tyrosyl residue.
CONCLUSIONS:
NMR spectroscopic studies indicated a different conformation for Cyclo(Tyr-Pro) in solution similar to the generally observed conformation of cyclodipeptides, i.e., extended aromatic side chain and boat conformation for the DKP ring.