Cyclo(D-Phe-L-Pro)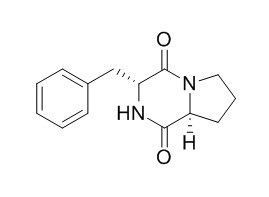 Cyclo(D-Phe-L-Pro) is a natural product from Phellinus igniarius.
Inquire / Order: manager@chemfaces.com
Technical Inquiries: service@chemfaces.com
Tel: +86-27-84237783
Fax: +86-27-84254680

Address:
1 Building, No. 83, CheCheng Rd., Wuhan Economic and Technological Development Zone, Wuhan, Hubei 430056, PRC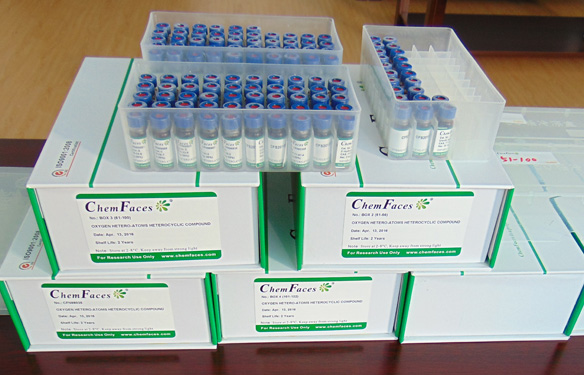 Providing storage is as stated on the product vial and the vial is kept tightly sealed, the product can be stored for up to
24 months(2-8C)
.
Wherever possible, you should prepare and use solutions on the same day. However, if you need to make up stock solutions in advance, we recommend that you store the solution as aliquots in tightly sealed vials at -20C. Generally, these will be useable for up to two weeks. Before use, and prior to opening the vial we recommend that you allow your product to equilibrate to room temperature for at least 1 hour.
Need more advice on solubility, usage and handling? Please email to: service@chemfaces.com
The packaging of the product may have turned upside down during transportation, resulting in the natural compounds adhering to the neck or cap of the vial. take the vial out of its packaging and gently shake to let the compounds fall to the bottom of the vial. for liquid products, centrifuge at 200-500 RPM to gather the liquid at the bottom of the vial. try to avoid loss or contamination during handling.
J Agric Food Chem.2018, 66(1):351-358
J Nat Prod.2018, 81(4):966-975
Molecules.2018, 23(7):E1659
J Sep Sci.2018, 41(11):2488-2497
Plant Cell Tiss Org2017, 479-486
Saudi Pharm J2020, 10.1016
ACS Chem Biol.2019, 14(5):873-881
Evid Based Complement Alternat Med.2019, 2019:2135351
Biomed Pharmacother.2019, 116:108987
J Herbmed Pharmacol.2018, 7(4):280-286
Int J Pept Protein Res. 1988 Feb;31(2):157-63.
Potential energy calculations on phenylalanine rotamers in different boat forms of proline-containing cyclic dipeptides.[Pubmed:
3366549
]
Previous potential energy calculations have always indicated that the folded conformation is the most stable one for cyclic dipeptides containing benzylic side chains.
METHODS AND RESULTS:
We have carried out intramolecular van der Waals potential energy calculations on Cyclo(D-Phe-L-Pro), N-(N-phenylacetyl-L-alanyl)-cyclo-(L-Phe-D-Pro) and N-(pyruvoyl)-cyclo-(L-Phe-D-Pro) adopting the geometries found in their crystal structures. The calculations made on these compounds, having the peptide skeleton made of the same aminoacid residues but differing in the degree of buckling of the boat, show that there is a dependence between diketopiperazine ring and phenylalanine side-chain conformations. The folded conformer is preferred as long as it is allowed by the degree of buckling of the boat.
CONCLUSIONS:
When the boat becomes highly buckled, as in the case of the pyruvoyl derivative, the folded rotamer is no longer favoured. This is the first energy calculation to demonstrate that the folded rotamer is not always the most stable one.