Baicalin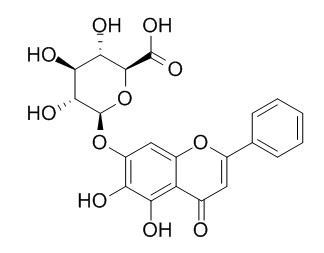 Baicalin has antioxidant, anti-inflammatory, anti-apoptotic, and neuroprotection actions, it is a known prolyl endopeptidase inhibitor, affects the GABA receptors, and reduces the expression of NF-κB. Baicalin may have significant therapeutic benefits against diabetic complications and atherosclerosis.
Inquire / Order: manager@chemfaces.com
Technical Inquiries: service@chemfaces.com
Tel: +86-27-84237783
Fax: +86-27-84254680

Address:
1 Building, No. 83, CheCheng Rd., Wuhan Economic and Technological Development Zone, Wuhan, Hubei 430056, PRC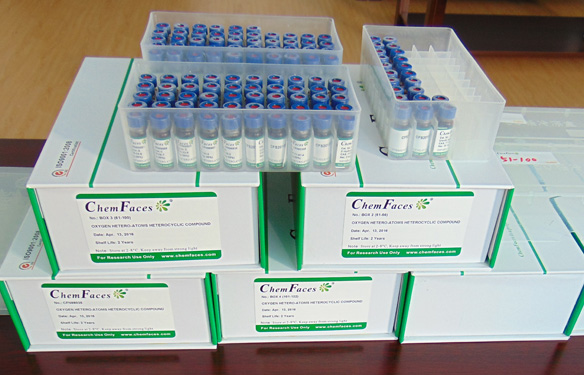 Providing storage is as stated on the product vial and the vial is kept tightly sealed, the product can be stored for up to
24 months(2-8C)
.
Wherever possible, you should prepare and use solutions on the same day. However, if you need to make up stock solutions in advance, we recommend that you store the solution as aliquots in tightly sealed vials at -20C. Generally, these will be useable for up to two weeks. Before use, and prior to opening the vial we recommend that you allow your product to equilibrate to room temperature for at least 1 hour.
Need more advice on solubility, usage and handling? Please email to: service@chemfaces.com
The packaging of the product may have turned upside down during transportation, resulting in the natural compounds adhering to the neck or cap of the vial. take the vial out of its packaging and gently shake to let the compounds fall to the bottom of the vial. for liquid products, centrifuge at 200-500 RPM to gather the liquid at the bottom of the vial. try to avoid loss or contamination during handling.
J Nat Sc Biol Med2019, 10(2):149-156
Food Chem. 2020, 320:126530
Horticulturae2020, 6(4),76.
Auburn University2015, 1-58
Clin Transl Med.2021, 11(5):e392.
Cell Prolif.2021, 54(8):e13083.
Phytomedicine.2019, 58:152893
Pharmacological Reports2020, 1-9
Appl. Sci.2020, 10(20), 7323.
J of Essential Oil Research2019, 1677272
Mol Immunol. 2002 Feb;38(10):781-91.
Baicalin induces apoptosis via mitochondrial pathway as prooxidant.[Pubmed:
11841838
]
Baicalin is a flavonoid and a major component of a herbal medicine, Sho-saiko-to, which is commonly used for treatment of chronic hepatitis in Japan and China. Flavonoids including Baicalin have been reported to not only function as anti-oxidants but also cause cytotoxic effect.
METHODS AND RESULTS:
We investigated the mechanism of Baicalin-induced cytotoxicity in leukemia-derived T cell line, Jurkat cells. When cells were cultured with 50-200 microg/ml Baicalin for 6h, caspase-3 was activated and then cells fell into apoptosis. Induction of apoptosis by Baicalin was accompanied with the marginal generation of intracellular reactive oxygen species (ROS), the increase of the cytosolic fractions of cytochrome c, and the disruption of mitochondrial transmembrane potential (DeltaPsi(m)) prior to the activation of caspase-3. The pre-culture with 5 mM of buthionine sulfoximine (BSO), an inhibitor of glutathione (GSH) synthesis, facilitated Baicalin-induced disruption of DeltaPsi(m) and induction of apoptosis. The pre-culture with N-benzyloxycarbonyl-valyl-alanyl-aspartyl fluoromethylketone (Z-VAD-fmk), a pan-caspase inhibitor, partially suppressed the induction of apoptosis. On the other hand, Baicalin showed little toxic effect on peripheral blood mononuclear cells (PBMCs) from healthy volunteers.
CONCLUSIONS:
These results indicate that Baicalin acts as a prooxidant and induces caspase-3 activation and apoptosis via mitochondrial pathway.
2014 Jan 13;14:19.
The protective effect of baicalin against renal ischemia-reperfusion injury through inhibition of inflammation and apoptosis[Pubmed:
24417870
]
Abstract Background: Renal ischemia-reperfusion injury (IRI) increases the rates of acute kidney failure, delayed graft function, and early mortality after kidney transplantation. The pathophysiology involved includes oxidative stress, mitochondrial dysfunction, and immune-mediated injury. The anti-oxidation, anti-apoptosis, and anti-inflammation properties of Baicalin, a flavonoid glycoside isolated from Scutellaria baicalensis, have been verified. This study therefore assessed the effects of Baicalin against renal IRI in rats. Methods: Baicalin was intraperitoneally injected 30 min before renal ischemia. Serum and kidneys were harvested 24 h after reperfusion. Renal function and histological changes were assessed. Markers of oxidative stress, the Toll-like receptor (TLR)2 and TLR4 signaling pathway, mitochondrial stress, and cell apoptosis were also evaluated. Results: Baicalin treatment decreased oxidative stress and histological injury, and improved kidney function, as well as inhibiting proinflammatory responses and tubular apoptosis. Baicalin pretreatment also reduced the expression of TLR2, TLR4, MyD88, p-NF-κB, and p-IκB proteins, as well as decreasing caspase-3 activity and increasing the Bcl-2/Bax ratio. Conclusions: Baicalin may attenuate renal ischemia-reperfusion injury by inhibiting proinflammatory responses and mitochondria-mediated apoptosis. These effects are associated with the TLR2/4 signaling pathway and mitochondrial stress.
BMB Rep. 2015 Mar 5. pii: 3111.
Baicalin, baicalein and wogonin inhibits high glucose-induced vascular inflammation in vitro and in vivo.[Pubmed:
25739393
]
Vascular inflammatory process has been suggested to play a key role in initiation and progression of atherosclerosis, a major complication of diabetes mellitus.
METHODS AND RESULTS:
Thus, in this study, we attempted to determine whether three structurally related polyphenols found in the Chinese herb Huang Qui, namely Baicalin, baicalein, and wogonin, can suppress vascular inflammatory processes induced by high glucose (HG) in human umbilical vein endothelial cells (HUVECs) and mice. Data showed that HG induced markedly increased vascular permeability, monocyte adhesion, expressions of cell adhesion molecules (CAMs), formation of reactive oxygen species (ROS) and activation of nuclear factor (NF)-κB. Remarkably, all of the above mentioned vascular inflammatory effects of HG were attenuated by pretreatment with Baicalin, baicalein, and wogonin.
CONCLUSIONS:
Vascular inflammatory responses induced by HG are critical events underlying development of various diabetic complications, therefore, our results suggest that Baicalin, baicalein, and wogonin may have significant therapeutic benefits against diabetic complications and atherosclerosis.
Brain Res Bull. 2011 Jul 15;85(6):396-402.
Baicalin attenuates global cerebral ischemia/reperfusion injury in gerbils via anti-oxidative and anti-apoptotic pathways.[Pubmed:
21600966
]
Baicalin is an important medicinal herb purified from the dry roots of Scutellaria baicalensis Georgi.
METHODS AND RESULTS:
The present study was undertaken to evaluate the neuroprotective effects of Baicalin in gerbils subjected to transient global cerebral ischemic-reperfusion injury. Baicalin at doses of 50, 100 and 200mg/kg was intraperitoneally injected into the gerbils immediately after cerebral ischemia. Seven days after reperfusion, hematoxylin and eosin (HE) staining was performed to analyze hippocampal CA1 pyramidal damage histopathologically. In addition, in order to understand the potential protective mechanism of Baicalin, we examined anti-oxidative enzymes, such superoxide dismutase (SOD), glutathione peroxidase (GSH-PX), non-enzymatic scavenger glutathione (GSH) and measured the content of malondialdehyde (MDA) in hippocampus. The mRNA and protein expressions of BDNF were determined in ischemic hippocampus by real-time RT-PCR and Western blot, respectively. Evidence for neuronal apoptosis was detected by real-time RT-PCR, Western blot and caspase-3 activity measurement. Histopathological examination showed that the administration of Baicalin by the dose of 100 and 200mg/kg significantly attenuated ischemia-induced neuronal cell damage. Reduced level of MDA, obviously elevated activities of SOD and GSH as well as GSH-PX were also found in Baicalin-treated groups. Further investigation demonstrated that treatment with Baicalin remarkably promoted the expression of BDNF and inhibited the expression of caspase-3 at mRNA and protein levels by real-time RT-PCR and Western blot, respectively. Besides, caspase-3 activity assay also elucidated that the administration of Baicalin could significantly suppress caspase-3 in ischemic gerbils hippocampus.
CONCLUSIONS:
Theses findings suggest that Baicalin's neuroprotection appears to be associated with its anti-oxidative and anti-apoptotic properties in global cerebral ischemia in the gerbils.
Inflammation. 2015 Jan 30.
Baicalin Inhibits Lipopolysaccharide-Induced Inflammation Through Signaling NF-κB Pathway in HBE16 Airway Epithelial Cells.[Pubmed:
25630720
]
Baicalin, a flavonoid monomer derived from Scutellaria baicalensis called Huangqin in mandarin, is the main active ingredient contributing to S. baicalensis' efficacy. It is known in China that Baicalin has potential therapeutic effects on inflammatory diseases. However, its anti-inflammatory mechanism has still not been fully interpreted.
METHODS AND RESULTS:
We aim to investigate the anti-inflammatory effect of Baicalin on lipopolysaccharide (LPS)-induced inflammation in HBE16 airway epithelial cells and also to explore the underlying signaling mechanisms. The anti-inflammatory action of Baicalin was evaluated in human airway epithelial cells HBE16 treated with LPS. Airway epithelial cells HBE16 were pretreated with a range of concentrations of Baicalin for 30 min and then stimulated with 10 μg/ml LPS. The secretions of interleukin-6 (IL-6), interleukin-8 (IL-8), and tumor necrosis factor-α (TNF-α) in cell culture supernatants were quantified by enzyme-linked immunosorbent assay (ELISA). The messenger RNA (mRNA) expressions of IL-6, IL-8, and TNF-α were tested by quantitative real-time polymerase chain reaction (real-time RT-PCR). Furthermore, Western blotting was used to determine whether the signaling pathway NF-κB was involved in the anti-inflammatory action of Baicalin. The inflammatory cell model was successfully built with 10 μg/ml LPS for 24 h in our in vitro experiments. Both the secretions and the mRNA expressions of IL-6, IL-8, and TNF-α were significantly inhibited by Baicalin. Moreover, the expression levels of phospho-IKKα/β and phospho-NF-κB p65 were downregulated, and the phospho-IκB-α level was upregulated by Baicalin.
CONCLUSIONS:
These findings suggest that the anti-inflammatory properties of Baicalin may be resulted from the inhibition of IL-6, IL-8, and TNF-α expression via preventing signaling NF-κB pathway in HBE16 airway epithelial cells. In addition, this study provides evidence to understand the therapeutic effects of Baicalin on inflammatory diseases in clinical practice.