Chebulagic acid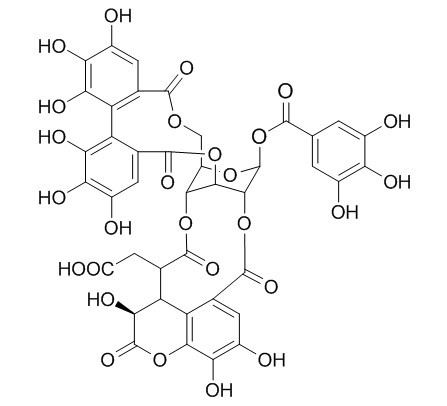 Chebulagic acid is a potent DNA topoisomerase inhibitor, and is also COX-2 and 5-LOX dual inhibitor. Chebulagic acid may be of value as broad-spectrum antivirals for limiting emerging/ recurring viruses known to engage host cell glycosaminoglycans for entry. Chebulagic acid can be used to control blood glucose and manage type 2 diabetes, although clinical trials are needed.
Inquire / Order: manager@chemfaces.com
Technical Inquiries: service@chemfaces.com
Tel: +86-27-84237783
Fax: +86-27-84254680

Address:
1 Building, No. 83, CheCheng Rd., Wuhan Economic and Technological Development Zone, Wuhan, Hubei 430056, PRC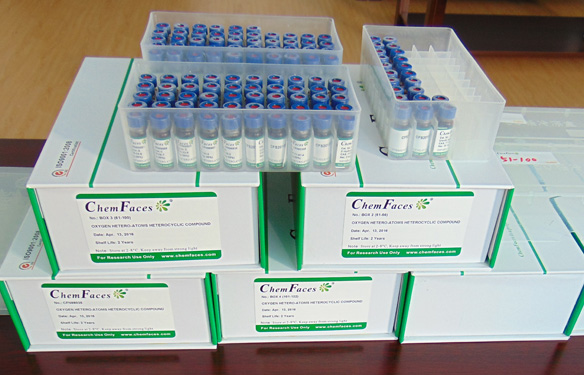 Providing storage is as stated on the product vial and the vial is kept tightly sealed, the product can be stored for up to
24 months(2-8C)
.
Wherever possible, you should prepare and use solutions on the same day. However, if you need to make up stock solutions in advance, we recommend that you store the solution as aliquots in tightly sealed vials at -20C. Generally, these will be useable for up to two weeks. Before use, and prior to opening the vial we recommend that you allow your product to equilibrate to room temperature for at least 1 hour.
Need more advice on solubility, usage and handling? Please email to: service@chemfaces.com
The packaging of the product may have turned upside down during transportation, resulting in the natural compounds adhering to the neck or cap of the vial. take the vial out of its packaging and gently shake to let the compounds fall to the bottom of the vial. for liquid products, centrifuge at 200-500 RPM to gather the liquid at the bottom of the vial. try to avoid loss or contamination during handling.
Int J Mol Med.2020, 45(5):1514-1524.
J. Food Composition and Anal.2022, V 109:104482.
BMC Complement Altern Med.2019, 19(1):11
Appl. Sci.2020, 10(23), 8729
PLoS One.2018, 13(4):e0195642
Molecules.2020, 25(11):2599.
Sci Rep. 2017, 17332(7)
Chem. of Vegetable Raw Materials2020, 97-105
Food Funct.2021, 12(4):1469-1481.
Antioxidants (Basel).2021, 10(11): 1802.
BMC Complement Altern Med. 2014 Aug 29;14:319.
Chebulagic acid from Terminalia chebula causes G1 arrest, inhibits NFκB and induces apoptosis in retinoblastoma cells.[Pubmed:
25169718
]
Plants are the valuable source of natural products with important medicinal properties. Most of the approved anti cancer drugs have a natural product origin or are natural products. Retinoblastoma is the most common ocular cancer of children. Although chemotherapy is the preferred mode of therapy, a successful treatment for retinoblastoma requires enucleation. Chebulagic acid (CA) from Terminalia chebula was shown to have anti-proliferative properties in the studies on cancerous cell lines. Due to anti cancer properties of CA and due to limitation in treatment options for retinoblastoma, the present study is undertaken to understand the role of CA on the proliferation of retinoblastoma cells.
METHODS AND RESULTS:
Anti proliferative potential of CA was determined by MTT assay. The expression levels of various cell death mediators in retinoblastoma cells with CA treatment were assessed by Western blotting. Flowcytometer analysis was used to estimate the mitochondrial membrane potential (MMP) and to determine the percentage of cells undergoing apoptosis. The present study showed CA inhibited the proliferation of retinoblastoma cells in a dose dependent manner. CA modulated MMP, induced release of Cytochrome c, activated caspase 3 and shifted the ratio of BAX and Bcl2 towards cell death. G1 arrest, noticed in CA treated cells, is mediated by the increase in the expression of CDK inhibitor p27. CA treatment also decreased the levels of NFκB in the nucleus. This decrease is mediated by suppression in degradation of IκBα.
CONCLUSIONS:
CA has shown significant anti proliferative potential on retinoblastoma cells. Our findings clearly demonstrate that CA induces G1 arrest, inhibits NFκB and induces apoptosis of retinoblastoma cells.
Sci Rep. 2015 Apr 10;5:9642.
The natural compound chebulagic acid inhibits vascular endothelial growth factor A mediated regulation of endothelial cell functions.[Pubmed:
25859636
]
Vascular endothelial growth factor A (VEGFA) plays an important role in tumour angiogenesis and its angiogenic action is mainly mediated through its VEGF receptor 2 (VEGFR-2). Therefore drugs targeting VEGFA/VEGFR-2 are being presently used in the clinics for treatment of several types of solid malignant tumours.
METHODS AND RESULTS:
We here in report that low dose of Chebulagic acid (CA), a hydrolysable tannin found in myrobalan fruits can inhibit VEGFA induced vascular permeability, endothelial cell proliferation, migration, tube formation and thereby, angiogenesis by suppressing VEGFR-2 phosphorylation.
CONCLUSIONS:
CA may thus be an effective and useful natural inhibitor of VEGFA mediated angiogenesis.
Int J Mol Sci. 2012;13(5):6320-33.
Anti-hyperglycemic effect of chebulagic acid from the fruits of Terminalia chebula Retz.[Pubmed:
22754367
]

METHODS AND RESULTS:
In the present study, we firstly compared rat intestinal α-glucosidase inhibitory activity by different ethanol-aqueous extractions from the dried fruits of Terminalia chebula Retz. The enzymatic assay showed that the 80% ethanol extract was more potent against maltase activity than both 50% and 100% ethanol extracts. By HPLC analysis, it was determined that the 80% ethanol extract had a higher content of Chebulagic acid than each of 50% or 100% ethanol extract. Next, we investigated how efficiently Chebulagic acid could inhibit sugar digestion by determining the glucose level on the apical side of the Caco-2 cell monolayer. The result showed that the maltose-hydrolysis activity was down-regulated by Chebulagic acid, which proved to be a reversible inhibitor of maltase in Caco-2 cells. On the other hand, Chebulagic acid showed a weak inhibition of sucrose-hydrolysis activity. Meanwhile, Chebulagic acid did not have an obvious influence on intestinal glucose uptake and was not effective on glucose transporters. Further animal studies revealed that the oral administration of Chebulagic acid (100 mg/kg body weight) significantly reduced postprandial blood glucose levels by 11.1% in maltose-loaded Sprague-Dawley (SD) rats compared with the control group, whereas the oral administration of Chebulagic acid did not show a suppressive effect on postprandial hyperglycemia in sucrose- or glucose-loaded SD-rats.
CONCLUSIONS:
The results presented here suggest that Chebulagic acid from T. chebula can be used to control blood glucose and manage type 2 diabetes, although clinical trials are needed.
Biomol Ther (Seoul). 2014 Jul;22(4):275-81.
Neuroprotective Effect of Chebulagic Acid via Autophagy Induction in SH-SY5Y Cells.[Pubmed:
25143804
]
Autophagy is a series of catabolic process mediating the bulk degradation of intracellular proteins and organelles through formation of a double-membrane vesicle, known as an autophagosome, and fusing with lysosome. Autophagy plays an important role of death-survival decisions in neuronal cells, which may influence to several neurodegenerative disorders including Parkinson's disease. Chebulagic acid, the major constituent of Terminalia chebula and Phyllanthus emblica, is a benzopyran tannin compound with various kinds of beneficial effects. This study was performed to investigate the autophagy enhancing effect of Chebulagic acid on human neuroblastoma SH-SY5Y cell lines.
METHODS AND RESULTS:
We determined the effect of Chebulagic acid on expression levels of autophago-some marker proteins such as, DOR/TP53INP2, Golgi-associated ATPase Enhancer of 16 kDa (GATE 16) and Light chain 3 II (LC3 II), as well as those of its upstream pathway proteins, AMP-activated protein kinase (AMPK), mammalian target of rapamycin (mTOR) and Beclin-1. All of those proteins were modulated by Chebulagic acid treatment in a way of enhancing the autophagy. Additionally in our study, Chebulagic acid also showed a protective effect against 1-methyl-4-phenylpyridinium (MPP(+)) - induced cytotoxicity which mimics the pathological symptom of Parkinson's disease. This effect seems partially mediated by enhanced autophagy which increased the degradation of aggregated or misfolded proteins from cells.
CONCLUSIONS:
This study suggests that Chebulagic acid is an attractive candidate as an autophagy-enhancing agent and therefore, it may provide a promising strategy to prevent or cure the diseases caused by accumulation of abnormal proteins including Parkinson's disease.
Biofactors. 2014 Nov-Dec;40(6):646-57.
Chebulagic acid from Terminalia chebula enhances insulin mediated glucose uptake in 3T3-L1 adipocytes via PPARγ signaling pathway.[Pubmed:
25529897
]
The thiazolidinedione (TZDs) class of drugs are very effective for the treatment of type 2 diabetes mellitus (T2DM). But due to the adverse effects of synthetic TZDs, their use is strictly regulated. The therapeutic actions of TZDs are mediated via modulation of peroxisome proliferator-activated receptor gamma (PPARγ). Naturally occurring PPARγ modulators are more desirable as they lack the serious adverse effects caused by TZDs. This has prompted the exploitation of medicinal plants used in traditional medicine, for their potential PPARγ activity.
METHODS AND RESULTS:
In the present work, we studied Chebulagic acid (CHA) isolated from fruits of Terminalia chebula with respect to its effect on adipogenesis, glucose transport, and endocrine function of adipocyte. The mRNA expression profile of PPARγ target gene CCAAT/enhancer-binding protein alpha (C/EBP-α) was analyzed by qRT-PCR. The putative binding mode and the potential ligand-target interactions of CHA, with PPARγ was analyzed using docking software (Autodock and iGEMDOCKv2). The results showed that CHA enhances PPARγ signaling and adipogenesis dose dependently but in a moderate way, less than rosiglitazone. GLUT4 expression and adiponectin secretion was increased by CHA treatment. The mRNA expression of PPARγ target gene C/EBP-α was increased in CHA -treated adipocytes.
CONCLUSIONS:
The comparison of results of various parameters of adipogenesis, insulin sensitivity, endocrine function and molecular docking experiments of roziglitazone and Chebulagic acid indicate that the latter behaves like partial PPARγ agonist which could be exploited for phytoceutical development against T2DM.