Yadanzioside G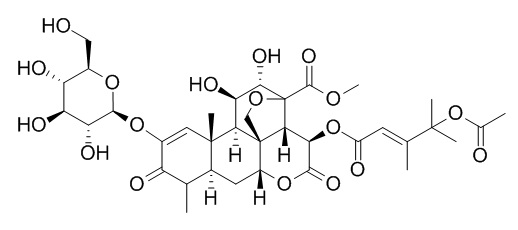 Yadanzioside G has antileukemic activity.
Inquire / Order: manager@chemfaces.com
Technical Inquiries: service@chemfaces.com
Tel: +86-27-84237783
Fax: +86-27-84254680

Address:
1 Building, No. 83, CheCheng Rd., Wuhan Economic and Technological Development Zone, Wuhan, Hubei 430056, PRC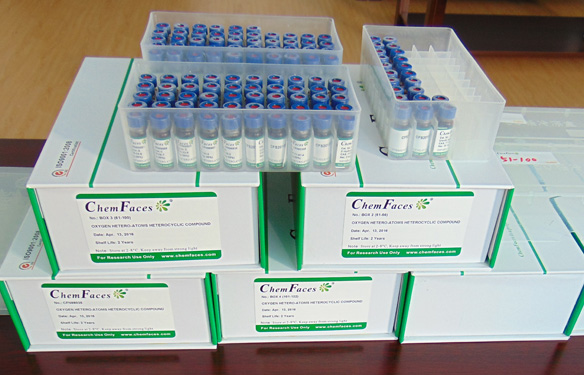 Providing storage is as stated on the product vial and the vial is kept tightly sealed, the product can be stored for up to
24 months(2-8C)
.
Wherever possible, you should prepare and use solutions on the same day. However, if you need to make up stock solutions in advance, we recommend that you store the solution as aliquots in tightly sealed vials at -20C. Generally, these will be useable for up to two weeks. Before use, and prior to opening the vial we recommend that you allow your product to equilibrate to room temperature for at least 1 hour.
Need more advice on solubility, usage and handling? Please email to: service@chemfaces.com
The packaging of the product may have turned upside down during transportation, resulting in the natural compounds adhering to the neck or cap of the vial. take the vial out of its packaging and gently shake to let the compounds fall to the bottom of the vial. for liquid products, centrifuge at 200-500 RPM to gather the liquid at the bottom of the vial. try to avoid loss or contamination during handling.
International J of Green Pharmacy2019, 13(3)
Phytochemistry Letters2017, 449-455
Int J Mol Med.2015, 35(5):1237-45
Biochem Pharmacol.2020, 178:114083
J Liq Chromatogr R T2018, 41(12):761-769
Food Funct.2020, 11(2):1322-1333.
Korean Journal of Pharmacognosy.2020, 51(2):100-106
Korean Journal of Medicinal Crop Science2018, 26(5):382-390
Oncotarget.2017, 8(53):90925-90947
Molecules.2016, 21(6)
Phytother Res. 2011 Dec;25(12):1796-800.
Seven quassinoids from Fructus Bruceae with cytotoxic effects on pancreatic adenocarcinoma cell lines.[Pubmed:
21480411
]
Our previous studies showed that the alcohol extract of the fruit of Brucea javanica (Fructus Bruceae) possessed significant cytotoxicity in pancreatic adenocarcinoma cell lines.
METHODS AND RESULTS:
A bioassay-guided fractionation and purification resulted in the isolation and characterization of seven quassinoids including brusatol, bruceine D, bruceine H, yadanzioside A, Yadanzioside G, javanicoside C and bruceantinoside A. Among them, brusatol exhibited the most potent in vitro antipancreatic cancer action, with IC(50) values of 0.36 μm and 0.10 μm on PANC-1 and SW1990 cell lines, respectively.
CONCLUSIONS:
This is the first report on the antipancreatic adenocarcinoma activity of brusatol.
Bull. Chem. Soc. Jpn.,1985, 58(9), 2680-6.
Structures of new quassinoid glycosides, yadanziosides A,B,C,D,E,G,H, and new quassinoids, dehydrobrusatol and dehydrobruceantinol from Brucea javanica (L.) Merr.[Reference:
WebLink
]

METHODS AND RESULTS:
Quassinoid glycosides, yadanzioside A, yadanzioside B, yadanzioside C, yadanzioside D, yadanzioside E, Yadanzioside G, and yadanzioside H, and two quassinoids, dehydrobrusatol and dehydrobruceantinol were isolated from seeds of Brucea javanica, and their structures were determined.
CONCLUSIONS:
These glycosides showed bitter taste and were demonstrated to have antileukemic activity.
Arch Pharm Res. 2011 Aug;34(8):1297-300.
One new pregnane glycoside from the seeds of cultivated Brucea javanica.[Pubmed:
21910051
]
A new pregnane glycoside, named (20R)-O-(3)-β-D-glucopyranosyl-(1→2)-α-L-arabinopyranosyl-pregn-5-en-3β,20-diol (1), and seven known compounds, brusatol (2), bruceine B (3), bruceine D (4), yadanziolide A (5), bruceine E (6), Yadanzioside G (7), and yadanzioside B (8), were isolated from the cultivated dry seeds of Brucea javanica.
METHODS AND RESULTS:
The structure of 1 was elucidated on the basis of 1D- and 2D-NMR spectroscopic analyses. Their inhibitory effects on tumor cells were also tested. Compound 1 was slightly active against HL-60, SMMC-7721, A-549, and MCF-7 tumor cells. Compounds 2 and 3 demonstrated significant inhibitory activities against all tested cells.
CONCLUSIONS:
These results indicate that cultivated B. javanica could replace the wild plant as an antitumor plant resource