(+)-Bicuculline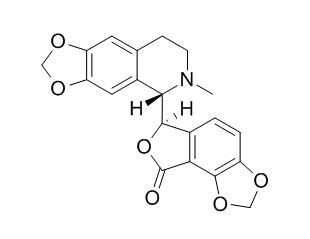 (+)-Bicuculline is a competitive antagonist of GABAA receptors with IC50 of 2 μM, also blocks Ca(2+)-activated potassium channels.It is effective in vitro against spore germination of some plant pathogenic fungi, it can significantly inhibit spore germination of all the fungi at concentrations of 100-1000 ppm.
Inquire / Order: manager@chemfaces.com
Technical Inquiries: service@chemfaces.com
Tel: +86-27-84237783
Fax: +86-27-84254680

Address:
1 Building, No. 83, CheCheng Rd., Wuhan Economic and Technological Development Zone, Wuhan, Hubei 430056, PRC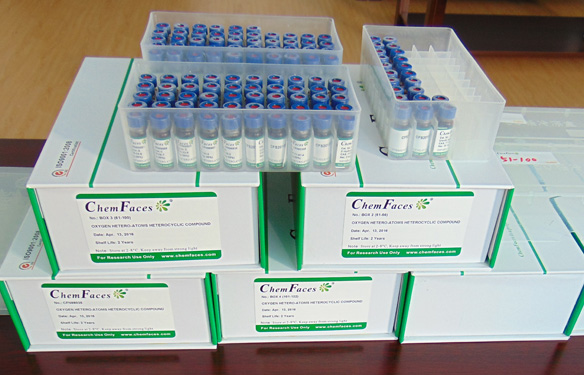 Providing storage is as stated on the product vial and the vial is kept tightly sealed, the product can be stored for up to
24 months(2-8C)
.
Wherever possible, you should prepare and use solutions on the same day. However, if you need to make up stock solutions in advance, we recommend that you store the solution as aliquots in tightly sealed vials at -20C. Generally, these will be useable for up to two weeks. Before use, and prior to opening the vial we recommend that you allow your product to equilibrate to room temperature for at least 1 hour.
Need more advice on solubility, usage and handling? Please email to: service@chemfaces.com
The packaging of the product may have turned upside down during transportation, resulting in the natural compounds adhering to the neck or cap of the vial. take the vial out of its packaging and gently shake to let the compounds fall to the bottom of the vial. for liquid products, centrifuge at 200-500 RPM to gather the liquid at the bottom of the vial. try to avoid loss or contamination during handling.
Neurochem Int.2018, 121:114-124
BMC Complement Altern Med.2019, 19(1):367
Spectrochim Acta A2019, 210:372-380
Agronomy2020, 10(10),1489
Anal Chim Acta.2018, 1039:162-171
J Ethnopharmacol.2020, 249:112381
Adaptive Medicine 2020, 12(1): 4-10
Antioxidants (Basel).2020, 9(6):544.
Journal of Food Hygiene and Safety2019, 34(5):413-420
Int J Mol Sci.2018, 19(9):E2825
Folia Microbiol (Praha). 2002;47(2):161-5.
Effect of berberine and (+/-)-bicuculline isolated from Corydalis chaerophylla on spore germination of some fungi.[Pubmed:
12058395
]

METHODS AND RESULTS:
Berberine and (+)-Bicuculline were isolated from roots and leaves, respectively, of Corydalis chaerophylla. Both were effective in vitro against spore germination of some plant pathogenic fungi (Alternaria brassicicola, A. brassicae, A. cheiranthi, A. melongenae, A. solani, Colletotrichum musae, C. falcatum, Curvularia penniseti, C. lunata, C. maculans, C. pallescens, Curvularia sp., Erysiphe pisi, E. cichoracearum, Erysiphe sp., Fusarium udum, Helminthosporium spiciferum, H. penniseti, H. frumentacei, Heterosporium sp., Oidium erysiphoides and Ustilago cynodontis). Berberine and (+)-Bicuculline significantly inhibited spore germination of all the fungi at concentrations of 100-1000 ppm.
CONCLUSIONS:
Berberine was effective against all the fungi at all concentrations; most of the fungi did not germinate at 1000 ppm. H. penniseti conidia did not germinate at any concentration of (+)-Bicuculline . U. cynodontis was the least sensitive fungus at lower concentrations but 800 ppm dose was highly effective.
Exp. Brain Res., 1999, 129(3):451-6.
The effects of adrenalectomy and gonadectomy on sex and stress-induced differences in the sensitivity of rats to bicuculline[Reference:
WebLink
]

METHODS AND RESULTS:
The effects of adrenalectomy, gonadectomy and combined adrenalectomy plus gonadectomy on previously described sex-dependent anticonvulsive effect of swim stress was studied in rats. The convulsive signs (myoclonic twitch, generalized convulsions, tonic hindlimb extension) were produced by constant i.v. infusion of GABAA antagonist bicuculline, which started 15 min after termination of swim stress (10-min swim at 18-19 0 C). In the same animals swim stress postponed, especially in females, the onset of the first myoclonic twitch and generalized convulsions, but not the onset of tonic hindlimb extension.
CONCLUSIONS:
In summary, our results suggest that hormones of the adrenal and gonadal glands are only partly responsible for decreased susceptibility, especially of female rats, to GABAA antagonist bicuculline. Moreover, they have demonstrated that stress produces gender-specific anticonvulsive effect even in the animals completely deprived of steroid hormones of the peripheral origin.
Chirality Volume 1, Issue 2, pages 178–179, 1989
Methiodide of the GABA antagonist (+)-bicuculline is levorotatory[Reference:
WebLink
]
The appearance of positive charge on the nitrogen moiety of phthalideisoquinoline alkaloids brings about a strong change in the intensities of CD Cotton effects. Hence the optical rotations of enantiomeric salts and their parent base of identical configuration are often of opposite sign. Thus, the name (+)-Bicuculline-methiodide for the methiodide salt of (+)-Bicuculline is false.