Atractylochromene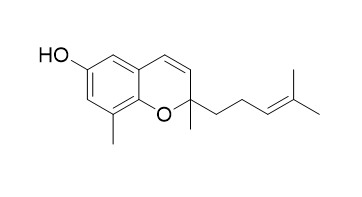 Atractylochromene is an inhibitor of β-catenin dependent Wnt pathway, it may be a potential chemotherapeutic agent for the prevention and treatment of human colon cancer.
Inquire / Order: manager@chemfaces.com
Technical Inquiries: service@chemfaces.com
Tel: +86-27-84237783
Fax: +86-27-84254680

Address:
1 Building, No. 83, CheCheng Rd., Wuhan Economic and Technological Development Zone, Wuhan, Hubei 430056, PRC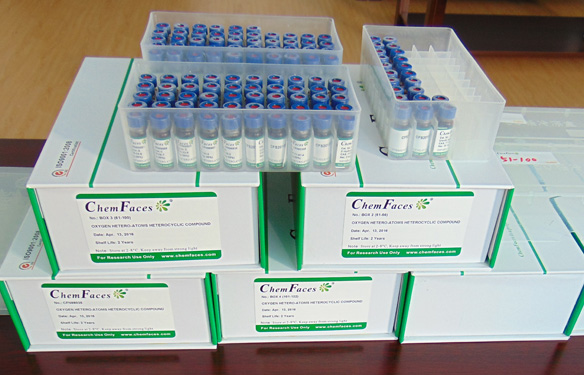 Providing storage is as stated on the product vial and the vial is kept tightly sealed, the product can be stored for up to
24 months(2-8C)
.
Wherever possible, you should prepare and use solutions on the same day. However, if you need to make up stock solutions in advance, we recommend that you store the solution as aliquots in tightly sealed vials at -20C. Generally, these will be useable for up to two weeks. Before use, and prior to opening the vial we recommend that you allow your product to equilibrate to room temperature for at least 1 hour.
Need more advice on solubility, usage and handling? Please email to: service@chemfaces.com
The packaging of the product may have turned upside down during transportation, resulting in the natural compounds adhering to the neck or cap of the vial. take the vial out of its packaging and gently shake to let the compounds fall to the bottom of the vial. for liquid products, centrifuge at 200-500 RPM to gather the liquid at the bottom of the vial. try to avoid loss or contamination during handling.
J Neuroinflammation.2020, 17(1):75.
Front Plant Sci.2017, 8:723
Food Chem.2020, 313:126079
US20170000760 A12016, 42740
Phytomedicine.2015, 22(14):1262-8
The Journal of Phytopharmacology2020, 9(1): 1-4
Natural Product Communications2021, 16(9):1-10.
Int J Mol Sci.2021, 22(2):770.
Molecules.2021, 26(16):4722.
Evid Based Complement Alternat Med.2018, 2018:8565132
Biomol Ther (Seoul). 2015 Jan; 23(1): 26–30.
Atractylochromene Is a Repressor of Wnt/β-Catenin Signaling in Colon Cancer Cells.[Pubmed:
25593640
]
Wnt/β-catenin signaling pathway was mutated in about 90% of the sporadic and hereditary colorectal cancers. The abnormally activated β-catenin increases the cancer cell proliferation, differentiation and metastasis through increasing the expression of its oncogenic target genes.
METHODS AND RESULTS:
In this study, we identified an inhibitor of β-catenin dependent Wnt pathway from rhizomes of Atractylodes macrocephala Koidzumi (Compositae). The active compound was purified by activity-guided purification and the structure was identified as 2,8-dimethyl-6-hydroxy-2-(4-methyl-3-pentenyl)-2H-chromene (Atractylochromene, AC). AC suppressed β-catenin/T-cell factor transcriptional activity of HEK-293 reporter cells when they were stimulated by Wnt3a or inhibitor of glycogen synthase kinase-3β. AC down-regulated the nuclear level of β-catenin through the suppression of galectin-3 mediated nuclear translocation of β-catenin in SW-480 colon cancer cells. Furthermore, AC inhibits proliferation of colon cancer cell.
CONCLUSIONS:
Taken together, AC from A. macrocephala might be a potential chemotherapeutic agent for the prevention and treatment of human colon cancer.