Cannabichromenic acid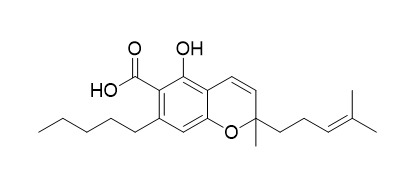 Cannabichromenic acid is a new antibiotic active against gram-positive bacteria, including MRSA.
Inquire / Order: manager@chemfaces.com
Technical Inquiries: service@chemfaces.com
Tel: +86-27-84237783
Fax: +86-27-84254680

Address:
1 Building, No. 83, CheCheng Rd., Wuhan Economic and Technological Development Zone, Wuhan, Hubei 430056, PRC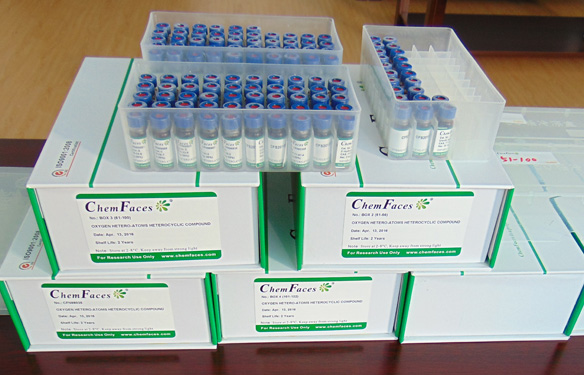 Providing storage is as stated on the product vial and the vial is kept tightly sealed, the product can be stored for up to
24 months(2-8C)
.
Wherever possible, you should prepare and use solutions on the same day. However, if you need to make up stock solutions in advance, we recommend that you store the solution as aliquots in tightly sealed vials at -20C. Generally, these will be useable for up to two weeks. Before use, and prior to opening the vial we recommend that you allow your product to equilibrate to room temperature for at least 1 hour.
Need more advice on solubility, usage and handling? Please email to: service@chemfaces.com
The packaging of the product may have turned upside down during transportation, resulting in the natural compounds adhering to the neck or cap of the vial. take the vial out of its packaging and gently shake to let the compounds fall to the bottom of the vial. for liquid products, centrifuge at 200-500 RPM to gather the liquid at the bottom of the vial. try to avoid loss or contamination during handling.
World J Mens Health.2019, 10.5534
Acta Edulis Fungi2020, 27(02):63-76.
Mol Med Rep.2023 Oct;28(4):193.
mBio.2020, 11(3):e00686-20.
Phytother Res.2022, 10.1002:ptr.7602.
Evid Based Complement Alternat Med.2020, 2020:8582318.
The Korea Journal of Herbology2020, 35(3):33-45.
Molecules.2019, 24(24):E4536
Int J Mol Med.2019, 43(6):2516-2522
J Sep Sci.2020, 201901140
Antibiotics (Basel) . 2020 Aug 16;9(8):523.
Rapid Antibacterial Activity of Cannabichromenic Acid against Methicillin-Resistant Staphylococcus aureus[Pubmed:
32824356
]
Methicillin-resistant Staphylococcus aureus (MRSA) has proven to be an imminent threat to public health, intensifying the need for novel therapeutics. Previous evidence suggests that cannabinoids harbour potent antibacterial activity. In this study, a group of previously inaccessible phytocannabinoids and synthetic analogues were examined for potential antibacterial activity. The minimum inhibitory concentrations and dynamics of bacterial inhibition, determined through resazurin reduction and time-kill assays, revealed the potent antibacterial activity of the phytocannabinoids against gram-positive antibiotic-resistant bacterial species, including MRSA. One phytocannabinoid, Cannabichromenic acid (CBCA), demonstrated faster and more potent bactericidal activity than vancomycin, the currently recommended antibiotic for the treatment of MRSA infections. Such bactericidal activity was sustained against low-and high-dose inoculums as well as exponential- and stationary-phase MRSA cells. Further, mammalian cell viability was maintained in the presence of CBCA. Finally, microscopic evaluation suggests that CBCA may function through the degradation of the bacterial lipid membrane and alteration of the bacterial nucleoid. The results of the current study provide encouraging evidence that cannabinoids may serve as a previously unrecognised resource for the generation of novel antibiotics active against MRSA.
J Nat Prod. 2019 Nov 22;82(11):3047-3055.
Pharmacokinetics of Phytocannabinoid Acids and Anticonvulsant Effect of Cannabidiolic Acid in a Mouse Model of Dravet Syndrome[Pubmed:
31686510
]
Cannabis sativa produces a complex mixture of many bioactive molecules including terpenophenolic compounds known as phytocannabinoids. Phytocannabinoids come in neutral forms (e.g., Δ9-tetrahydrocannabinol, THC; cannabidiol, CBD; etc.) or as acid precursors, which are dominant in the plant (e.g., Δ9-tetrahydrocannabinolic acid, THCA; cannabidiolic acid, CBDA; etc.). There is increasing interest in unlocking the therapeutic applications of the phytocannabinoid acids; however, the present understanding of the basic pharmacology of phytocannabinoid acids is limited. Herein the brain and plasma pharmacokinetic profiles of CBDA, THCA, Cannabichromenic acid (CBCA), cannabidivarinic acid (CBDVA), cannabigerolic acid (CBGA), and cannabigerovarinic acid (CBGVA) were examined following intraperitoneal administration in mice. Next it was examined whether CBDA was anticonvulsant in a mouse model of Dravet syndrome (Scn1aRX/+ mice). All the phytocannabinoid acids investigated were rapidly absorbed with plasma tmax values of between 15 and 45 min and had relatively short half-lives (<4 h). The brain-plasma ratios for the acids were very low at ≤0.04. However, when CBDA was administered in an alternate Tween 80-based vehicle, it exhibited a brain-plasma ratio of 1.9. The anticonvulsant potential of CBDA was examined using this vehicle, and it was found that CBDA significantly increased the temperature threshold at which the Scn1aRX/+ mice had a generalized tonic-clonic seizure.