Astragaloside II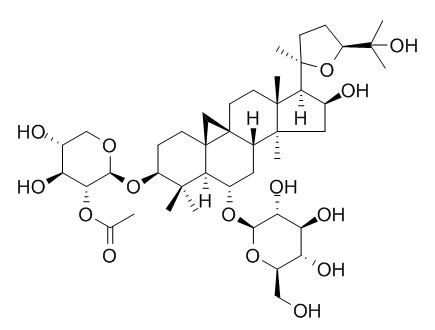 Astragaloside II is a potent autophagy inhibitor and multidrug resistance (MDR) reversal agent, which restores chemosensitivity of anticancer agent cisplatin and enhances tumor cell death. It has immunomodulating activity, can trigger T cell activation through regulation of CD45 protein tyrosine phosphatase activity, it induces osteogenic activities of osteoblasts through the bone morphogenetic protein-2/MAPK and Smad1/5/8 pathways.
Inquire / Order: manager@chemfaces.com
Technical Inquiries: service@chemfaces.com
Tel: +86-27-84237783
Fax: +86-27-84254680

Address:
1 Building, No. 83, CheCheng Rd., Wuhan Economic and Technological Development Zone, Wuhan, Hubei 430056, PRC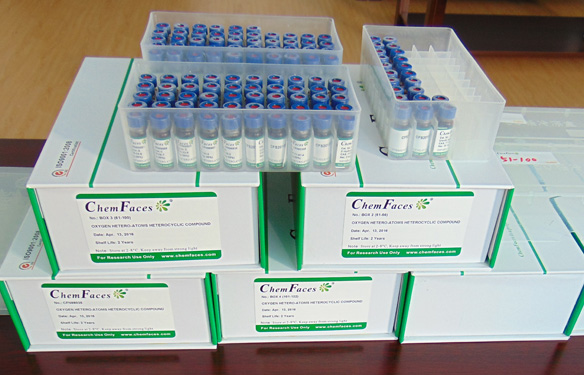 Providing storage is as stated on the product vial and the vial is kept tightly sealed, the product can be stored for up to
24 months(2-8C)
.
Wherever possible, you should prepare and use solutions on the same day. However, if you need to make up stock solutions in advance, we recommend that you store the solution as aliquots in tightly sealed vials at -20C. Generally, these will be useable for up to two weeks. Before use, and prior to opening the vial we recommend that you allow your product to equilibrate to room temperature for at least 1 hour.
Need more advice on solubility, usage and handling? Please email to: service@chemfaces.com
The packaging of the product may have turned upside down during transportation, resulting in the natural compounds adhering to the neck or cap of the vial. take the vial out of its packaging and gently shake to let the compounds fall to the bottom of the vial. for liquid products, centrifuge at 200-500 RPM to gather the liquid at the bottom of the vial. try to avoid loss or contamination during handling.
Mol Med Rep.2014, 9(5):1653-9
Plant Growth Regulation2020, 90(2):383-392
J. of The Korean Society of Food Culture2017, 144-149
Front Pharmacol.2016, 7:460
Front Aging Neurosci.2018, 10:269
Korean J. of Horticultural Sci. & Tech. 2017, 793-804
Scientific World Journal.2014, 2014:654193
Acta Pharm Sin B.2015, 5(4):323-9.
Journal of Life Science2017, 233-240
J Pharm Biomed Anal.2018, 151:32-41
J Pharm Pharmacol. 2012 Dec;64(12):1741-50.
Reversal of P-glycoprotein-mediated multidrug resistance of human hepatic cancer cells by Astragaloside II.[Pubmed:
23146037
]
Chemoresistance is the main obstacle encountered in cancer treatment and is frequently associated with multidrug resistance (MDR). Astragaloside is a saponin which is widely used in traditional Chinese medicine. It has been reported that Astragaloside has antitumour effects on hepatocellular carcinoma Bel-7402 cells in vitro and in vivo. The purpose of this study was to examine the effects of Astragaloside II on the reversal of MDR and its molecular mechanism in vitro.
METHODS AND RESULTS:
In this study, Bel-7402 and Bel-7402/FU cell lines were used as the experimental model. Drug sensitivity was determined using the 3-(4,5-Dimethylthiazol-2-yl)-2,5-diphenyl tetrazolium bromide assay, accumulation and efflux of Rh123 were analyzed by flow cytometer, the mRNA level of mdr1 was determined by RT-PCR and the protein levels of P-glycoprotein (P-gp) and mitogen-activated protein kinase were determined by Western blot. Astragaloside II (0.08 mg/ml) showed strong potency to increase 5-fluorouracil cytotoxicity toward 5-fluorouracil-resistant human hepatic cancer cells Bel-7402/FU. The mechanism of Astragaloside II on P-gp-mediated MDR demonstrated that Astragaloside II significantly increased the intracellular accumulation of rhodamine 123 via inhibition of P-gp transport function. Based on the analysis of P-gp and mdr1 gene expression using Western blot and RT-PCR, the results revealed that Astragaloside II could downregulate the expression of the P-gp and mdr1 gene. In addition, Astragaloside II suppressed phosphorylation of extracellular signal regulated kinase 1/2, p38 and c-Jun N-terminal kinase.
CONCLUSIONS:
The results suggested that Astragaloside II is a potent MDR reversal agent and may be a potential adjunctive agent for hepatic cancer chemotherapy.
Acta Pharmacol Sin. 2013 Apr;34(4):522-30.
Astragaloside II triggers T cell activation through regulation of CD45 protein tyrosine phosphatase activity.[Pubmed:
23524573
]
To investigate the immunomodulating activity of astragalosides, the active compounds from a traditional tonic herb Astragalus membranaceus Bge, and to explore the molecular mechanisms underlying the actions, focusing on CD45 protein tyrosine phosphatase (CD45 PTPase), which plays a critical role in T lymphocyte activation.
METHODS AND RESULTS:
Primary splenocytes and T cells were prepared from mice. CD45 PTPase activity was assessed using a colorimetric assay. Cell proliferation was measured using a [(3)H]-thymidine incorporation assay. Cytokine proteins and mRNAs were examined with ELISA and RT-PCR, respectively. Activation markers, including CD25 and CD69, were analyzed using flow cytometry. Activation of LCK (Tyr505) was detected using Western blot analysis. Mice were injected with the immunosuppressant cyclophosphamide (CTX, 80 mg/kg), and administered Astragaloside II (50 mg/kg). Astragaloside I, II, III, and IV concentration-dependently increased the CD45-mediated of pNPP/OMFP hydrolysis with the EC50 values ranged from 3.33 to 10.42 μg/mL. Astragaloside II (10 and 30 nmol/L) significantly enhanced the proliferation of primary splenocytes induced by ConA, alloantigen or anti-CD3. Astragaloside II (30 nmol/L) significantly increased IL-2 and IFN-γ secretion, upregulated the mRNA levels of IFN-γ and T-bet in primary splenocytes, and promoted CD25 and CD69 expression on primary CD4(+) T cells upon TCR stimulation. Furthermore, Astragaloside II (100 nmol/L) promoted CD45-mediated dephosphorylation of LCK (Tyr505) in primary T cells, which could be blocked by a specific CD45 PTPase inhibitor. In CTX-induced immunosuppressed mice, oral administration of Astragaloside II restored the proliferation of splenic T cells and the production of IFN-γ and IL-2. However, Astragaloside II had no apparent effects on B cell proliferation.
CONCLUSIONS:
Astragaloside II enhances T cell activation by regulating the activity of CD45 PTPase, which may explain why Astragalus membranaceus Bge is used as a tonic herb in treating immunosuppressive diseases.
Int J Mol Med. 2012 Jun;29(6):1090-8.
Astragaloside II induces osteogenic activities of osteoblasts through the bone morphogenetic protein-2/MAPK and Smad1/5/8 pathways.[Pubmed:
22426655
]
Radix Astragalus has been identified to exert beneficial effects in preventing postmenopausal bone loss. However, the active ingredients and mechanism of action remain unknown.
METHODS AND RESULTS:
In this study, we examined the effect of Astragaloside II (AST II), which is a monomer of Astragalus saponin, on the viability, proliferation, differentiation and maturation of rat primary osteoblasts, as well as its relevant molecular mechanism. We found that AST II exhibits a significant induction of proliferation, differentiation and mineralization in primary osteoblasts. AST II stimulates osteoblast differentiation at various stages, from early to late stage of differentiated osteoblasts. Furthermore, induction of differentiation by AST II is associated with increased expression of bone morphogenetic protein-2 (BMP-2), activation of Smad1/5/8, ERK1/2 and p38, and increased expression of core-binding factor 1 (Cbfa1)/Runx2. BMP antagonist (Noggin) blocks the effect of AST II on cell differentiation, and Smad1/5/8, p38, Cbfa1 expression, but only partly decreases ERK1/2 activation. This indicates that BMP-2 is essential in AST II-mediated osteoblast differentiation and Smad1/5/8, p38, Cbfa1 activation, and is partly involved in ERK1/2 activation.
CONCLUSIONS:
In conclusion, although in vivo studies are required in the future, as a phyto-saponin of Radix Astragalus, AST II may become a novel candidate that is beneficial for stimulating the osteoblastic activity resulting in bone formation, which has not been recognized and reported previously.
Biomed. Pharmacother., 2016, 81:166-75.
AstragalosideII inhibits autophagic flux and enhance chemosensitivity of cisplatin in human cancer cells.[Pubmed:
27261591
]
Inhibition of autophagy has been daily served as a promising anti-cancer treatment strategies. AstragalosideII (ASII), a main compound isolated from traditional Chinese medicine Radix Astragali, has been demonstrated to inhibit autophagy and reverse multidrug resistance in human hepatic cancer cells Bel-7402/5-FU.
METHODS AND RESULTS:
In this study, we inspected the function and mechanisms of ASII and cisplatin on autophagy in human cancer cells, and assessed the effect of ASII on cisplatin-induced apoptosis. We found ASII increased LC3II protein level, p62 protein level and GFP-LC3 puncta accumulation in human cancer cells. Furthermore, we found that ASII downregulated the expression of lysosomal cathepsinB/L (CTSB/L) in EBSS medium and affected the lysosomal acidification. Finally, we demonstrated that cisplatin induced protective autophagy which was involved of PI3K/Akt/mTOR pathway. Moreover, ASII in conjunction with cisplatin significant reduced cell viability, arrested in S phase and increased apoptosis.
CONCLUSIONS:
In conclusion, these findings suggested that ASII served as autophagy inhibitor which restored chemosensitivity of anticancer agent cisplatin and enhanced tumor cell death.