Uridine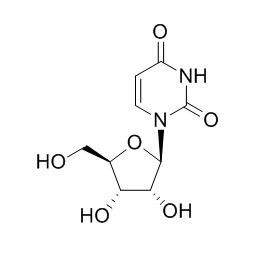 Uridine has antidepressant-like effects, and it has protective effects against drug-induced fatty liver. Uridine can increase the rate of potassium transport in mitochondria isolated from liver of low resistant rats, and inhibitors of the channel prevent the channel activating effect of Uridine. Uridine has inhibition of p53-dependent intestinal apoptosis initiated by 5-fluorouracil.
Inquire / Order: manager@chemfaces.com
Technical Inquiries: service@chemfaces.com
Tel: +86-27-84237783
Fax: +86-27-84254680

Address:
1 Building, No. 83, CheCheng Rd., Wuhan Economic and Technological Development Zone, Wuhan, Hubei 430056, PRC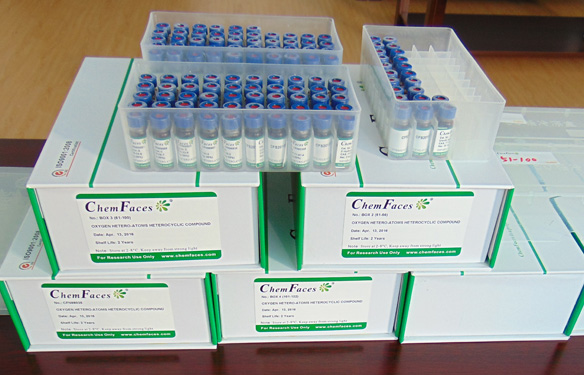 Providing storage is as stated on the product vial and the vial is kept tightly sealed, the product can be stored for up to
24 months(2-8C)
.
Wherever possible, you should prepare and use solutions on the same day. However, if you need to make up stock solutions in advance, we recommend that you store the solution as aliquots in tightly sealed vials at -20C. Generally, these will be useable for up to two weeks. Before use, and prior to opening the vial we recommend that you allow your product to equilibrate to room temperature for at least 1 hour.
Need more advice on solubility, usage and handling? Please email to: service@chemfaces.com
The packaging of the product may have turned upside down during transportation, resulting in the natural compounds adhering to the neck or cap of the vial. take the vial out of its packaging and gently shake to let the compounds fall to the bottom of the vial. for liquid products, centrifuge at 200-500 RPM to gather the liquid at the bottom of the vial. try to avoid loss or contamination during handling.
Drug Des Devel Ther.2020, 14:61-71
Chemistry of Natural Compounds2018, 204¨C206
Mediators Inflamm. 2016, 2016:6189590
Molecules.2016, 21(6)
Drug Test Anal.2018, 10(10):1579-1589
Molecules.2018, 23(7):E1659
Toxicol In Vitro.2019, 59:161-178
Cell Death Dis.2019, 10(12):882
Chem Biol Interact.2018, 290:44-51
Academic J of Second Military Medical University2019, 40(1)
Biofizika. 2014 Sep-Oct;59(5):941-5.
The effect of uridine on the endurance of animals with different resistance to physical stress: the role of mitochondrial ATP-dependent potassium channel.[Pubmed:
25730977
]
The effect of a metabolic precursor of natural activator of mitochondrial ATP-dependent potassium channel (mitochondrial K+(ATP))--Uridine on animal's endurance to physical stress was studied.
METHODS AND RESULTS:
The endurance was determined by recording the time period during which the rat loaded with a plummet of 20% of body weight can swim until physical exhaustion at 32 degrees C. It was found that highly resistant animals swam until exhaustion for 7.40 ± 0.35 min, whereas low resistant rats hold out 2.07 ± 0.10 min only. The injection of Uridine influenced the swimming time of the animals, increasing it twofold in low-resistant rats. The effect of Uridine was decreased by injection of inhibitors of mitochondrial K+(ATP) channel.
CONCLUSIONS:
It was found that the injection of Uridine into low resistant rats increased the rate of potassium transport in mitochondria isolated from liver of these rats, and inhibitors of the channel prevent the channel activating effect of Uridine. The role of mitochondrial K+(ATP) cannel in the formation of animal's resistance to physical stress and protection of tissues from hypoxia is discussed.
BMC Pharmacol Toxicol. 2014 May 23;15:27.
Uridine prevents tamoxifen-induced liver lipid droplet accumulation.[Pubmed:
24887406
]
Tamoxifen, an agonist of estrogen receptor, is widely prescribed for the prevention and long-term treatment of breast cancer. A side effect of tamoxifen is fatty liver, which increases the risk for non-alcoholic fatty liver disease. Prevention of tamoxifen-induced fatty liver has the potential to improve the safety of long-term tamoxifen usage.
METHODS AND RESULTS:
Uridine, a pyrimidine nucleoside with reported protective effects against drug-induced fatty liver, was co-administered with tamoxifen in C57BL/6J mice. Liver lipid levels were evaluated with lipid visualization using coherent anti-Stokes Raman scatting (CARS) microscopy, biochemical assay measurement of triacylglyceride (TAG), and liquid chromatography coupled with mass spectrometry (LC-MS) measurement of membrane phospholipid. Blood TAG and cholesterol levels were measured. Mitochondrial respiration of primary hepatocytes in the presence of tamoxifen and/or Uridine was evaluated by measuring oxygen consumption rate with an extracellular flux analyzer. Liver protein lysine acetylation profiles were evaluated with 1D and 2D Western blots. In addition, the relationship between endogenous Uridine levels, fatty liver, and tamoxifen administration was evaluated in transgenic mice UPase1-/-and UPase1-TG. Uridine co-administration prevented tamoxifen-induced liver lipid droplet accumulation in mice. The most prominent effect of Uridine co-administration with tamoxifen was the stimulation of liver membrane phospholipid biosynthesis. Uridine had no protective effect against tamoxifen-induced impairment to mitochondrial respiration of primary hepatocytes or liver TAG and cholesterol export. Uridine had no effect on tamoxifen-induced changes to liver protein acetylation profile. Transgenic mice UPase1-/-with increased pyrimidine salvage activity were protected against tamoxifen-induced liver lipid droplet accumulation. In contrast, UPase1-TG mice with increased pyrimidine catabolism activity had intrinsic liver lipid droplet accumulation, which was aggravated following tamoxifen administration.
CONCLUSIONS:
Uridine co-administration was effective at preventing tamoxifen-induced liver lipid droplet accumulation. The ability of Uridine to prevent tamoxifen-induced fatty liver appeared to depend on the pyrimidine salvage pathway, which promotes biosynthesis of membrane phospholipid.
Proc Natl Acad Sci U S A. 1997 Mar 4; 94(5): 1795–1799.
Inhibition by uridine but not thymidine of p53-dependent intestinal apoptosis initiated by 5-fluorouracil: Evidence for the involvement of RNA perturbation.[Reference:
WebLink
]
The epithelia from the crypts of the intestine are exquisitely sensitive to metabolic perturbation and undergo cell death with the classical morphology of apoptosis.
METHODS AND RESULTS:
Administration of 40 mg/kg 5-fluorouracil (5-FU) to BDF-1 p53+/+ mice resulted in an increase in p53 protein at cell positions in the crypts that were also those subjected to an apoptotic cell death. In p53−/− mice apoptosis was almost completely absent, even after 24 hr. 5-FU is a pyrimidine antimetabolite cytotoxin with multiple mechanisms of action, including inhibition of thymidylate synthase (TS), which gives rise to DNA damage, and incorporation into RNA. The inhibition of TS can be increased by coadministration of folinic acid and can be abrogated by administration of thymidine. The incorporation of 5-FU into RNA is inhibited by administration of Uridine. p53-Dependent cell death induced by 5-FU was only inhibited by administration of Uridine. Uridine had no effect on the apoptosis initiated by 1 Gy of γ-radiation. Although thymidine abrogated apoptosis induced by the pure TS inhibitor Tomudex, it had no effect on 5-FU-induced apoptosis, and coadministration of folinic acid did not increase apoptosis.
CONCLUSIONS:
The data show that 5-FU-induced cell death of intestinal epithelial cells is p53-dependent and suggests that changes in RNA metabolism initiate events culminating in the expression of p53.
Biol Psychiatry. 2005 Feb 15;57(4):343-50.
Antidepressant-like effects of uridine and omega-3 fatty acids are potentiated by combined treatment in rats.[Pubmed:
15705349
]
Brain phospholipid metabolism and membrane fluidity may be involved in the pathophysiology of mood disorders. We showed previously that cytidine, which increases phospholipid synthesis, has antidepressant-like effects in the forced swim test (FST) in rats, a model used in depression research. Because cytidine and Uridine both stimulate synthesis of cytidine 5'-diphosphocholine (CDP-choline, a critical substrate for phospholipid synthesis), we examined whether Uridine would also produce antidepressant-like effects in rats. We also examined the effects of omega-3 fatty acids (OMG), which increase membrane fluidity and reportedly have antidepressant effects in humans, alone and in combination with Uridine.
METHODS AND RESULTS:
We first examined the effects of Uridine injections alone and dietary supplementation with OMG alone in the FST. We then combined sub-effective treatment regimens of Uridine and OMG to determine whether these agents would be more effective if administered together. Uridine dose-dependently reduced immobility in the FST, an antidepressant-like effect. Dietary supplementation with OMG reduced immobility when given for 30 days, but not for 3 or 10 days. A sub-effective dose of Uridine reduced immobility in rats given sub-effective dietary supplementation with OMG.
CONCLUSIONS:
Uridine and OMG each have antidepressant-like effects in rats. Less of each agent is required for effectiveness when the treatments are administered together.
Molecules. 2014 Apr 4;19(4):4313-25.
Synthesis of extended uridine phosphonates derived from an allosteric P2Y2 receptor ligand.[Pubmed:
24714193
]
In this study we report the synthesis of C5/C6-fused Uridine phosphonates that are structurally related to earlier reported allosteric P2Y2 receptor ligands.
METHODS AND RESULTS:
A silyl-Hilbert-Johnson reaction of six quinazoline-2,4-(1H,3H)-dione-like base moieties with a suitable ribofuranosephosphonate afforded the desired analogues after full deprotection.
CONCLUSIONS:
In contrast to the parent 5-(4-fluoropheny)Uridine phosphonate, the present extended-base Uridine phosphonates essentially failed to modulate the P2Y2 receptor.
ACS Comb Sci. 2014 May 12;16(5):232-7.
Parallel solution-phase synthesis and general biological activity of a uridine antibiotic analog library.[Pubmed:
24661222
]
A small library of ninety four Uridine antibiotic analogs was synthesized, under the Pilot Scale Library (PSL) Program of the NIH Roadmap initiative, from amine 2 and carboxylic acids 33 and 77 in solution-phase fashion.
METHODS AND RESULTS:
Diverse aldehyde, sulfonyl chloride, and carboxylic acid reactant sets were condensed to 2, leading after acid-mediated hydrolysis, to the targeted compounds 3-32 in good yields and high purity. Similarly, treatment of 33 with diverse amines and sulfonamides gave 34-75. The coupling of the amino terminus of d-phenylalanine methyl ester to the free 5'-carboxylic acid moiety of 33 followed by sodium hydroxide treatment led to carboxylic acid analog 77. Hydrolysis of this material gave analog 78. The intermediate 77 served as the precursor for the preparation of novel dipeptidyl Uridine analogs 79-99 through peptide coupling reactions to diverse amine reactants. None of the described compounds show significant anticancer or antimalarial acivity.
CONCLUSIONS:
A number of samples exhibited a variety of promising inhibitory, agonist, antagonist, or activator properties with enzymes and receptors in primary screens supplied and reported through the NIH MLPCN program.