9-Oxoageraphorone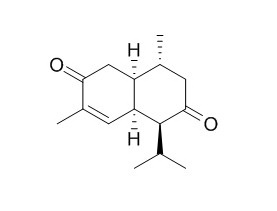 9-Oxoageraphorone has strong acaricidal activity against P. cuniculi in vitro, it also exhibits high insecticidal effects.
Inquire / Order: manager@chemfaces.com
Technical Inquiries: service@chemfaces.com
Tel: +86-27-84237783
Fax: +86-27-84254680

Address:
1 Building, No. 83, CheCheng Rd., Wuhan Economic and Technological Development Zone, Wuhan, Hubei 430056, PRC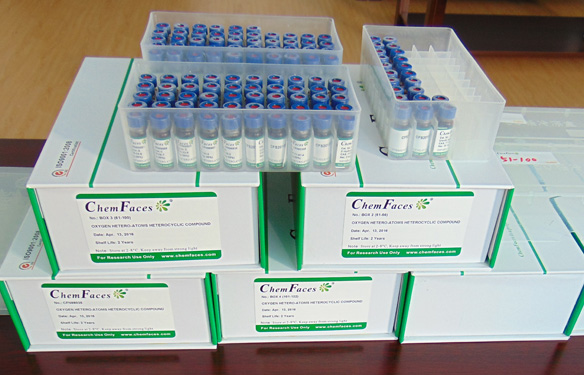 Providing storage is as stated on the product vial and the vial is kept tightly sealed, the product can be stored for up to
24 months(2-8C)
.
Wherever possible, you should prepare and use solutions on the same day. However, if you need to make up stock solutions in advance, we recommend that you store the solution as aliquots in tightly sealed vials at -20C. Generally, these will be useable for up to two weeks. Before use, and prior to opening the vial we recommend that you allow your product to equilibrate to room temperature for at least 1 hour.
Need more advice on solubility, usage and handling? Please email to: service@chemfaces.com
The packaging of the product may have turned upside down during transportation, resulting in the natural compounds adhering to the neck or cap of the vial. take the vial out of its packaging and gently shake to let the compounds fall to the bottom of the vial. for liquid products, centrifuge at 200-500 RPM to gather the liquid at the bottom of the vial. try to avoid loss or contamination during handling.
Int Immunopharmacol.2019, 71:361-371
Anal Sci.2019, 35(12):1317-1325
BMC Plant Biol.2018, 18(1):122
Food Res Int.2017, 96:40-45
International J of Green Pharmacy2019, 13(3)
JPC-Journal of Planar Chromatography 2017, 30(4)
Research on Crops.2017, 18(3):569
Drug Invention Today2019, 12(6):1303-1306
Nutrients.2018, 10(10)
Int J Mol Sci.2019, 20(9):E2244
Vet.Parasitol.,2014 Jun 16;203(1-2):197-202.
Isolation and identification of acaricidal compounds in Eupatorium adenophorum petroleum ether extract and determination of their acaricidal activity against Psoroptes cuniculi.[Pubmed:
24569033
]

METHODS AND RESULTS:
We used multiple silica gel column chromatography and thin-layer chromatography coupled with (1)H nuclear magnetic resonance (NMR) and (13)C NMR to separate and identify the active acaricidal ingredients in Eupatorium adenophorum petroleum ether extract. The acaricidal activity of each compound was tested against Psoroptes cuniculi in vitro. Three compounds had strong acaricidal activity against P. cuniculi in vitro. The insecticidal effect of 0.5% compound 9β-hydroxy-ageraphorone was better than the insecticidal effect of fenvalerate, and compounds 9-Oxoageraphorone and 9-oxo-10,11-dehydro-ageraphorone exhibited higher insecticidal effects than 9β-hydroxy-ageraphorone.
CONCLUSIONS:
Thus, the E. adenophorum petroleum ether extract contains an effective composition of acaricides that could potentially be developed as a promising plant-origin acaricide.
Nat Prod Bioprospect. 2014 Dec 12.
Toxicity Assessment of Cadinene Sesquiterpenes from Eupatorium adenophorum in Mice.[Pubmed:
25500813
]

METHODS AND RESULTS:
We firstly tested median lethal dose (LD50) in mice of three cadinene sesquiterpenes 2-deoxo-2-(acetyloxy)-9-Oxoageraphorone (DAOA), 9-oxoagerophorone (OA) and 9-oxo-10,11-dehydro-agerophorone (ODA) from Eupatorium adenophorum (Ea). DAOA (215-4640 mg/kg BW, given orally) showed lowest LD50 at 926 mg/kg BW for male mice in contrast with 9-oxoagerophorone (1470 mg/kg BW) and ODA (1470 mg/kg BW).
CONCLUSIONS:
In sub-acute study, repeated doses (75-300 mg/kg BW, for 7 days) of DAOA/9-oxoagerophorone increased blood parameters, liver and spleen index in dose dependent relationship, along with decrease in thymus index. 75 mg/kg dose of DAOA/9-oxoagerophorone was found to be approximately/totally safe over the span of 7 days treatment showing no change in all above described parameters.