Caffeic acid 4-O-glucuronide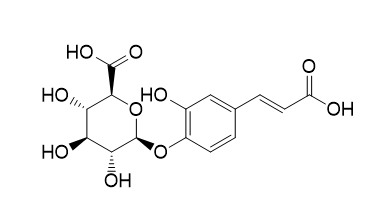 Inquire / Order: manager@chemfaces.com
Technical Inquiries: service@chemfaces.com
Tel: +86-27-84237783
Fax: +86-27-84254680

Address:
1 Building, No. 83, CheCheng Rd., Wuhan Economic and Technological Development Zone, Wuhan, Hubei 430056, PRC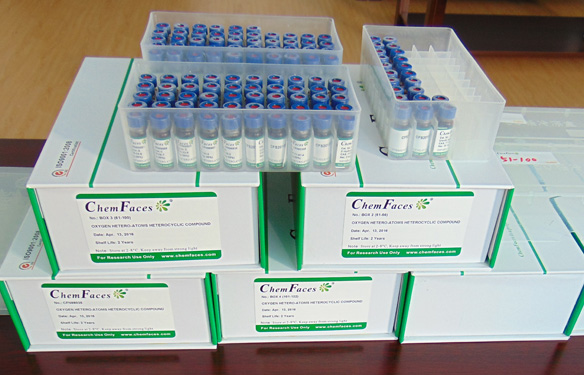 Providing storage is as stated on the product vial and the vial is kept tightly sealed, the product can be stored for up to
24 months(2-8C)
.
Wherever possible, you should prepare and use solutions on the same day. However, if you need to make up stock solutions in advance, we recommend that you store the solution as aliquots in tightly sealed vials at -20C. Generally, these will be useable for up to two weeks. Before use, and prior to opening the vial we recommend that you allow your product to equilibrate to room temperature for at least 1 hour.
Need more advice on solubility, usage and handling? Please email to: service@chemfaces.com
The packaging of the product may have turned upside down during transportation, resulting in the natural compounds adhering to the neck or cap of the vial. take the vial out of its packaging and gently shake to let the compounds fall to the bottom of the vial. for liquid products, centrifuge at 200-500 RPM to gather the liquid at the bottom of the vial. try to avoid loss or contamination during handling.
J Biochem Mol Toxicol.2017, 31(9)
J Sep Sci.2018, 41(9):1938-1946
Phytomedicine.2018, 38:12-23
Applied Biological Chemistry 2021, 64(75)
Eur J Pharmacol.2021, 906:174220.
Gene.2022, 815:146178.
Fitoterapia.2015, 100:179-86
Carbohydrate Polymer Technologies & App.2021, 2:100049.
Antioxidants (Basel).2020, 9(6):466.
Nutrients.2021, 13(12):4364.
Pharmaceutics . 2018 Sep 2;10(3):143.
Simultaneous Determination of Chlorogenic Acid Isomers and Metabolites in Rat Plasma Using LC-MS/MS and Its Application to A Pharmacokinetic Study Following Oral Administration of Stauntonia Hexaphylla Leaf Extract (YRA-1909) to Rats[Pubmed:
30200538
]
Stauntonia hexaphylla leaf extract (YRA-1909), which is widely used for the antirheumatic properties, has been under phase 2 clinical trials in patients with rheumatoid arthritis since April 2017. Liquid chromatography-tandem mass spectrometric method while using liquid⁻liquid extraction with ethyl acetate was validated for the simultaneous determination of the major active components of YRA-1909, including chlorogenic acid (CGA), neochlorogenic acid (NCGA), cryptochlorogenic acid (CCGA), and their metabolites (i.e., caffeic acid (CA), caffeic acid 3-O-glucuronide (CA-3-G), Caffeic acid 4-O-glucuronide (CA-4-G), and ferulic acid (FA)) in rat plasma and applied to a pharmacokinetic study of YRA-1909 in rats. Seven analytes were separated on Halo C18 while using gradient elution of formic acid and methanol, and then quantified in selected reaction monitoring mode whle using negative electrospray ionization. Following oral administration of YRA-1909 at doses of 25, 50, and 100 mg/kg to male Sprague-Dawley rats, CGA, NCGA, and CCGA were rapidly absorbed and metabolized to CA, CA-3-G, and CA-4-G. The area under the plasma concentration-time curve (AUClast) of CGA, NCGA, CCGA, and three metabolites linearly increased as the YRA-1909 dose increased. Other pharmacokinetic parameters were comparable among three doses studied. AUClast values for CA, CA-3-G, and CA-4-G exceeded those for CGA, NCGA, and CCGA.