6,7-Dihydroxyflavone
6,7-Dihydroxyflavone has fee radical scavenging activity. 6,7-Dihydroxyflavone by itself has only a weak antibacterial effect on methicillin-resistant Staphylococcus aureus (MRSA).
Inquire / Order: manager@chemfaces.com
Technical Inquiries: service@chemfaces.com
Tel: +86-27-84237783
Fax: +86-27-84254680

Address:
1 Building, No. 83, CheCheng Rd., Wuhan Economic and Technological Development Zone, Wuhan, Hubei 430056, PRC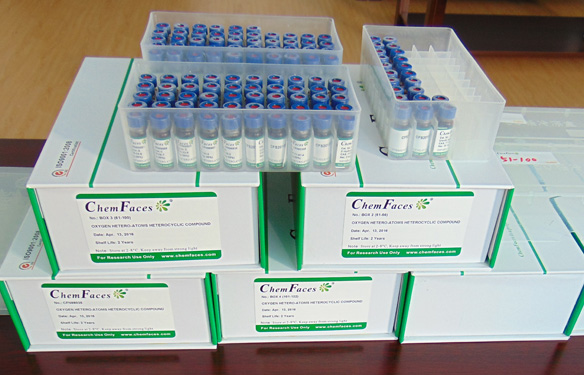 Providing storage is as stated on the product vial and the vial is kept tightly sealed, the product can be stored for up to
24 months(2-8C)
.
Wherever possible, you should prepare and use solutions on the same day. However, if you need to make up stock solutions in advance, we recommend that you store the solution as aliquots in tightly sealed vials at -20C. Generally, these will be useable for up to two weeks. Before use, and prior to opening the vial we recommend that you allow your product to equilibrate to room temperature for at least 1 hour.
Need more advice on solubility, usage and handling? Please email to: service@chemfaces.com
The packaging of the product may have turned upside down during transportation, resulting in the natural compounds adhering to the neck or cap of the vial. take the vial out of its packaging and gently shake to let the compounds fall to the bottom of the vial. for liquid products, centrifuge at 200-500 RPM to gather the liquid at the bottom of the vial. try to avoid loss or contamination during handling.
Front Cell Dev Biol.2021, 9:588093.
Phytomedicine.2019, 56:48-56
Chemistry of Vegetable Raw Materials2019, 3:119-127
Front Cell Infect Microbiol.2018, 8:292
Phytother Res.2022, ptr.7573.
J Insect Sci.2020, 20(5):18.
Front Pharmacol.2019, 10:1226
Phytomedicine.2021, 93:153789.
Evid Based Complement Alternat Med.2015, 2015:165457
Korean Journal of Pharmacognosy2014, 113-120
Quantitative Structure Activity Relationships, 2000, 19(1):50-53.
Theoretical Investigation on Free Radical Scavenging Activity of 6,7‐Dihydroxyflavone.[Reference:
WebLink
]

METHODS AND RESULTS:
The difference of heat of formation between parent molecule and its free radical (ΔHOF), calculated by semiempirical quantum chemical method AM1, was employed as a theoretical index to characterize the O–H bond dissociation energy (BDE) of antioxidant. Through a comparison between ΔHOF of model molecules, it was found that 6,7‐dihydroxyflavone (DHF) possessed two favorable structural factors, the presence of ortho hydroxyls and the existence of para oxygen, to weaken its O–H bond at position 6, but the passive effect produced by electron‐withdrawing property of the chromonoid ring C surpassed the active effect of the para oxygen. Therefore the free radical scavenging activity of DHF was lower than that of quercetin which possessed catecholic hydroxyl in ring B and was scarcely influenced by ring C.
CONCLUSIONS:
As a result of the analysis, two more active flavonoid antioxidants were constructed theoretically.
Antimicrobial Agents and Chemotherapy, 01 Apr 2004, 48(4):1357-1360.
6,7-Dihydroxyflavone Dramatically Intensifies the Susceptibility of Methicillin-Resistant or -Sensitive Staphylococcus aureus to -Lactams.[Reference:
WebLink
]

METHODS AND RESULTS:
We have demonstrated that 6,7-Dihydroxyflavone by itself has only a weak antibacterial effect on methicillin-resistant Staphylococcus aureus (MRSA) but that at concentrations less than MIC it synergistically elevates the susceptibility of clinically isolated MRSA and methicillin-sensitive S. aureus strains to beta-lactam antibiotics from 8- to 32,800-fold.