Oroxylin A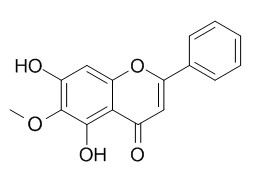 Oroxylin A has anticancer,.anti-inflammation, antithrombotic,antibacterial, anti-pruritic effects, it can inhibit LPS-induced iNOS and COX-2 gene expression by blocking NF-κB activation. Oroxylin A reverses MDR by G2/M arrest and the underlying mechanism attributed to the suppression of P-gp expression via Chk2/P53/NF-κB signaling pathway. Oroxylin A facilitates memory consolidation through brain-derived neurotrophic factor (BDNF)-TrkB signaling.
Inquire / Order: manager@chemfaces.com
Technical Inquiries: service@chemfaces.com
Tel: +86-27-84237783
Fax: +86-27-84254680

Address:
1 Building, No. 83, CheCheng Rd., Wuhan Economic and Technological Development Zone, Wuhan, Hubei 430056, PRC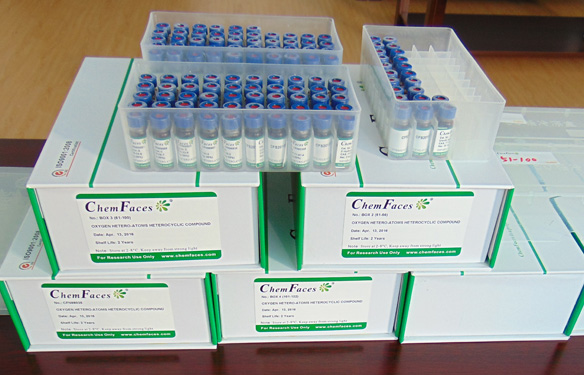 Providing storage is as stated on the product vial and the vial is kept tightly sealed, the product can be stored for up to
24 months(2-8C)
.
Wherever possible, you should prepare and use solutions on the same day. However, if you need to make up stock solutions in advance, we recommend that you store the solution as aliquots in tightly sealed vials at -20C. Generally, these will be useable for up to two weeks. Before use, and prior to opening the vial we recommend that you allow your product to equilibrate to room temperature for at least 1 hour.
Need more advice on solubility, usage and handling? Please email to: service@chemfaces.com
The packaging of the product may have turned upside down during transportation, resulting in the natural compounds adhering to the neck or cap of the vial. take the vial out of its packaging and gently shake to let the compounds fall to the bottom of the vial. for liquid products, centrifuge at 200-500 RPM to gather the liquid at the bottom of the vial. try to avoid loss or contamination during handling.
Molecules.2017, 22(12)
J Sci Food Agric.2017, 97(5):1656-1662
Molecules.2020, 25(3):734
Chemistry of Natural Compounds2019, 55(1):127-130
Saf Health Work.2019, 10(2):196-204
J Chromatogr B Analyt Technol Biomed Life Sci.2019, 1124:323-330
Food and Agriculture Org. Of the UN2019, 151-160
Universidade Estadual Paulista2017, 42785
Nutrients.2018, 11(1):E17
PLoS One.2015, 10(5):e0127060
Arch Pharm Res. 2014 May;37(5):679-86.
Antithrombotic activities of oroxylin A in vitro and in vivo.[Pubmed:
23963976
]

METHODS AND RESULTS:
Here, the anticoagulant activities of Oroxylin A (OroA), a major component of Scutellaria baicalensis Georgi, were examined by monitoring activated partial thromboplastin time (aPTT), prothrombin time (PT), and the activities of cell-based thrombin and activated factor X (FXa). Furthermore, the effects of OroA on the expressions of plasminogen activator inhibitor type 1 (PAI-1) and tissue-type plasminogen activator (t-PA) were tested in tumor necrosis factor (TNF)-α activated human umbilical vein endothelial cells (HUVECs). Treatment with OroA resulted in prolonged aPTT and PT and inhibition of the activities of thrombin and FXa, and OroA inhibited production of thrombin and FXa in HUVECs. And OroA inhibited thrombin-catalyzed fibrin polymerization and platelet aggregation. In accordance with these anticoagulant activities, OroA elicited anticoagulant effects in mouse. In addition, treatment of OroA resulted in the inhibition of TNF-α-induced production of PAI-1, and treatment with OroA resulted in the significant reduction of the PAI-1 to t-PA ratio.
CONCLUSIONS:
Collectively, OroA possess antithrombotic activities and offer bases for development of a novel anticoagulant.
Eur. J. Pharmacol., 2009, 603(1-3):22-8.
Oroxylin A suppresses invasion through down-regulating the expression of matrix metalloproteinase-2/9 in MDA-MB-435 human breast cancer cells.[Pubmed:
19100732
]
Our previous study revealed that Oroxylin A, a naturally occurring monoflavonoid isolated from Scutellariae radix, could inhibit the proliferation of human hepatocellular carcinoma HepG2 cells through inducing the apoptosis in these cells. However, the molecular mechanism of its anticancer activity remains poorly understood and warrants further investigations.
CONCLUSIONS:
In this study, we examined the anti-invasive activities of Oroxylin A in vitro. The results showed that Oroxylin A suppressed MDA-MB-435 cell adhesion to the fibronectin-coated substrate in a concentration-dependent manner. It inhibited the wound healing migration of MDA-MB-435 cells and invasion of MDA-MB-435 cells through reconstituted extracellular matrix (matrigel). Zymography revealed that Oroxylin A decreased the secretion of matrix metalloproteinases-2 (MMP-2) and metalloproteinases-9 (MMP-9). Oroxylin A also inhibited the expressions of MMP-2 and MMP-9 in MDA-MB-435 cells. Additionally, Oroxylin A exerted an inhibitory effect on the phosphorylation of extracellular regulated proteinkinases1/2 (ERK1/2). Collectively, these data provided a molecular basis for the antiinvasive effects of Oroxylin A.
CONCLUSIONS:
Taken together, these findings strongly suggest that Oroxylin A had potential anti-metastatic effect in vitro and shed light on the investigation of Oroxylin A on breast cancer metastasis in vivo.
Brain Res Bull. 2014 Sep;108:67-73.
Oroxylin A enhances memory consolidation through the brain-derived neurotrophic factor in mice.[Pubmed:
25218897
]
Memory consolidation is a process by which acquired information is transformed from a labile into a more stable state that can be retrieved at a later time. In the present study, we investigated the role of Oroxylin A on the memory consolidation process in mice.
METHODS AND RESULTS:
Oroxylin A improved the memory retention administered at 0 h, 1 h and 3 h after training in a passive avoidance task, suggesting that Oroxylin A facilitates memory consolidation. Oroxylin A increased mature brain-derived neurotrophic factor (mBDNF) levels in the hippocampus from 6h to 24h after administration. Moreover, 3h post-training administration of Oroxylin A enhanced the mBDNF level at 9h after the acquisition trial compared to the level at 6h after the acquisition trial. However, 6h post-training administration of Oroxylin A did not increase the mBDNF level at 9h after the acquisition trial. Blocking mBDNF signaling with recombinant tropomyosin receptor kinase B (TrkB)-Fc or k252a at 9h after the acquisition trial obstructed the effect of Oroxylin A on memory consolidation.
CONCLUSIONS:
Taken together, our data suggest that Oroxylin A facilitates memory consolidation through BDNF-TrkB signaling and confirms that the increase of BDNF in a specific time window plays a crucial role in memory consolidation.
Acta Pharmacol Sin. 2010 Jun;31(6):718-24.
Anti-pruritic effect of baicalin and its metabolites, baicalein and oroxylin A, in mice.[Pubmed:
20453872
]
To explore whether intestinal microflora plays a role in anti-pruritic activity of baicalin, a main constituent of the rhizome of Scutellaria baicalensis (SB).
METHODS AND RESULTS:
Baicalin was anaerobically incubated with human fecal microflora, and its metabolites, baicalein and Oroxylin A, were isolated. The inhibitory effect of baicalin and its metabolites was accessed in histamine- or compound 48/80-induced scratching behavior in mice. Baicalin was metabolized to baicalein and Oroxylin A, with metabolic activities of 40.2+/-26.2 and 1.2+/-1.1 nmol.h(-1).mg(-1) wet weight of human fecal microflora, respectively. Baicalin (20, 50 mg/kg) showed more potent inhibitory effect on histamine-induced scratching behavior when orally administered than intraperitoneally. In contrast, baicalein and Oroxylin A had more potent inhibitory effect when the intraperitoneally administered. The anti-scratching behavior activity of oral baicalin and its metabolites was in proportion to their inhibition on histamine-induced increase of vascular permeability with Oroxylin A more potent than baicalein and baicalin. In Magnus test using guinea pig ileum, Oroxylin A is more potent than baicalein and baicalin in inhibition of histamine-induced contraction. The anti-scratching behavioral effect of oral baicalin was significantly reduced when oral antibiotics were simultaneously administered, whereas the effect of baicalein and Oroxylin A were not affected.
CONCLUSIONS:
Oral baicalin may be metabolized by intestinal microflora into baicalein and Oroxylin A, which ameliorate pruritic reactions through anti-histamine action.
Toxicol Lett. 2013 May 23;219(2):107-15.
Oroxylin A reverses P-glycoprotein-mediated multidrug resistance of MCF7/ADR cells by G2/M arrest.[Pubmed:
23470866
]
Hepatocellular carcinoma (HCC) is a refractory malignancy with a high incidence and large mortality. Current strategy for the chemotherapy of HCC focuses on developing agents with better efficacy and lower toxicity.
METHODS AND RESULTS:
In this study, we demonstrated that the natural flavonoid Oroxylin A preferentially inhibited the viability of HCC cell line HepG2 but not the normal hepatic cell line L02. In HepG2 but not L02 cells, Oroxylin A induced substantial production of intracellular H₂O₂ and inordinate activation of the PERK-eIF2α-ATF4-CHOP branch of the unfolded protein response (UPR) pathway, which resulted in the induction of TRB3 and causal reduction of p-AKT1/2/3 (Ser473). Moreover, these effects were eliminated by either the stable knockdown of CHOP or the pretreatment and then co-incubation with the specific H₂O₂ scavenger catalase.
CONCLUSIONS:
These results indicated that the H₂O₂-triggered overactivation of the UPR pathway and causal inactivation of AKT signaling contributed to the preferential cytotoxicity of Oroxylin A in malignant HepG2 cells. Therefore, present study proposed an underlying molecular mechanism that implicated the selective antitumor effect of Oroxylin A and recommended Oroxylin A as a prospect for improving the current chemotherapeutic strategy for the treatment of HCC.
Biochem Pharmacol. 2000 Jun 1;59(11):1445-57.
Oroxylin A inhibition of lipopolysaccharide-induced iNOS and COX-2 gene expression via suppression of nuclear factor-kappaB activation.[Pubmed:
10751555
]
Polyphenols are major components of many traditional herbal remedies, which exhibit several beneficial effects including anti-inflammation. The exact mechanism of the anti-inflammatory action of polyphenols, however, has not been determined.
METHODS AND RESULTS:
In the present study, we examined the effects of eight different polyphenols isolated from Chinese herbs, including two flavonoids (myricitrin and Oroxylin A), four ellagitannins (penta-O-galloyl-beta-glucopyranose, woodfordin C, oenothein B, and cuphiin D1), and two anthraquinones (emodin and physcion), on lipopolysaccharide (LPS)-induced nitric oxide (NO) production, and inducible nitric oxide synthase (iNOS) and cyclooxygenase-2 (COX-2) gene expression in RAW264.7 macrophages. The results indicated that only Oroxylin A and emodin concentration-dependently inhibited LPS-induced NO production. The remaining compounds slightly inhibited LPS-induced NO production only at the highest concentration examined. Furthermore, Oroxylin A inhibited the expression of LPS-induced iNOS and COX-2 proteins and mRNAs without an appreciable cytotoxic effect on RAW264.7 cells. Emodin also inhibited LPS-induced iNOS protein as potently as Oroxylin A, but it inhibited LPS-induced iNOS mRNA expression only slightly and did not affect COX-2 mRNA and proteins. This was consistent with the findings that Oroxylin A but not emodin or physcion inhibited prostaglandin E(2) synthesis induced by LPS. The inhibitory effects of Oroxylin A on LPS-induced iNOS and COX-2 gene expression were also demonstrated in Bcl-2-overexpressing RAW264.7 macrophages, suggesting that Oroxylin A inhibition of iNOS and COX-2 expression was not due to its antioxidant effect. Furthermore, Oroxylin A but not emodin blocked nuclear factor-kappaB (NF-kappaB) binding and transcriptional activation associated with decreased p65 proteins in the nucleus induced by LPS.
CONCLUSIONS:
These results indicated that Oroxylin A, an active component in Huang Qin, inhibited LPS-induced iNOS and COX-2 gene expression by blocking NF-kappaB activation, whereas emodin inhibition of LPS-induced iNOS expression may be mediated by a different transcription factor.