Baicalein
Baicalein has neuroprotective, anticancer, antioxidant and free radical scavenging effects, it inhibits mTORC1 pathway and PI3K kinase activity. Baicalein is mainly due to autophagic cell death through activation of the AMPK/ULK1 pathway and inhibition of mTOR/Raptor complex 1 expression; it can induce cancer cell death and proliferation retardation by the inhibition of CDC2 kinase and survivin associated with opposite role of p38 mitogen-activated protein kinase and AKT.
Inquire / Order: manager@chemfaces.com
Technical Inquiries: service@chemfaces.com
Tel: +86-27-84237783
Fax: +86-27-84254680

Address:
1 Building, No. 83, CheCheng Rd., Wuhan Economic and Technological Development Zone, Wuhan, Hubei 430056, PRC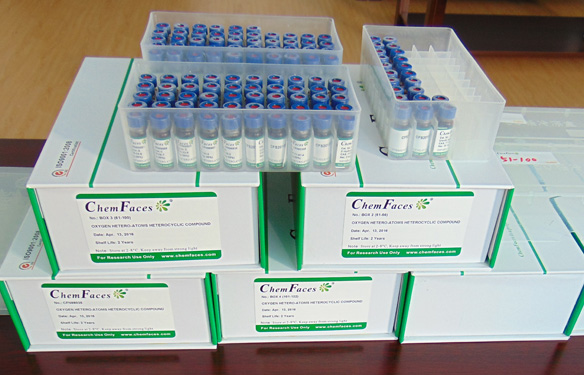 Providing storage is as stated on the product vial and the vial is kept tightly sealed, the product can be stored for up to
24 months(2-8C)
.
Wherever possible, you should prepare and use solutions on the same day. However, if you need to make up stock solutions in advance, we recommend that you store the solution as aliquots in tightly sealed vials at -20C. Generally, these will be useable for up to two weeks. Before use, and prior to opening the vial we recommend that you allow your product to equilibrate to room temperature for at least 1 hour.
Need more advice on solubility, usage and handling? Please email to: service@chemfaces.com
The packaging of the product may have turned upside down during transportation, resulting in the natural compounds adhering to the neck or cap of the vial. take the vial out of its packaging and gently shake to let the compounds fall to the bottom of the vial. for liquid products, centrifuge at 200-500 RPM to gather the liquid at the bottom of the vial. try to avoid loss or contamination during handling.
Korean J. Crop Sci.2018, 63(2):131-139
Journal of Third Military Medical University2018, 40(12):1073-1078
Integr Cancer Ther.2018, 17(3):832-843
Molecules.2019, 24(24):E4536
Toxins (Basel).2019, 11(10):E575
Neurochem Int.2018, 121:114-124
Biomolecules.2019, 9(11):E696
World J Mens Health.2019, 10.5534
BMC Complement Altern Med.2016, 16:213
The Journal of Agromedicine and Medical Sciences2018, 4(1)
Cancer Lett. 2015 Mar 28;358(2):170-9.
Baicalein upregulates DDIT4 expression which mediates mTOR inhibition and growth inhibition in cancer cells.[Pubmed:
25543165
]
Baicalein is a natural flavone that exhibits anticancer properties. Using microarrays we found that DDIT4 was the highest transcript induced by Baicalein in cancer cells.
METHODS AND RESULTS:
We confirmed in multiple cancer cell lines large, dose-related expression of DDIT4 by quantitative RT-PCR and immunoblot, which correlates with growth inhibition. Time course experiments demonstrate that DDIT4 is rapidly inducible, with high expression maintained for several days in vitro. Induction of DDIT4 expression is p53 independent based on evaluation of p53 knockout cells. Since DDIT4 is known to inhibit mTORC1 activity we confirmed that Baicalein suppresses phosphorylation of mTORC1 targets. Using RNA interference we demonstrate that mTORC1 activity and growth inhibition by Baicalein is attenuated by knockdown of DDIT4. We furthermore demonstrate suppression of established tumors by Baicalein in a mouse model of breast cancer with increased DDIT4 expression in the tumors. Finally, we demonstrate that Baicalein upregulates DDIT4 and causes mTORC1 and growth inhibition in platinum resistant cancer cells in marked contrast to platinum chemotherapy treatment.
CONCLUSIONS:
These studies demonstrate that Baicalein inhibits mTORC1 through DDIT4 expression, and may be useful in cancer chemotherapy and chemoprevention.
Biochem Pharmacol. 2014 Nov 15;92(2):251-65.
Baicalein inhibits agonist- and tumor cell-induced platelet aggregation while suppressing pulmonary tumor metastasis via cAMP-mediated VASP phosphorylation along with impaired MAPKs and PI3K-Akt activation.[Pubmed:
25268843
]
Recently, the importance of platelet activation in cancer metastasis has become generally accepted. As a result, the development of new platelet inhibitors with minimal adverse effects is now a promising area of targeted cancer therapy. Baicalein is a functional ingredient derived from the root of Scutellaria baicalensis Georgi, a plant used intraditional medicine. The pharmacological effects of this compound including anti-oxidative and anti-inflammatory activities have already been demonstrated. However, its effects on platelet activation are unknown. We therefore investigated the effects of Baicalein on ligand-induced platelet aggregation and pulmonary cancer metastasis.
METHODS AND RESULTS:
In the present study, Baicalein inhibited agonist-induced platelet aggregation, granule secretion markers (P-selectin expression and ATP release), [Ca(2+)]i mobilization, and integrin αIIbβ3 expression. Additionally, Baicalein attenuated ERK2, p38, and Akt activation, and enhanced VASP phosphorylation. Indeed, Baicalein was shown to directly inhibit PI3K kinase activity. Moreover, Baicalein attenuated the platelet aggregation induced by C6 rat glioma tumor cells in vitro and suppressed CT26 colon cancer metastasis in mice.
CONCLUSIONS:
These features indicate that Baicalein is a potential therapeutic drug for the prevention of cancer metastasis.
Phytother Res. 2014 Sep;28(9):1342-8.
Anticancer effects of baicalein on hepatocellular carcinoma cells.[Pubmed:
24596136
]
The therapeutic potential of Baicalein against hepatoma cells was evaluated in vitro and in vivo.
METHODS AND RESULTS:
In cell viability assays, Baicalein showed significant cytotoxicity against the hepatocellular carcinoma cell lines H22, Bel-7404, and Hep G2 and moderate cytotoxicity against immortalized human hepatocytes. Baicalein induced G0/G1-phase arrest in hepatocellular carcinoma cells, inhibited AKT, and promoted the degradation of β-catenin and cyclin D1 without activation of GSK-3β. Furthermore, Baicalein significantly inhibited H22 xenograft tumor growth without causing obvious adverse effects on weight or liver and spleen weight indexes in ICR mice. Immunohistochemical analysis showed that the inhibition of tumor growth in Baicalein-treated mice was associated with decreased AKT, β-catenin, and cyclin D1 expression ex vivo. Our data indicate that Baicalein might regulate cyclin D1 transcription via a β-catenin-dependent mechanism, leading to cell cycle arrest at G0/G1 phase and impaired cancer cell proliferation.
CONCLUSIONS:
These results suggest that Baicalein is a potential candidate for the treatment of hepatocellular carcinoma.
Anticancer Res. 2000 Sep-Oct;20(5A):2861-5.
Antioxidant and free radical scavenging effects of baicalein, baicalin and wogonin.[Pubmed:
11062694
]
Xanthine oxidase inhibitors are known to be therapeutically useful for the treatment of hepatitis and brain tumor. Baicalein, baicalin and wogonin, isolated from Scutellaria rivularis, have been reported to exhibit a strong activity on xanthine oxidase inhibition.
METHODS AND RESULTS:
In this study, their antioxidant activity was evaluated by modified xanthine oxidase inhibition and cytochrome c reduced methods. The results showed that the order of activity on xanthine oxidase inhibition was Baicalein > wogonin > baicalin, IC50 = 3.12, 157.38 and 215.19 microM, respectively, whereas the activity on cytochrome c reduction was baicalin > wogonin > Baicalein (IC50 = 224.12, 300.10 and 370.33 microM, respectively). In another study, an electron spin resonance (ESR) technique was used to further confirm the direct free radical scavenging activity. Both Baicalein and baicalin demonstrated a strong activity on eliminating the superoxide radical (.O2-) (Baicalein: 7.31 x 10(4) u/g; baicalin: 1.19 x 10(5) u/g). The IC50 of Baicalein was 2.8 fold higher than that of baicalin. However they had no significant effect on scavenging hydroxyl radical (.OH).
CONCLUSIONS:
The present results demonstrated that Baicalein and baicalin posed a different pathological pathway. The antioxidant function of baicalin was mainly based on scavenging superoxide radical whilst Baicalein was a good xanthine oxidase inhibitor.
Pharmacol Biochem Behav. 2015 Jun;133:155-63.
Ameliorative effects of baicalein in MPTP-induced mouse model of Parkinson's disease: A microarray study.[Pubmed:
25895692
]
Baicalein, a flavonoid from Scutellaria baicalensis Georgi, has been shown to possess neuroprotective properties.
METHODS AND RESULTS:
The purpose of this study was to explore the effects of Baicalein on motor behavioral deficits and gene expression in N-methyl-4-phenyl-1,2,3,6-tetrahydropyridine (MPTP)-induced mice model of Parkinson's disease (PD). The behavioral results showed that Baicalein significantly improves the abnormal behaviors in MPTP-induced mice model of PD, as manifested by shortening the total time for climbing down the pole, prolonging the latent periods of rotarod, and increasing the vertical movements. Using cDNA microarray and subsequent bioinformatic analyses, it was found that Baicalein significantly promotes the biological processes including neurogenesis, neuroblast proliferation, neurotrophin signaling pathway, walking and locomotor behaviors, and inhibits dopamine metabolic process through regulation of gene expressions. Based on analysis of gene co-expression networks, the results indicated that the regulation of genes such as LIMK1, SNCA and GLRA1 by Baicalein might play central roles in the network.
CONCLUSIONS:
Our results provide experimental evidence for the potential use of Baicalein in the treatment of PD, and revealed gene expression profiles, biological processes and pathways influenced by Baicalein in MPTP-treated mice.
FEBS J. 2014 Oct;281(20):4644-58.
Baicalein induces autophagic cell death through AMPK/ULK1 activation and downregulation of mTORC1 complex components in human cancer cells.[Pubmed:
25132405
]
Baicalein, a flavonoid and aglycon hydrolyzed from baicalin, has anticancer properties in several human carcinomas, but its molecular mechanisms of action remain unclear.
METHODS AND RESULTS:
Here, we show that Baicalein leads to human cancer cell death by inducing autophagy rather than apoptosis, because cell death induced by Baicalein was completely reversed by suppressing the expression levels of key molecules in autophagy such as Beclin 1, vacuolar protein sorting 34 (Vps34), autophagy-related (Atg)5 and Atg7, but not by pan-caspase inhibitor. Our data revealed that Baicalein significantly increased the number of green fluorescence protein-cytosol-associated protein light chain 3 (GFP-LC3)-containing puncta and LC3B-II expression levels, which were further enhanced by chloroquine treatment. Furthermore, a luciferase-based reporter assay showed that the ratio of RLuc-LC3wt/RLuc-LC3G120A was greatly reduced. The data suggested that Baicalein induced not only autophagosome formation, but also autophagic flux. Experiments using short interfering RNAs and pharmacological inhibitors revealed that Beclin 1, Vps34, Atg5, Atg7 and UNC-51 (Caenorhabditis elegans)-like kinase 1 (ULK1) play pivotal roles in mediating Baicalein-induced autophagy. Moreover, Baicalein activated AMP-activated protein kinase (AMPK)α, leading to ULK1 activation through phosphorylation at Ser555, whereas both protein and mRNA levels of mammalian target of rapamycin (mTOR) and Raptor, upstream inhibitors of ULK1 and autophagy, were markedly downregulated by Baicalein.
CONCLUSIONS:
Our data suggest that the anticancer effects of Baicalein are mainly due to autophagic cell death through activation of the AMPK/ULK1 pathway and inhibition of mTOR/Raptor complex 1 expression. These results provide new mechanistic insights into the anticancer functions of autophagy inducers, such as Baicalein, which may be used as potential therapeutics for cancer treatment.
Mol Cancer Ther. 2007 Nov;6(11):3039-48.
Baicalein induces cancer cell death and proliferation retardation by the inhibition of CDC2 kinase and survivin associated with opposite role of p38 mitogen-activated protein kinase and AKT.[Pubmed:
18025287
]
The bioactive flavonoid Baicalein has been shown to have in vitro growth-inhibitory activity in human cancer cells, although the mechanism of action is poorly understood.
METHODS AND RESULTS:
Baicalein (40-80 mumol/L for 24 h) more effectively induced cytotoxicity compared with other flavonoids (baicalin, catechin, genistein, quercetin, and rutin) in bladder cancer cells. Baicalein induced cell proliferation inhibition and apoptosis. The levels of cyclin B1 and phospho-CDC2 (Thr(161)) were reduced, whereas the G(2)-M phases were elevated by Baicalein. Treatment of CDC2 kinase or CDC25 phosphatase inhibitors augments the Baicalein-induced cytotoxicity. A variety of human bladder cancer cell lines expressed survivin proteins, which were located on the mitotic phases and regulated mitotic progression. Baicalein markedly reduced survivin protein expression. Transfection of a survivin small interfering RNA diminished the level of survivin proteins and increased the Baicalein-mediated cell death. Overexpression of survivin enhanced cell proliferation and resisted the Baicalein-induced cytotoxicity. Interestingly, Baicalein induced the phosphorylation of p38 mitogen-activated protein kinase (MAPK) and AKT. SB203580, a specific p38 MAPK inhibitor, attenuated proliferation inhibition and restored the protein levels of phospho-CDC2 (Thr(161)) and survivin in the Baicalein-exposed cells; conversely, blockade of AKT activation enhanced cytotoxicity and the reduction of phospho-CDC2 (Thr(161)) and survivin proteins.
CONCLUSIONS:
As a whole, these findings provide that the opposite role of p38 MAPK and AKT regulates CDC2 kinase and survivin and the inhibition of CDC2-survivin pathway by Baicalein contributes to apoptosis and proliferation retardation in cancer cells.
Am J Chin Med. 1996;24(1):31-6.
The anti-inflammatory activity of Scutellaria rivularis extracts and its active components, baicalin, baicalein and wogonin.[Pubmed:
8739179
]

METHODS AND RESULTS:
Five extracts (n-hexane, chloroform, ethyl acetate, n-butanol and water) of Scutellaria rivularis Benth. were evaluated for their anti-inflammatory activity against carrageenan-induced paw edema in rats and compared with indomethacin. The result indicated that chloroform extract proved to be the most effective in all of the extracts. Consequently, three major components (baicalin, Baicalein and wogonin) of the chloroform extract were further tested for their anti-inflammatory activity using the same model.
CONCLUSIONS:
It was found that baicalin exhibits the greatest inhibition activity against carrageenan-induced rat paw edema.