Negletein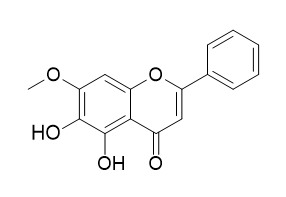 Negletein has anti-inflammatory and immunomodulatory activities via inhibition of TNF-α, iNOS and IL-1β, it also shows a comparable redox-active potential, and it (50 μM, 4 h) can activate Nrf2. Negletein as a neuroprotectant enhances the action of nerve growth factor and induces neurite outgrowth in PC12 cells, it has anti- Alzheimer's disease activity, it inhibits the iron-dependent formation of ROS and also blocks the iron-induced oligomerization of amyloid beta 42 in vitro. Negletein has anti-hypoxia activity, it can significantly prolong the survival time of hypoxic mice.Negletein also shows significant antimicrobial activity.
Inquire / Order: manager@chemfaces.com
Technical Inquiries: service@chemfaces.com
Tel: +86-27-84237783
Fax: +86-27-84254680

Address:
1 Building, No. 83, CheCheng Rd., Wuhan Economic and Technological Development Zone, Wuhan, Hubei 430056, PRC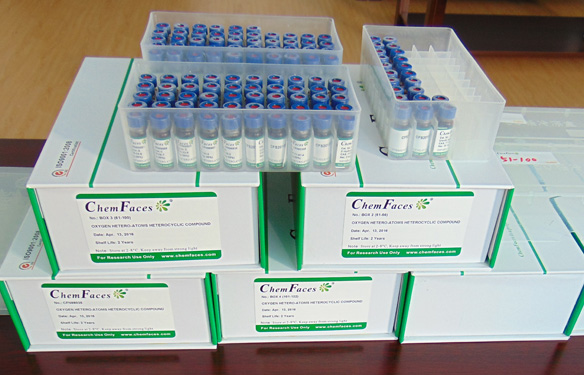 Providing storage is as stated on the product vial and the vial is kept tightly sealed, the product can be stored for up to
24 months(2-8C)
.
Wherever possible, you should prepare and use solutions on the same day. However, if you need to make up stock solutions in advance, we recommend that you store the solution as aliquots in tightly sealed vials at -20C. Generally, these will be useable for up to two weeks. Before use, and prior to opening the vial we recommend that you allow your product to equilibrate to room temperature for at least 1 hour.
Need more advice on solubility, usage and handling? Please email to: service@chemfaces.com
The packaging of the product may have turned upside down during transportation, resulting in the natural compounds adhering to the neck or cap of the vial. take the vial out of its packaging and gently shake to let the compounds fall to the bottom of the vial. for liquid products, centrifuge at 200-500 RPM to gather the liquid at the bottom of the vial. try to avoid loss or contamination during handling.
J Pharm Biomed Anal.2019, 172:268-277
Nutrients.2020, 12(11):3448.
Sci Rep.2019, 9(1):6429
Sci Rep. 2017, 8207(7)
J of the Korean Society of Cosmetics and Cosmetology2019, 225-231
Evid Based Complement Alternat Med.2018, 2018:8565132
Foods.2021, 10(11):2754.
Journal of Life Science2018, 917-922
Molecules.2020, 25(23):5609.
Br J Pharmacol.2016, 173(2):396-410
Nat Prod Res. 2016 Sep;30(17):2002-6.
Antimicrobial flavonoids isolated from Indian medicinal plant Scutellaria oblonga inhibit biofilms formed by common food pathogens.[Pubmed:
26508034
]
Scutellaria oblonga Benth., a hitherto phytochemically unexplored Indian medicinal folklore plant was extracted with acetone and subjected to chromatography to yield nine flavonoids, for the first time from this plant.
METHODS AND RESULTS:
Antimicrobial assays were performed against 11 foodborne pathogens, and three molecules (Techtochrysin, Negletein and Quercitin-3-glucoside) depicted significant activity. These molecules were assessed for their rate of antibacterial action using time-kill curves which depicted complete inhibition of most of the bacteria within 12-16 h. The significant biofilm-reducing capability exhibited by these three molecules formed a significant finding of the current study. In most of the experiments, a 90-95% reduction in biofilms was observed.
CONCLUSIONS:
Thus, flavonoids as natural molecules from S. oblonga could be further researched to be used as potent antimicrobial and antibiofilm agents.
Nat Prod Res. 2013;27(23):2227-30.
Anti-inflammatory and immunomodulatory flavones from Actinocarya tibetica Benth.[Pubmed:
23768253
]

METHODS AND RESULTS:
Herein, we report the isolation and immunomodulatory activity of 11 phytoconstituents, viz. 7 flavonoids, 3 pentacyclic triterpenes and 1 phytosterol of an unexplored plant Actinocarya tibetica Benth. Three flavones, 5-methoxy-6,7-methylenedioxyflavone (6), mosloflavone (7) and Negletein (8), showed promising anti-inflammatory activity via inhibition of TNF-α and IL-1β with IC50 values of 0.22, 0.71, 16.4 μM and 10.8, 7.8, 6.4 μM, respectively. These flavones also showed dose-dependent inhibition of TNF-α, IL-1β and iNOS levels in the supernatant of mouse macrophage cell line J774A. Molecular modelling studies revealed orientation and interactions of flavones 6-8 in the active site of TNF-α.
CONCLUSIONS:
These flavones can be used as a starting point to discover lead structures for treatment of inflammatory and immunomodulatory diseases.
Arch Pharm Res. 2005 Dec;28(12):1345-9.
Phenolic constituents with inhibitory activity against NFAT transcription from Desmos chinensis.[Pubmed:
16392667
]

METHODS AND RESULTS:
Six phenolic constituents, 2-methoxybenzyl benzoate (1), Negletein (2), 2',3'-dihydroxy-4',6'-dimethoxydihydrochalcone (3), 5,6-dihydroxy-7-methoxy-dihydroflavone (4), astilbin (5), and quercitrin (6) were isolated from the methanol extract of the dried leaves of Desmos chinensis. Their structures were elucidated from spectral and chemical data.
CONCLUSIONS:
Of these constituents, compounds 2 (IC50: 3.89 +/- 0.39 microM) and 3 (IC50: 9.77 +/- 0.26 microM) exhibited potent inhibitory activity against nuclear factor of activated T cells (NFAT) transcription factor, and compound 1 (IC50: 28.4 +/- 2.62 microM) exhibited moderate inhibitory activity.
Zhong Yao Cai. 2015 Jan;38(1):89-92.
Chemical Constituents with Anti-hypoxia Activity from Saussurea involucrata.[Pubmed:
26214875
]
To investigate the chemical constituents with anti-hypoxia activity from Saussurea involucrata.
METHODS AND RESULTS:
The chemical constituents, isolated and purified by column chromatography from Saussurea involucrata, were identified by several spectroscopic methods. The anti-hypoxic activities of these compounds were examined using the normobaric hypoxic model of mice. Twelve compounds were isolated from petroleum ether extract of Saussurea involucrata and identified as n-octacosane (1), 1-undecanol (2), heptadecan-l-ol(3), heptacosan-1-ol(4), myristicin (5), apiol(6), β-sitosterol(7), lupeol(8), moslosooflavone (9), mosloflavone (10), Negletein(11), and 5, 6-dihydroxy-7, 8-dimethoxyflavone(12).
CONCLUSIONS:
All compounds except 7 and 8 are isolated from this plant for the first time. Compound 1, 5 and 8 - 12 can significantly prolong the survival time of hypoxic mice.
Pharm Biol. 2016 Sep;54(9):1491-502.
Modulation of the Nrf2 signalling pathway in Hct116 colon carcinoma cells by baicalein and its methylated derivative negletein.[Pubmed:
27143122
]
Baicalein is a major compound in extracts derived from Scutellaria baicalensis Georgi (Lamiaceae) which are used in the Traditional Chinese Medicine for the treatment of inflammatory and gastrointestinal diseases. This flavonoid is an activator of the Nrf2 signalling pathway but the molecular mechanism is not clearly established. We investigated the molecular mode of baicalein-mediated Nrf2-activation in Hct116 cells by the analysis of proteasomal activity, radical-scavenging activity and the comparison with baicalein derivatives.
METHODS AND RESULTS:
The radical-scavenging activity (TEAC, DCF) up to 25 μM, cytotoxicity (MTT assay, 48 h) up to 100 μM, proteasomal activity and the Nrf2-activation (luciferase assay, ubiquitinylation, western blot, Ser40-phosphorylation; incubation for 1 or 4 h) by concentrations up to 40 or 50 μM of the compounds were analysed in Hct116 human colon carcinoma cells. No change in the ubiquitinylation of Nrf2, proteasomal activity and transcription of the NRF2 gene were detectable. Baicalein decreased the phosphorylation of Nrf2 (IC50-value approximately 20 μM) suggesting an inhibitory effect of the flavonoid on protein kinases. Since the activation of the Nrf2 pathway by baicalein might be also due to redox-activity of the compound, we investigated the effects of methylated baicalein derivatives oroxylin A, negeletein and baicaleintrimethylether. Oroxylin A and Negletein showed a comparable redox-active potential, but only Negletein (50 μM, 4 h) was able to activate Nrf2.
CONCLUSIONS:
This result confirms the hypothesis that baicalein, a component of extracts derived from Baical Skullcap, causes an activation of Nrf2 independent of a modulation of the cellular redox potential.
Biofactors. 2016 Nov 12;42(6):591-599.
Negletein as a neuroprotectant enhances the action of nerve growth factor and induces neurite outgrowth in PC12 cells.[Pubmed:
27193378
]
Negletein has been shown to have therapeutic potential for inflammation-associated diseases, but its effect on neurite outgrowth is still unknown.
METHODS AND RESULTS:
The present study showed that Negletein alone did not trigger PC12 cells to differentiate and extend neurites. When compared with the cells in the untreated control, a significant (P < 0.05) induction and a higher neurite outgrowth activity was observed when the cells were cotreated with Negletein (10 μM) and a low dose of nerve growth factor (NGF; 5 ng/mL). The neurite outgrowth process was blocked by the tyrosine kinase receptor (Trk) inhibitor, K252a, suggesting that the neuritogenic effect was NGF-dependent. Negletein (10 μM) together with NGF (5 ng/mL) enhanced the phosphorylation of extracellular signal-regulated kinases (ERKs), protein kinase B (Akt), and cAMP response element-binding protein (CREB). The growth associated protein-43 (GAP-43) and the NGF level were also upregulated by Negletein (10 μM) and a low dose of NGF (5 ng/mL). Negletein at nanomolar concentration also was found to be sufficient to mediate the survival of serum-deprived PC12 cells up to 72 h.
CONCLUSIONS:
Taken together, Negletein might be useful as an efficient bioactive compound to protect neurons from cell death and promote neuritogenesis.
Neuromolecular Med. 2014 Dec;16(4):787-98.
Multiple mechanisms of iron-induced amyloid beta-peptide accumulation in SHSY5Y cells: protective action of negletein.[Pubmed:
25249289
]
The increased accumulation of iron in the brain in Alzheimer's disease (AD) is well documented, and excess iron is strongly implicated in the pathogenesis of the disease. The adverse effects of accumulated iron in AD brain may include the oxidative stress, altered amyloid beta-metabolism and the augmented toxicity of metal-bound amyloid beta 42.
METHODS AND RESULTS:
In this study, we have shown that exogenously added iron in the form of ferric ammonium citrate (FAC) leads to considerable accumulation of amyloid precursor protein (APP) without a corresponding change in the concerned gene expression in cultured SHSY5Y cells during exposure up to 48 h. This phenomenon is also associated with increased β-secretase activity and augmented release of amyloid beta 42 in the medium. Further, the increase in β-secretase activity, in SHSY5Y cells, upon exposure to iron apparently involves reactive oxygen species (ROS) and NF-κB activation. The synthetic flavone Negletein (5,6-dihydroxy-7-methoxyflavone), which is a known chelator for iron, can significantly prevent the effects of FAC on APP metabolism in SHSY5Y cells. Further, this compound inhibits the iron-dependent formation of ROS and also blocks the iron-induced oligomerization of amyloid beta 42 in vitro.
CONCLUSIONS:
In concentrations used in this study, Negletein alone appears to have only marginal toxic effects on cell viability, but, on the other hand, the drug is capable of ameliorating the iron-induced loss of cell viability considerably. Our results provide the initial evidence of potential therapeutic effects of Negletein, which should be explored in suitable animal models of AD.