3-Isomangostin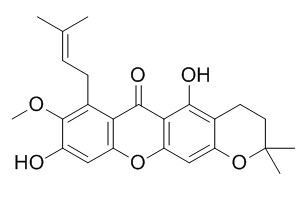 3-Isomangostin is a potent human aldose reductase inhibitor with an IC50 of 3.48 uM; it is also an acetylcholinesterase selective inhibitor. 3-Isomangostin has free radical scavenging activity; it shows antiplasmodial activity with IC50 values in the range of 4.71-11.40 uM.
Inquire / Order: manager@chemfaces.com
Technical Inquiries: service@chemfaces.com
Tel: +86-27-84237783
Fax: +86-27-84254680

Address:
1 Building, No. 83, CheCheng Rd., Wuhan Economic and Technological Development Zone, Wuhan, Hubei 430056, PRC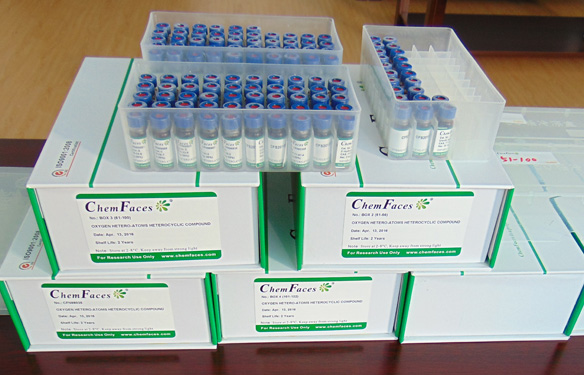 Providing storage is as stated on the product vial and the vial is kept tightly sealed, the product can be stored for up to
24 months(2-8C)
.
Wherever possible, you should prepare and use solutions on the same day. However, if you need to make up stock solutions in advance, we recommend that you store the solution as aliquots in tightly sealed vials at -20C. Generally, these will be useable for up to two weeks. Before use, and prior to opening the vial we recommend that you allow your product to equilibrate to room temperature for at least 1 hour.
Need more advice on solubility, usage and handling? Please email to: service@chemfaces.com
The packaging of the product may have turned upside down during transportation, resulting in the natural compounds adhering to the neck or cap of the vial. take the vial out of its packaging and gently shake to let the compounds fall to the bottom of the vial. for liquid products, centrifuge at 200-500 RPM to gather the liquid at the bottom of the vial. try to avoid loss or contamination during handling.
Korean Journal of Medicinal Crop Science2018, 26(5):382-390
J Ethnopharmacol.2020, 249:112396
Korean Journal of Pharmacognosy2018, 49(3):270-277
J Nat Med.2022, 76(1):59-67.
J Liq Chromatogr R T2018, 41(12):761-769
Biochem Biophys Res Commun.2020, 522(4):1052-1058
J of Physics Conference Series2019, 1349(1)
J of Food Quality2020, 8851285.
Fitoterapia.2021, 153:104995.
Int J Immunopathol Pharmacol.2019, 33:2058738419857537
Planta Med. 2014 Jun;80(8-9):676-81.
In vitro antiplasmodial activity of benzophenones and xanthones from edible fruits of Garcinia species.[Pubmed:
24963617
]
Species of Garcinia have been used to combat malaria in traditional African and Asian medicines, including Ayurveda. In the current study, we have identified antiplasmodial benzophenone and xanthone compounds from edible Garcinia species by testing for in vitro inhibitory activity against Plasmodium falciparum. Whole fruits of Garcinia xanthochymus, G. mangostana, G. spicata, and G. livingstonei were extracted and tested for antiplasmodial activity.
METHODS AND RESULTS:
Garcinia xanthochymus was subjected to bioactivity-guided fractionation to identify active partitions. Purified benzophenones (1-9) and xanthones (10-18) were then screened in the plasmodial lactate dehydrogenase assay and tested for cytotoxicity against mammalian (Vero) cells. The benzophenones guttiferone E (4), isoxanthochymol (5), and guttiferone H (6), isolated from G. xanthochymus, and the xanthones α-mangostin (15), β-mangostin (16), and 3-Isomangostin (17), known from G. mangostana, showed antiplasmodial activity with IC50 values in the range of 4.71-11.40 µM. Artemisinin and chloroquine were used as positive controls and exhibited IC50 values in the range of 0.01-0.24 µM.
CONCLUSIONS:
The identification of antiplasmodial benzophenone and xanthone compounds from G. xanthochymus and G. mangostana provides evidence for the antiplasmodial activity of Garcinia species and warrants further investigation of these fruits as dietary sources of chemopreventive compounds.
International Journal of Biotechnology for Wellness Industries, 2015, 3(4):111-20.
Health and Wellness Product from Mangosteen (Garcinia mangostana L.) Rind: Bioactive Potentials[Reference:
WebLink
]
70% AE contained phenolics 60.08± 0.213 mg/g and xanthones 22.56± 0.317 mg/g. HPLC analysis revealed a spectrum of phenolic acids such as gallic, chlorogenic, caffeic, epicatechin, catechin and ferulic acids at various levels.
METHODS AND RESULTS:
Potent Free Radical Scavenging (FRS) activity, cytoprotectivity, DNA protectivity, H + K + ATPase inhibitory (PPAI) activities were observed in 70% AE. Gallic/tannic acid appear to contribute to antioxidant activity; while ferulic acid was responsible for PPAI activity in 70%AE. Among xanthones, although-mangostin was the dominating component, gartanin, 8 deoxygartanin and 3-Isomangostin contributed to FRS activity. The products were prepared from 70%AE which are sensorially acceptable.
CONCLUSIONS:
Data thus for the first time delineate the specific health beneficial role of both phenolic and xanthone constituents in MSR particularly with higher abundance of phenolics than xanthones.
Phytomedicine. 2014 Sep 25;21(11):1303-9.
Prenylated xanthones from mangosteen as promising cholinesterase inhibitors and their molecular docking studies.[Pubmed:
25172794
]
Garcinia mangostana is a well-known tropical plant found mostly in South East Asia. The present study investigated acetylcholinesterase (AChE) and butyrylcholinesterase (BChE) inhibitory activities of G. mangostana extract and its chemical constituents using Ellman's colorimetric method.
METHODS AND RESULTS:
Cholinesterase inhibitory-guided approach led to identification of six bioactive prenylated xanthones showing moderate to potent cholinesterases inhibition with IC50 values of lower than 20.5 μM. The most potent inhibitor of AChE was garcinone C while γ-mangostin was the most potent inhibitor of BChE with IC50 values of 1.24 and 1.78 μM, respectively. Among the xanthones, mangostanol, 3-Isomangostin, garcinone C and α-mangostin are AChE selective inhibitors, 8-deoxygartanin is a BChE selective inhibitor while γ-mangostin is a dual inhibitor. Preliminary structure-activity relationship suggests the importance of the C-8 prenyl and C-7 hydroxy groups for good AChE and BChE inhibitory activities. The enzyme kinetic studies indicate that both α-mangostin and garcinone C are mixed-mode inhibitors, while γ-mangostin is a non-competitive inhibitor of AChE. In contrast, both γ-mangostin and garcinone C are uncompetitive inhibitors, while α-mangostin is a mixed-mode inhibitor of BChE. Molecular docking studies revealed that α-mangostin, γ-mangostin and garcinone C interacts differently with the five important regions of AChE and BChE.
CONCLUSIONS:
The nature of protein-ligand interactions is mainly hydrophobic and hydrogen bonding. These bioactive prenylated xanthones are worthy for further investigations.
Phytomedicine. 2015 Jan 15;22(1):49-51.
The inhibitory activity of aldose reductase in vitro by constituents of Garcinia mangostana Linn.[Pubmed:
25636870
]

METHODS AND RESULTS:
We investigated aldose reductase inhibition of Garcinia mangostana Linn. from Indonesia. Dichloromethane extract of the root bark of this tree was found to demonstrate an IC50 value of 11.98 µg/ml for human aldose reductase in vitro. From the dichloromethane fraction, prenylated xanthones were isolated as potent human aldose reductase inhibitors.
CONCLUSIONS:
We discovered 3-Isomangostin to be most potent against aldose reductase, with an IC50 of 3.48 µM.
Food Chem Toxicol. 2013 Sep;59:793-800.
Inhibitory effects of α-mangostin on mammalian DNA polymerase, topoisomerase, and human cancer cell proliferation.[Pubmed:
23811100
]
We found that the ethanol extract of mangosteen (Garcinia mangostana L.) fruit rind had a strong inhibitory effect on mammalian DNA polymerase (pol) activity and isolated α-mangostin as a potent pol inhibitor from the extract.
METHODS AND RESULTS:
In this study, the inhibitory activities against mammalian pols by α-mangostin and its related five compounds, 3-Isomangostin, xanthone, 9,10-anthraquinone, 9-anthracenecarboxylic acid, and anthracene, were investigated. α-Mangostin was the most potent inhibitor of the mammalian pol species among the tested compounds, with IC₅₀ values of 14.8-25.6 μM. This compound also inhibited human DNA topoisomerases (topos) I and II activities with IC₅₀ values of 15.0 and 7.5 μM, respectively, but did not inhibit the activities of other DNA metabolic enzymes tested. α-Mangostin also did not directly bind to double-stranded DNA as determined by thermal transition analysis. α-Mangostin was found to suppress human colon HCT116 carcinoma cell proliferation with an LC₅₀ of 18.5 μM, inhibit the activity of cellular topos, halt cell cycle in the G2/M phase, and induce apoptosis.
CONCLUSIONS:
These results suggest that decreased proliferation by α-mangostin may be a result of the inhibition of cellular topos rather than pols, and α-mangostin might be an anticancer chemotherapeutic agent.