1-Isomangostin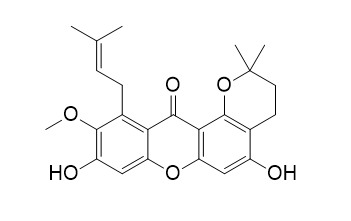 1-Isomangostin has cytotoxic, and anticomplement activities.
Inquire / Order: manager@chemfaces.com
Technical Inquiries: service@chemfaces.com
Tel: +86-27-84237783
Fax: +86-27-84254680

Address:
1 Building, No. 83, CheCheng Rd., Wuhan Economic and Technological Development Zone, Wuhan, Hubei 430056, PRC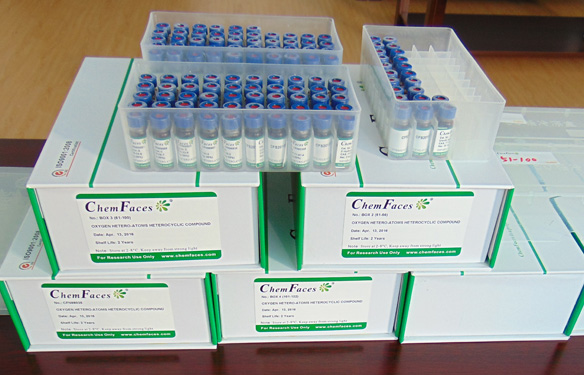 Providing storage is as stated on the product vial and the vial is kept tightly sealed, the product can be stored for up to
24 months(2-8C)
.
Wherever possible, you should prepare and use solutions on the same day. However, if you need to make up stock solutions in advance, we recommend that you store the solution as aliquots in tightly sealed vials at -20C. Generally, these will be useable for up to two weeks. Before use, and prior to opening the vial we recommend that you allow your product to equilibrate to room temperature for at least 1 hour.
Need more advice on solubility, usage and handling? Please email to: service@chemfaces.com
The packaging of the product may have turned upside down during transportation, resulting in the natural compounds adhering to the neck or cap of the vial. take the vial out of its packaging and gently shake to let the compounds fall to the bottom of the vial. for liquid products, centrifuge at 200-500 RPM to gather the liquid at the bottom of the vial. try to avoid loss or contamination during handling.
Molecules.2019, 24(6):E1155
Int J Mol Sci.2021, 22(8):4211.
Nat Prod Sci.2016, 22(2)
Journal of Research in Pharmacy.2022, 26(6):p1752-1757.
J of Health Science and Alternative Medicine2019, 1(1)
Nutrients.2019, 11(6):E1380
Molecules.2021, 26(8):2161.
Sci Rep.2021, 11(1):21038.
Tokyo Pharmaceutical University2020, 500001431953.
Oncotarget.2016, 8(51):88386-88400
Nat Prod Commun. 2013 Dec;8(12):1733-4.
A new xanthone from the pericarp of Garcinia mangostana.[Pubmed:
24555285
]

METHODS AND RESULTS:
A new prenylxanthone, garcimangostanol (1), was isolated from the EtOAc-soluble partition of the ethanol extract of the pericarp of Garcinia mangostana L., along with three known compounds, namely 8-deoxygartanin (2), 1-Isomangostin (3), and garcinone C (4). The structure of compound 1 was elucidated on the basis of its 1D, 2D NMR and MS data.
CONCLUSIONS:
Compounds 1-4 exhibited either significant o r moderate cytotoxicity against MCF-7, A549, Hep-G2 and CNEhuman cancer cell lines in vitro with IC50 values from 4.0 +/- 0.3 to 23.6+/- 1.5 microM by MTT colorimetric assay.
J Nat Prod. 2009 Nov;72(11):2028-31
Cytotoxic xanthone constituents of the stem bark of Garcinia mangostana (mangosteen).[Pubmed:
19839614
]

METHODS AND RESULTS:
Bioassay-guided fractionation of a chloroform-soluble extract of Garcinia mangostana stem bark, using the HT-29 human colon cancer cell line and an enzyme-based ELISA NF-kappaB assay, led to the isolation of a new xanthone, 11-hydroxy-3-O-methyl-1-Isomangostin (1). The structure of 1 was elucidated by spectroscopic data analysis. In addition, 10 other known compounds, 11-hydroxy-1-Isomangostin (2), 11alpha-mangostanin (3), 3-isomangostin (4), alpha-mangostin (5), beta-mangostin (6), garcinone D (7), 9-hydroxycalabaxanthone (8), 8-deoxygartanin (9), gartanin (10), and cratoxyxanthone (11), were isolated.
CONCLUSIONS:
Compounds 4-8 exhibited cytotoxicity against the HT-29 cell line with ED50 values of 4.9, 1.7, 1.7, 2.3, and 9.1 microM, respectively. In an ELISA NF-kappaB assay, compounds 5-7, 9, and 10 inhibited p65 activation with IC50 values of 15.9, 12.1, 3.2, 11.3, and 19.0 microM, respectively, and 6 showed p50 inhibitory activity with an IC50 value of 7.5 microM. Alpha-mangostin (5) was further tested in an in vivo hollow fiber assay, using HT-29, LNCaP, and MCF-7 cells, but it was found to be inactive at the highest dose tested (20 mg/kg).
Phytother Res. 2010 Oct;24(10):1575-7.
Xanthone constituents of the fruits of Garcinia mangostana with anticomplement activity.[Pubmed:
20878711
]

METHODS AND RESULTS:
Phytochemical investigation of a chloroform-soluble fraction of the freeze-dried fruits of Garcinia mangostana (Clusiaceace) with anticomplement activity in the classical pathway led to the identification of five known xanthones. The structures of these compounds were confirmed by interpretation of NMR and MS spectroscopic data.
CONCLUSIONS:
Of the isolates obtained, 1-Isomangostin and garcinone E were found to be active constituents in the anticomplement assay used.