2-(2'-Hydroxytetracosanoylamino)-octadecane-1,3,4-triol

(2S,3S,4R,2′R)-2-(2′-hydroxytetracosanoylamino)octadecane-1,3,4-triol shows selectively inhibitory activity against phospholipase A 2 (PLA 2) secreted from Crotalus adamenteus venom at concentration of 100 ug/mL.
Inquire / Order: manager@chemfaces.com
Technical Inquiries: service@chemfaces.com
Tel: +86-27-84237783
Fax: +86-27-84254680

Address:
1 Building, No. 83, CheCheng Rd., Wuhan Economic and Technological Development Zone, Wuhan, Hubei 430056, PRC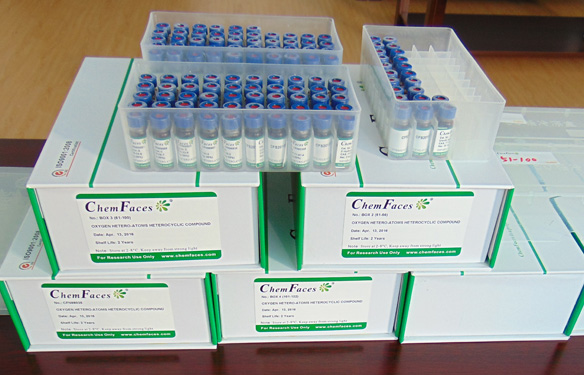 Providing storage is as stated on the product vial and the vial is kept tightly sealed, the product can be stored for up to
24 months(2-8C)
.
Wherever possible, you should prepare and use solutions on the same day. However, if you need to make up stock solutions in advance, we recommend that you store the solution as aliquots in tightly sealed vials at -20C. Generally, these will be useable for up to two weeks. Before use, and prior to opening the vial we recommend that you allow your product to equilibrate to room temperature for at least 1 hour.
Need more advice on solubility, usage and handling? Please email to: service@chemfaces.com
The packaging of the product may have turned upside down during transportation, resulting in the natural compounds adhering to the neck or cap of the vial. take the vial out of its packaging and gently shake to let the compounds fall to the bottom of the vial. for liquid products, centrifuge at 200-500 RPM to gather the liquid at the bottom of the vial. try to avoid loss or contamination during handling.
J of Physics Conference Series2019, 1349(1)
Research on Crops.2017, 18(3):569
Exp Parasitol.2015, 153:160-4
Oncotarget.2015, 6(31):30831-49
Tropical J. of Pha. Research2017, 16(3):543-552
Nat Commun.2019, 10(1):2745
Phytomedicine.2019, 65:153089
Acta Pharm Sin B.2015, 5(4):323-9.
Chem Pharm Bull (Tokyo).2019, 67(11):1242-1247
Sci Rep. 2018, 10590
Chinese Journal of Organic Chemistry, 2003, 23(8): 853-7.
Chemical constituents of the fungus Leccinum extremiorientale.[Reference:
WebLink
]

METHODS AND RESULTS:
Thirteen chemical constituents were isolated from the fruiting bodies of basidiomyctes Leccinum extremiorientale, and their structures were elucidated by spectral and physical-chemical data as: ergosta-7,22-dien3β,5α ,6β-triol (1), ergosterol peroxide (2), ergosterol (3), ergosta-4,6,8(14),22-tetraen-3-one (4), ergosta-5,7-dien-3β-ol (5), palmitic acid (6), (2S,3S,4R,2′R )-2-(2'-Hydroxytetracosanoylamino)-octadecane-1,3,4-triol (7), cerebroside B (8), cerebroside D (9), uracil (10), inosine (11), adeosine (12) and D-allitol (13). The NMR data of compounds 8 and 9 were completely assigned by 2D-NMR techniques, including 1H- 1H COSY, HMBC and HMQC.
CONCLUSIONS:
Compounds 2, 7 and 8 at concentration of 100 μg/mL showed selectively inhibitory activity against phospholipase A 2 (PLA2) secreted from Crotalus adamenteus venom, but inactive against PLA2 of bee venom (Apis mellifcra). In addition, the methanol-chloroform soluble extract of this fungus also showed 67% antifeedant rate against Leucaninia separata and caused 55% mortality against Plutella xylostella after three-day application.
Lipids. 2001 Feb;36(2):175-80.
A new ceramide from the basidiomycete Russula cyanoxantha.[Pubmed:
11269698
]

METHODS AND RESULTS:
A new phytosphingosine-type ceramide (1) was isolated along with nine other compounds-5alpha,8alpha-epidioxy(22E,24R)-ergosta-6,22-dien-3beta-ol, 5alpha,8alpha-epidioxy-(24S)-ergosta-6-en-3beta-ol, (24S)-ergosta-7-ene-3beta,5alpha,6beta-triol, (22E,24R)-ergosta-7,22-dien-3beta,5alpha,6beta-triol, inosine, adenine, L-pyroglutamic acid, fumaric acid, and D-allitol from the ethanol and chloroform/methanol extract of the fruiting bodies of the basidiomycete Russula cyanoxanotha (Schaeff.) Fr.
CONCLUSIONS:
The structure of (1) was established as (2S,3S,4R,2'R)-2-(2'-Hydroxytetracosanoylamino)-octadecane-1,3,4-triol by means of spectroscopic and chemical methods.