Cerebroside B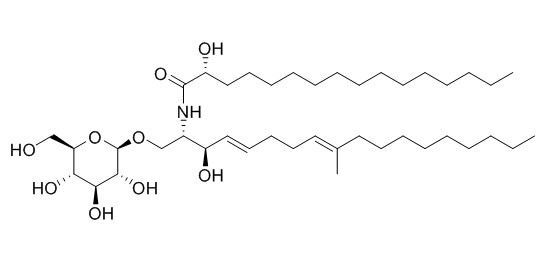 Cerebroside B1b has antiulcerogenic activity.
Inquire / Order: manager@chemfaces.com
Technical Inquiries: service@chemfaces.com
Tel: +86-27-84237783
Fax: +86-27-84254680

Address:
1 Building, No. 83, CheCheng Rd., Wuhan Economic and Technological Development Zone, Wuhan, Hubei 430056, PRC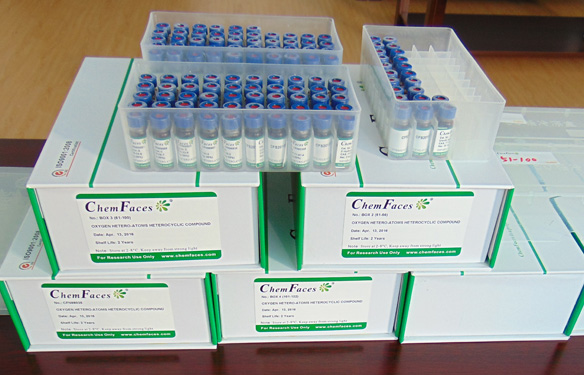 Providing storage is as stated on the product vial and the vial is kept tightly sealed, the product can be stored for up to
24 months(2-8C)
.
Wherever possible, you should prepare and use solutions on the same day. However, if you need to make up stock solutions in advance, we recommend that you store the solution as aliquots in tightly sealed vials at -20C. Generally, these will be useable for up to two weeks. Before use, and prior to opening the vial we recommend that you allow your product to equilibrate to room temperature for at least 1 hour.
Need more advice on solubility, usage and handling? Please email to: service@chemfaces.com
The packaging of the product may have turned upside down during transportation, resulting in the natural compounds adhering to the neck or cap of the vial. take the vial out of its packaging and gently shake to let the compounds fall to the bottom of the vial. for liquid products, centrifuge at 200-500 RPM to gather the liquid at the bottom of the vial. try to avoid loss or contamination during handling.
BMC Complement Altern Med.2019, 19(1):367
J of the Society of Cosmetic Scientists of Korea2018, 44(4):407-417
J Ethnopharmacol.2019, 235:406-414
Molecules.2019, 24(4):E744
Korean J. of Food Sci. and Tech2016, 172-177
Nat Prod Sci.2014, 20(3):182-190
Anticancer Res.2014, 34(7):3505-9
Journal of Life Science2017, 233-240
Pharm Biol.2016, 54(7):1255-62
Drug Invention Today2019, 12(6):1303-1306
Sci Rep. 2015 May 21;5:10486.
Δ10(E)-Sphingolipid Desaturase Involved in Fusaruside Mycosynthesis and Stress Adaptation in Fusarium graminearum.[Pubmed:
25994332
]
Sphingolipids are biologically important and structurally distinct cell membrane components. Fusaruside (1) is a 10,11-unsaturated immunosuppressive fungal sphingolipid with medical potentials for treating liver injury and colitis, but its poor natural abundance bottlenecks its druggability.
METHODS AND RESULTS:
Here, fusaruside is clarified biosynthetically, and its efficacy-related 10,11-double bond can be generated under the regioselective catalysis of an unprecedented Δ10(E)-sphingolipid desaturase (Δ10(E)-SD). Δ10(E)-SD shares 17.7% amino acid sequence similarity with a C9-unmethylated Δ10-sphingolipid desaturase derived from a marine diatom, and 55.7% with Δ8(E)-SD from Fusarium graminearum. Heterologous expression of Δ10(E)-SD in Pichia pastoris has been established to facilitate a reliable generation of 1 through the Δ10(E)-SD catalyzed desaturation of Cerebroside B (2), an abundant fungal sphingolipid. Site directed mutageneses show that the conserved histidines of Δ10(E)-SD are essential for the 10,11-desaturation catalysis, which is also preconditioned by the C9-methylation of the substrate. Moreover, Δ10(E)-SD confers improved survival and faster growth to fungal strains at low temperature and high salinity, in parallel with to higher contents of 1 in the mycelia.
CONCLUSIONS:
Collectively, the investigation describes a new Δ10(E)-sphingolipid desaturase with its heterologous expression fundamentalizing a biotechnological supply of 1, and eases the follow-up clarification of the immunosuppression and stress-tolerance mechanism.
Nat Prod Res. 2013;27(1):80-4.
Steroids and phenolic constituents from the fruiting bodies of the basidiomycete Sarcodon joedes.[Pubmed:
22320163
]
Nine secondary metabolites, including four steroids, four phenolics and one cerebroside, were isolated from the methanol extract of the fruiting bodies of the basidiomycete Sarcodon joedes.
METHODS AND RESULTS:
The isolated compounds were identified by spectroscopic analyses as (22E,24R)-6β-methoxyergosta-7,22-diene-3β,5α-diol (1), 2',3'-diacetoxy-3,4,5',6',4″-pentahydroxy-p-terphenyl (2), Cerebroside B (3), ergosta-7,22-dien-3β-ol (4), ergosterol peroxide (5), (22E,24R)-3β-hydroxy-ergosta-5,22-dien-7-one (6), benzoic acid (7), methyl p-hydroxybenzoate (8) and 3,4-dihydroxybenzoic acid (9). The cytotoxic activities of these compounds were evaluated.
CONCLUSIONS:
All these compounds were isolated from this fungus for the first time.
Tetrahedron, 1989, 45(23):7263-80.
Synthesis of cerebroside B1b with antiulcerogenic activity I. Synthesis of ceramides with optically active α-hydroxypalmitic acids.[Reference:
WebLink
]

METHODS AND RESULTS:
Synthesis of Cerebroside B1b with antiulcerogenic activity I. Synthesis of ceramides with optically active α-hydroxypalmitic acids.