3',3'''-Binaringenin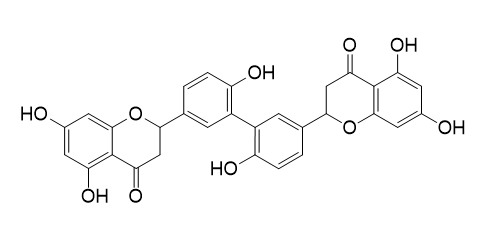 3',3'''-Binaringenin has antitumor activity.
Inquire / Order: manager@chemfaces.com
Technical Inquiries: service@chemfaces.com
Tel: +86-27-84237783
Fax: +86-27-84254680

Address:
1 Building, No. 83, CheCheng Rd., Wuhan Economic and Technological Development Zone, Wuhan, Hubei 430056, PRC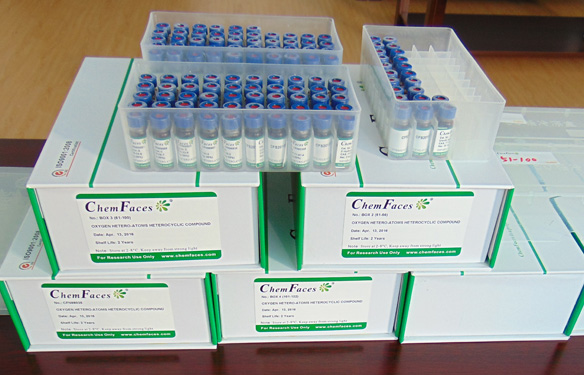 Providing storage is as stated on the product vial and the vial is kept tightly sealed, the product can be stored for up to
24 months(2-8C)
.
Wherever possible, you should prepare and use solutions on the same day. However, if you need to make up stock solutions in advance, we recommend that you store the solution as aliquots in tightly sealed vials at -20C. Generally, these will be useable for up to two weeks. Before use, and prior to opening the vial we recommend that you allow your product to equilibrate to room temperature for at least 1 hour.
Need more advice on solubility, usage and handling? Please email to: service@chemfaces.com
The packaging of the product may have turned upside down during transportation, resulting in the natural compounds adhering to the neck or cap of the vial. take the vial out of its packaging and gently shake to let the compounds fall to the bottom of the vial. for liquid products, centrifuge at 200-500 RPM to gather the liquid at the bottom of the vial. try to avoid loss or contamination during handling.
BMC Cancer. 2021, 21(1):91.
Planta Med.2018, 84(6-07):465-474
Biochem Biophys Res Commun.2018, 505(4):1148-1153
Biomed Pharmacother.2022, 145:112410.
Aging (Albany NY).2021, 13(19):22867-22882.
LWT2021, 147:111620.
Evid Based Complement Alternat Med.2019, 2019:2135351
Korean J. Medicinal Crop Sci.2021, 29(6):425-433
J Korean Society of Food Science & Nutrition2021, 50(9): 962-970
Korean J. Medicinal Crop Sci2021, 10:345-352.
Front Pharmacol . 2022 Apr 29;13:849110.
Tissue Distribution, Excretion, and Interaction With Human Serum Albumin of Total Bioflavonoid Extract From Selaginella doederleinii[Pubmed:
35571075
]
Selaginella doederleinii Hieron is a traditional Chinese medicinal herb widely used to treat different cancers. Previously, we showed that the total bioflavonoid extract of S. doederleinii (TBESD) exhibits anti-carcinogenic activities both in vitro and in vivo. However, the plasma protein binding and pharmacokinetics parameters of TBESD remain unclear. To investigate plasma protein binding, tissue distribution, and excretion of TBESD, rats were administered a single dose of TBESD (600 mg/kg) intragastrically and tissue distribution and excretion of TBESD components were determined by rapid high-performance liquid chromatography and tandem mass spectrometry. TBESD binding to human serum albumin (HSA) was assessed by fluorescence spectroscopy. TBESD components amentoflavone, delicaflavone, robustaflavone, 2″,3″-dihydro-3',3‴-biapigenin, and 3',3‴-binaringenin were rapidly absorbed and distributed in various tissues, mostly in the lungs, kidneys, and ovaries, without long-term accumulation. The excretion of bioflavonoids occurred mostly via the intestinal tract and constituted 30% of the administered dose up to 48 h. Spectral analysis indicated that TBESD had a dynamic quenching effect on HSA by binding to one HSA site through hydrophobic interactions and hydrogen bond formation. This is the first comprehensive report on the tissue distribution, excretion, and plasma protein binding of TBESD. This study provides important information on TBESD pharmacokinetics necessary for its further development into a therapeutic form for clinical applications.
J Pharm Biomed Anal . 2018 Feb 5;149:80-88.
Simultaneous quantification of five biflavonoids in rat plasma by LC-ESI-MS/MS and its application to a comparatively pharmacokinetic study of Selaginella doederleinii Hieron extract in rats[Pubmed:
29101819
]
Selaginella doederleinii Hieron is a widely used as folk Chinese medicine for treatment of different cancers. Our previous investigations have confirmed that the total biflavonoids in ethyl acetate extract from S. doederleinii (SDEA) have favorable anticancer potentials. However, the in vivo process of its bioactive ingredients remains unknown. In this paper, a sensitive and reliable method was developed for simultaneous quantification of main five biflavonoids, including amentoflavone, robustaflavone, 2″,3″-dihydro-3',3″-biapigenin, 3',3″-binaringenin and delicaflavone in the ethyl acetate extract of S. doederleinii (SDEA extract) in rat plasma by high-performance liquid chromatography with electrospray ionization-mass spectrometry (HPLC-ESI-MS/MS). Chromatographic separation was performed using an Ultimate XB-C18 (100×2.1mm, 3.5μm) with gradient elution of water (0.5% acetic acid) and acetonitrile at 0.2mL/min. All analytes with internal standard (chrysin) were detected using selective reaction monitoring (SRM) in negative ionization mode. The method showed a good linearity over a wide concentration range (r®2>0.99). The limits of quantification for the biflavonoids were less than 10ng/mL. The developed method was applied to the comparatively pharmacokinetic study of the five biflavonoids after oral or intravenous administration of SDEA extract in rats. In addition, in silico assessments of permeability and solubility of these biflavonoids were also performed to understand their poor bioavailability. It is the first time to report the in vivo process profiles of the biflavonoids of SDEA extract in rats.