Withaperuvin C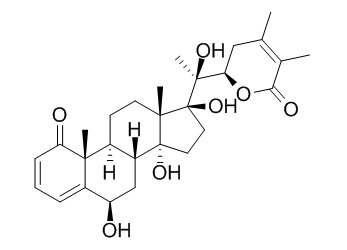 Withaperuvin C may have anti-inflammatory activity with lipopolysaccharide (LPS)-activated murine macrophage RAW 264.7 cells.
Inquire / Order: manager@chemfaces.com
Technical Inquiries: service@chemfaces.com
Tel: +86-27-84237783
Fax: +86-27-84254680

Address:
1 Building, No. 83, CheCheng Rd., Wuhan Economic and Technological Development Zone, Wuhan, Hubei 430056, PRC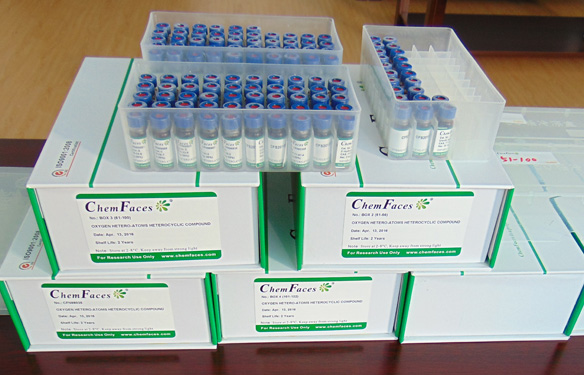 Providing storage is as stated on the product vial and the vial is kept tightly sealed, the product can be stored for up to
24 months(2-8C)
.
Wherever possible, you should prepare and use solutions on the same day. However, if you need to make up stock solutions in advance, we recommend that you store the solution as aliquots in tightly sealed vials at -20C. Generally, these will be useable for up to two weeks. Before use, and prior to opening the vial we recommend that you allow your product to equilibrate to room temperature for at least 1 hour.
Need more advice on solubility, usage and handling? Please email to: service@chemfaces.com
The packaging of the product may have turned upside down during transportation, resulting in the natural compounds adhering to the neck or cap of the vial. take the vial out of its packaging and gently shake to let the compounds fall to the bottom of the vial. for liquid products, centrifuge at 200-500 RPM to gather the liquid at the bottom of the vial. try to avoid loss or contamination during handling.
J Ethnopharmacol.2017, 197:157-164
Preprints2017, 2017120176
Phytomedicine.2019, 61:152813
Fitoterapia.2015, 100:179-86
Plant Cell Physiol.2018, 59(1):128-141
LWT-Food Sci Technol2020, 109163
J Biol Chem.2014, 289(3):1723-31
J Mol Med (Berl).2018, 96(7):661-672
Chemistry of Plant Materials.2019, 129-136
Srinagarind Medical Journal2017, 32(1)
Hawaii J Med Public Health. 2016 Nov;75(11):353-359.
The Daniel K. Inouye College of Pharmacy Scripts: Poha Berry (Physalis peruviana) with Potential Anti-inflammatory and Cancer Prevention Activities.[Pubmed:
27920947
]
The edible fruits are commonly known as cape gooseberry or poha in Hawai'i.
METHODS AND RESULTS:
In part of our study, three new withanolides, physaperuvin G (1), physaperuvins I-J (2-3), along with four known withanolides, namely, 4β-hydroxywithanolide E (4), Withaperuvin C (5), and physalactone (6), coagulin (7) were isolated from the aerial parts of P. peruviana. In addition, two known compounds, phyperunolide F (8), and withanolide S (9), were isolated and identified from the poha berry fruits. The structures and absolute stereochemistry of new compounds from poha were elucidated by several spectroscopy methods: Nuclear Magnetic Resonance (NMR) spectroscopy, X-ray diffraction, and mass spectrometry analyses.
CONCLUSIONS:
All isolated poha compounds (aerial parts and fruits) were evaluated for their anti-inflammatory activity with lipopolysaccharide (LPS)-activated murine macrophage RAW 264.7 cells, and tumor necrosis factor alpha (TNF-α)-activated nuclear factor-kappa B (NF-κB) with transfected human embryonic kidney cells 293. Most of the isolated natural compounds showed activity with these assays.