Daturametelin I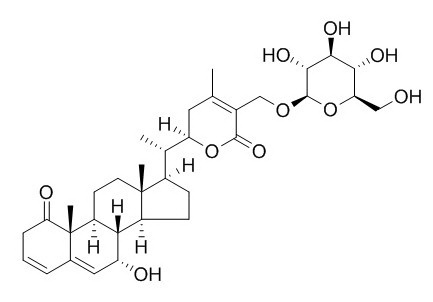 Reference standards.
Inquire / Order: manager@chemfaces.com
Technical Inquiries: service@chemfaces.com
Tel: +86-27-84237783
Fax: +86-27-84254680

Address:
1 Building, No. 83, CheCheng Rd., Wuhan Economic and Technological Development Zone, Wuhan, Hubei 430056, PRC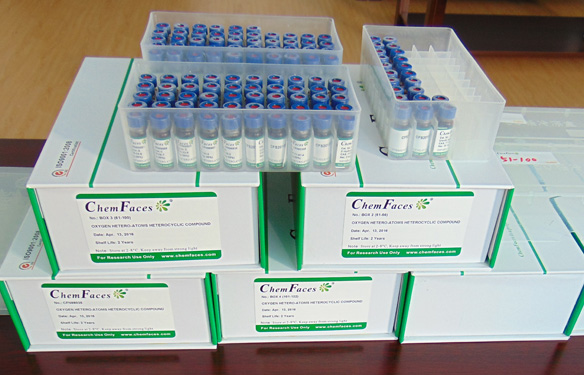 Providing storage is as stated on the product vial and the vial is kept tightly sealed, the product can be stored for up to
24 months(2-8C)
.
Wherever possible, you should prepare and use solutions on the same day. However, if you need to make up stock solutions in advance, we recommend that you store the solution as aliquots in tightly sealed vials at -20C. Generally, these will be useable for up to two weeks. Before use, and prior to opening the vial we recommend that you allow your product to equilibrate to room temperature for at least 1 hour.
Need more advice on solubility, usage and handling? Please email to: service@chemfaces.com
The packaging of the product may have turned upside down during transportation, resulting in the natural compounds adhering to the neck or cap of the vial. take the vial out of its packaging and gently shake to let the compounds fall to the bottom of the vial. for liquid products, centrifuge at 200-500 RPM to gather the liquid at the bottom of the vial. try to avoid loss or contamination during handling.
Nutrients2020, 12(2):488
Onco Targets Ther.2017, 10:3467-3474
J of Essential Oil Research2019, 1677272
Industrial Crops and Products2018, 353-362
Oncotarget.2017, 8(53):90925-90947
Industrial Crops and Products2017, 95:286-295
J Food Compos Anal2017, 62:197-204
Anat Rec2018, 24264
Int J Mol Sci. 2014, 15(5):8443-57
J Agric Food Chem.2016, 64(35):6783-90
Chemistry & Biodiversity, 2006, 3(2):180-6
Daturametelins H, I, and J: Three New Withanolide Glycosides from Datura metel L.[Reference:
WebLink
]

METHODS AND RESULTS:
Three new withanolide glycosides named daturametelins H, Daturametelin I, daturametelin J (1-3), together with two known ones, daturataturin A (4) and 7,27-dihydroxy-1-oxowitha-2,5,24-trienolide (5), were isolated from the MeOH extract of the aerial parts of Datura metel L. (Solanaceae). Their structures were determined mainly by spectroscopic techniques including 2D-NMR (HMBC, HMQC, (1)H,(1)H-COSY, NOESY) and MS experiments. Compounds 1-5 were tested for their antiproliferative activity towards the human colorectal carcinoma (HCT-116) cell line.
CONCLUSIONS:
The nonglycosidic compound 5 exhibited the highest activity of the tested withanolides, with an IC(50) value of 3.2+/-0.2 microM (Table 3).
Frontiers in Pharmacology, 2018, 9:731.
Metabolites Identification of Bioactive Compounds Daturataturin A, Daturametelin I, N-Trans-Feruloyltyramine, and Cannabisin F From the Seeds of Datura metel in Rats.[Reference:
WebLink
]
Datura metel L. is a widely used traditional herbal medicine, and withanolides and amides are the two groups of main bioactive constituents in Datura metel seeds. This study aimed to elucidate the metabolism of four representative bioactive compositions containing daturataturin A (1), Daturametelin I (2), N-trans-feruloyltyramine (3), and cannabisin F (4) in rats.
METHODS AND RESULTS:
After separately oral administration of 20 mg/kg withanolides (1, 2) and amides (3, 4) to rats, a total of 12, 24, and 21 metabolites were detected in the plasma, urine, and fecal samples, respectively. Among them, three hydroxylated metabolites, 1-M3, 2-M2, and 3-M5, were detected in plasma and rat liver microsome incubation system in high abundance. Two metabolites of 1 and 2 were unambiguously identified by comparing with reference standards. Particularly, the methylated metabolite 27α-methoxy-(22R)-22,26-epoxy-27-[(β-D-glucopyranosyl)oxy]ergosta-2,4,6,24-tetraene-1,26-dione (daturametelin L) is a new compound.
CONCLUSIONS:
The withanolides could readily get hydroxylation or methylation metabolism. Meanwhile, the phase II metabolism (glucuronidation or sulfation) was the major reaction for the amides. This is the first study on in vivo metabolism of these active compounds in seeds of Datura metel.