Dihydrowithaferin A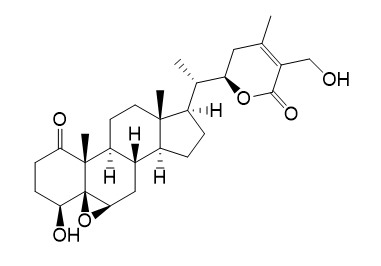 2, 3-Dihydrowithaferin A in the diet may prevent or decrease the growth of tumors in human.
Inquire / Order: manager@chemfaces.com
Technical Inquiries: service@chemfaces.com
Tel: +86-27-84237783
Fax: +86-27-84254680

Address:
1 Building, No. 83, CheCheng Rd., Wuhan Economic and Technological Development Zone, Wuhan, Hubei 430056, PRC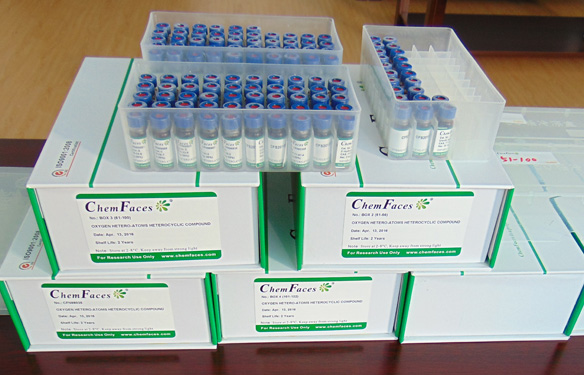 Providing storage is as stated on the product vial and the vial is kept tightly sealed, the product can be stored for up to
24 months(2-8C)
.
Wherever possible, you should prepare and use solutions on the same day. However, if you need to make up stock solutions in advance, we recommend that you store the solution as aliquots in tightly sealed vials at -20C. Generally, these will be useable for up to two weeks. Before use, and prior to opening the vial we recommend that you allow your product to equilibrate to room temperature for at least 1 hour.
Need more advice on solubility, usage and handling? Please email to: service@chemfaces.com
The packaging of the product may have turned upside down during transportation, resulting in the natural compounds adhering to the neck or cap of the vial. take the vial out of its packaging and gently shake to let the compounds fall to the bottom of the vial. for liquid products, centrifuge at 200-500 RPM to gather the liquid at the bottom of the vial. try to avoid loss or contamination during handling.
Int J Mol Sci.2018, 19(9):E2825
ACS Synth Biol.2020, 9(9):2282-2290.
Molecules.2019, 24(6):E1177
J Agric Food Chem.2019, 67(27):7748-7754
Nutrients.2019, 12(1)
BMB Rep.2020, 53(4):218-222.
Mol Pharm.2017, 14(9):3164-3177
Sci Rep.2019, 9:19059
Anal Sci.2019, 35(12):1317-1325
Eur J Pharm Sci.2016, 94:33-45
Life Sci. 2003 Nov 21;74(1):125-32.
Growth inhibition of human tumor cell lines by withanolides from Withania somnifera leaves.[Pubmed:
14575818
]
Ayurvedic medicines prepared in India consist of Withania somnifera roots as one of the main ingredients. It is consumed as a dietary supplement around the world. The leaves of W. somnifera were used in the treatment of tumors and inflammation in several Asian countries.
METHODS AND RESULTS:
We have isolated twelve withanolides such as withaferin A (1), sitoindoside IX (2), 4-(1-hydroxy-2, 2-dimethylcyclpropanone)-2, 3-Dihydrowithaferin A (3), 2, 3-Dihydrowithaferin A (4), 24, 25-dihydro-27-desoxywithaferin A (5), physagulin D (1-->6)-beta-D-glucopyranosyl- (1-->4)-beta-D-glucopyranoside (6), 27-O-beta-D-glucopyranosylphysagulin D (7), physagulin D (8), withanoside IV (9), and 27-O-beta-D-glucopyranosylviscosalactone B (10), 4, 16-dihydroxy-5beta, 6beta-epoxyphysagulin D (11), viscosalactone B (12) from the leaves of this species. Compounds 1-12 and diacetylwithaferin A (13) were tested for their antiproliferative activity on NCI-H460 (Lung), HCT-116 (Colon), SF-268 (Central Nervous System; CNS and MCF-7 (Breast) human tumor cell lines. The inhibitory concentration to afford 50% cell viability (IC50) for these compounds was determined by MTT (3-[4,5-dimethylthiazol-2-yl]-2,5-diphenyltetrazolium bromide) assay. Withaferin A and its derivatives exhibited inhibitory concentrations (50%) ranging from 0.24 +/- 0.01 to 11.6 +/- 1.9 microg/mL. Viscosalactone B (12) showed the 50% inhibition at concentrations ranging from 0.32 +/- 0.05 to 0.47 +/- 0.15 microg/mL whereas its 27-O-glucoside derivative (10) exhibited IC50 between 7.9 +/- 2.9 and 17.3 +/- 3.9 microg/ml. However, Physagulin D type withanolides showed either weak or no activity at 30 microg/mL.
CONCLUSIONS:
Therefore, incorporation of withanolides in the diet may prevent or decrease the growth of tumors in human.