Tenuifoliside A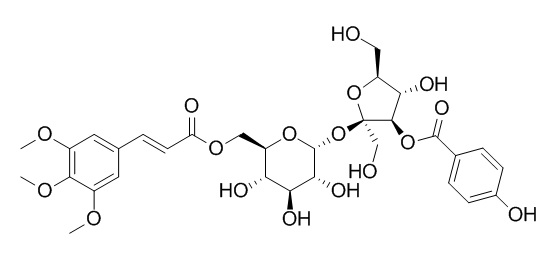 Tenuifoliside A has anti-apoptotic,neuroprotective,and anti-inflammatory effects, it inhibits the NF-κB and MAPK pathways.
Inquire / Order: manager@chemfaces.com
Technical Inquiries: service@chemfaces.com
Tel: +86-27-84237783
Fax: +86-27-84254680

Address:
1 Building, No. 83, CheCheng Rd., Wuhan Economic and Technological Development Zone, Wuhan, Hubei 430056, PRC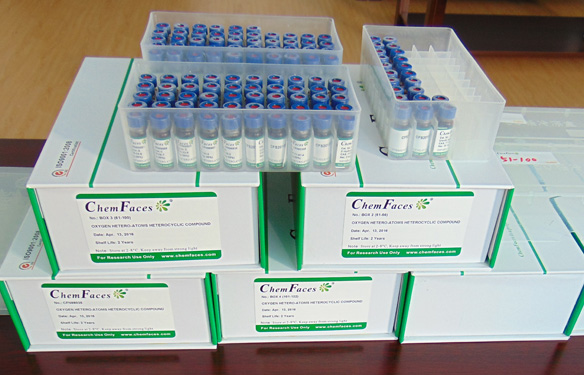 Providing storage is as stated on the product vial and the vial is kept tightly sealed, the product can be stored for up to
24 months(2-8C)
.
Wherever possible, you should prepare and use solutions on the same day. However, if you need to make up stock solutions in advance, we recommend that you store the solution as aliquots in tightly sealed vials at -20C. Generally, these will be useable for up to two weeks. Before use, and prior to opening the vial we recommend that you allow your product to equilibrate to room temperature for at least 1 hour.
Need more advice on solubility, usage and handling? Please email to: service@chemfaces.com
The packaging of the product may have turned upside down during transportation, resulting in the natural compounds adhering to the neck or cap of the vial. take the vial out of its packaging and gently shake to let the compounds fall to the bottom of the vial. for liquid products, centrifuge at 200-500 RPM to gather the liquid at the bottom of the vial. try to avoid loss or contamination during handling.
Molecules.2016, 21(6)
Life Sci.2019, 216:259-270
Int J Immunopathol Pharmacol.2019, 33:2058738419857537
Front Aging Neurosci.2019, 11:230
Molecules.2020, 25(3):734
Wageningen University & Research2018, January 2018
Phys Chem Chem Phys.2018, 20(23):15986-15994
Molecules.2015, 20(10):19172-88
Chinese Pharmacological Bulletin2019, 35(8):1120-1125
Semyung University2017, 149407
Eur J Pharmacol. 2013 Dec 5;721(1-3):267-76.
The inhibition of JNK MAPK and NF-κB signaling by tenuifoliside A isolated from Polygala tenuifolia in lipopolysaccharide-induced macrophages is associated with its anti-inflammatory effect.[Pubmed:
24076326
]
The root of Polygala tenuifolia Willd. (Polygalaceae) is well known for its use in the treatment of neurasthenia, amnesia, and inflammation.
METHODS AND RESULTS:
In this study, we isolated phenyl propanoid type metabolite Tenuifoliside A, one of the phenylpropanoids from P. tenuifolia, and investigated its anti-inflammatory effects in lipopolysaccharide (LPS)-stimulated RAW264.7 and murine peritoneal macrophages. The results showed that Tenuifoliside A inhibited the production of nitric oxide (NO), inducible nitric oxide synthase (iNOS), prostaglandin E2 (PG E2), and cyclooxygenase (COX)-2. In addition, Tenuifoliside A suppressed the production of pro-inflammatory cytokines, such as tumor necrosis factor (TNF)-α and interleukin (IL)-1β. We also evaluated the effects of Tenuifoliside A on the activation of nuclear factor-kappaB (NF-κB). Tenuifoliside A inhibited the translocation of the NF-κB subunit p65 into the nucleus by interrupting the phosphorylation and degradation of inhibitor kappa B (IκB)-α in LPS-stimulated murine peritoneal macrophages. Moreover, we confirmed that the suppression of the inflammatory process by Tenuifoliside A was mediated through the mitogen-activated protein kinases (MAPKs) pathway based on the fact that Tenuifoliside A significantly decreased p-c-Jun N-terminal kinase (p-JNK) protein expression in LPS-stimulated murine peritoneal macrophages. Taken together, the anti-inflammatory effects of Tenuifoliside A were mediated by the inhibition of the NF-κB and MAPK pathways.
CONCLUSIONS:
This study is the first report on the anti-inflammatory effects of Tenuifoliside A, and the strong anti-inflammatory effects of Tenuifoliside A provide potential compound to be developed as therapeutic for inflammatory diseases.
Rev Neurosci. 2015;26(3):305-21.
Plant-derived natural medicines for the management of depression: an overview of mechanisms of action.[Pubmed:
25719303
]
Depression is a serious widespread psychiatric disorder that affects approximately 17% of people all over the world. Exploring the neurological mechanisms of the antidepressant activity of plant-derived agents could have a crucial role in developing natural drugs for the management of depression.
METHODS AND RESULTS:
The aim of the present study is to review the neurological mechanisms of action of antidepressant plants and their constituents. For this purpose, electronic databases, including PubMed, Science Direct, Scopus, and Cochrane Library, were searched from 1966 to October 2013. The results showed that several molecular mechanisms could be proposed for the antidepressant activity of medicinal plants and their constituents. Hypericum species could normalize brain serotonin level. Liquiritin and isoliquiritin from Glycyrrhiza uralensis rhizome act via the noradrenergic system. Rosmarinus officinalis and curcumin from Curcuma longa interact with D1 and D2 receptors as well as elevate the brain dopamine level. Sida tiagii and Aloysia gratissima involve γ-aminobutyric acid and N-methyl-D-aspartate receptors, respectively. Fuzi polysaccharide-1 from Aconitum carmichaeli could affect brain-derived neurotrophic factor signaling pathways. Psoralidin from Psoralea corylifolia seed modulate the hypothalamic-pituitary-adrenal axis. The total glycosides of Paeonia lactiflora demonstrate an inhibitory effect on both subtypes of monoamine oxidase. 3,6'-Di-o-sinapoyl-sucrose and Tenuifoliside A from Polygala tenuifolia exhibit cytoprotective effects on neuronal cells.
CONCLUSIONS:
Further preclinical and clinical trials evaluating their safety, bioefficacy, and bioavailability are suggested to prove the valuable role of natural drugs in the management of depressive disorders.
Phytomedicine. 2010 Aug;17(10):794-9.
Potential antidepressant properties of Radix Polygalae (Yuan Zhi).[Pubmed:
20541923
]
Radix Polygalae ("Yuan Zhi", the roots of Polygala tenuifolia Willd., YZ) is an important herb used in traditional Chinese medicine to mediate depression.
METHODS AND RESULTS:
The present study was designed to verify the antidepressant effects of the standardized YZ ethanol extract (YZE) and its four fractions YZ-30, YZ-50, YZ-70 and YZ-90 on the tail suspension (TST) and forced swimming test (FST). Furthermore, the standardization of the fractions obtained from the separation procedures was carried out by high-performance liquid chromatography (HPLC)-fingerprint. The YZ-50 fraction (Oligosaccharide esters--enriched, oral (200 mg/kg) showed a significant anti-immobility like effects. The data of YZ-50 on the corticosterone-induced injure of SH-SY5Y human neuroblastoma cell indicated that YZ-50 may have biological effects on neuroprotection. Proliferation of cell lines was assessed by dimethylthiazoldiphenyltetrazoliumbromide (MTT) and 5-bromo-2'-deoxyuridine (BrdU) incorporation assays. It was found that YZ-50 and its two bioactive compounds, 3,6'-di-o-sinapoyl-sucrose (DISS) and Tenuifoliside A(TEA) showed protection activities in SY5Y cells from the lesion.
CONCLUSIONS:
By using bioassay-screening methods, our results indicate that the presence of oligosaccharide esters such as DISS and TEA in this herb may be responsible for the cytoprotective activity effects.
Phytomedicine. 2014 Sep 15;21(10):1178-88.
Effect of Tenuifoliside A isolated from Polygala tenuifolia on the ERK and PI3K pathways in C6 glioma cells.[Pubmed:
24877714
]
Tenuifoliside A (TFSA) is a bioactive oligosaccharide ester component of Polygala tenuifolia Wild, a traditional Chinese medicine which was used to manage mental disorders effectively. The neuroprotective and anti-apoptotic effects of Tenuifoliside A have been demonstrated in our previous studies.
METHODS AND RESULTS:
The present work was designed to study the molecular mechanism of Tenuifoliside A on promoting the viability of rat glioma cells C6. We exposed C6 cells to Tenuifoliside A (or combined with ERK, PI3K and TrkB inhibitors) to examine the effects of Tenuifoliside A on the cell viability and the expression and phosphorylation of key proteins in the ERK and PI3K signaling pathway. Tenuifoliside A increased levels of phospho-ERK and phospho-Akt, enhanced release of BDNF, which were blocked by ERK and PI3K inhibitors, respectively (U0126 and LY294002). Moreover, the Tenuifoliside A caused the enhanced phosphorylation of cyclic AMP response element binding protein (CREB) at Ser133 site, the effect was revoked by U0126, LY294002 and K252a. Furthermore, when C6 cells were pretreated with K252a, a TrkB antagonist, known to significantly inhibit the activity of brain-derived neurotrophic factor (BDNF), blocked the levels of phospho-ERK, phospho-Akt and phosphor-CREB.
CONCLUSIONS:
Taking these results together, we suggested the neuroprotection of Tenuifoliside A might be mediated through BDNF/TrkB-ERK/PI3K-CREB signaling pathway in C6 glioma cells.