Oleracein E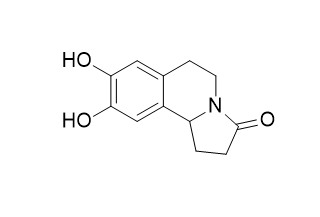 Oleracein E (OE), a tetrahydroisoquinoline, has potent antioxidant and anti-apoptotic activities. Olivine E is cardioprotective and neuroprotective.Oleracein E has the effect of improving cognitive function. Oleracein E exhibits moderate antibacterial activity. Oleracein E showed significant cytotoxicity against HepG2,with its inhibitory rate of 52.2% at 10 micromol x L(-1). Oleracein E has an osteogenic effect. TRP-1 (Oleracein E) strongly accelerates the Treg proliferation in vitro in a concentration-dependent manner.
Inquire / Order: manager@chemfaces.com
Technical Inquiries: service@chemfaces.com
Tel: +86-27-84237783
Fax: +86-27-84254680

Address:
1 Building, No. 83, CheCheng Rd., Wuhan Economic and Technological Development Zone, Wuhan, Hubei 430056, PRC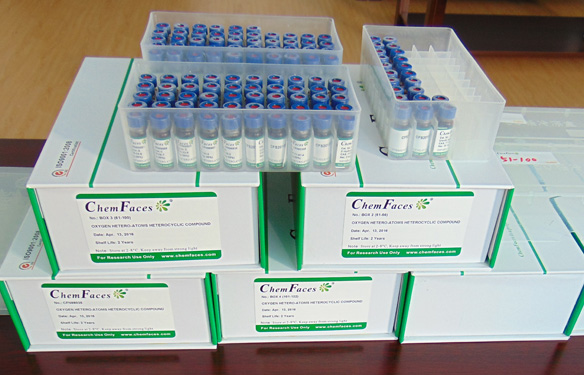 Providing storage is as stated on the product vial and the vial is kept tightly sealed, the product can be stored for up to
24 months(2-8C)
.
Wherever possible, you should prepare and use solutions on the same day. However, if you need to make up stock solutions in advance, we recommend that you store the solution as aliquots in tightly sealed vials at -20C. Generally, these will be useable for up to two weeks. Before use, and prior to opening the vial we recommend that you allow your product to equilibrate to room temperature for at least 1 hour.
Need more advice on solubility, usage and handling? Please email to: service@chemfaces.com
The packaging of the product may have turned upside down during transportation, resulting in the natural compounds adhering to the neck or cap of the vial. take the vial out of its packaging and gently shake to let the compounds fall to the bottom of the vial. for liquid products, centrifuge at 200-500 RPM to gather the liquid at the bottom of the vial. try to avoid loss or contamination during handling.
J Pharm Biomed Anal.2019, 172:268-277
J Phys Chem Lett.2021, 12(7):1793-1802.
Biosci Rep.2018, 38(4)
Acta Chromatographica2016, 29(3)
Front Plant Sci.2018, 9:1424
Process Biochemistry2019, 85:106-115
J Chromatogr B Analyt Technol Biomed Life Sci.2019, 1124:323-330
J Applied Biological Chemistry2021, 64(2):185-192
Molecules.2017, 22(2)
In Vitro Cellular & Developmental Biology - Plant2022, 58:972-988.
ACS Chem Neurosci . 2017 Jan 18;8(1):155-164.
Effect of Oleracein E, a Neuroprotective Tetrahydroisoquinoline, on Rotenone-Induced Parkinson's Disease Cell and Animal Models[Pubmed:
27731637
]
Oleracein E (OE), a tetrahydroisoquinoline possessing potent antioxidant activity, was first isolated from a traditional Chinese medicine, Portulaca oleraea L., and is hypothesized to be a neuroprotectant. In the present study, we evaluated the effects of racemic OE on rotenone-induced toxicity in Parkinson's disease (PD) cell and animal models. Pretreatment with OE (10 μM, 2 h) decreased lactic acid dehydrogenase (LDH) release and the apoptosis rate in rotenone (5 μM, 24 h)-treated SH-SY5Y human neuroblastoma cells. Further mechanistic study indicated that OE reduced reactive oxygen species (ROS) levels, inhibited extracellular signal-regulated kinase (ERK) 1/2 phosphorylation, reduced rotenone-induced up-regulation of the proapoptotic protein Bax, and prevented cytochrome C release and caspase-3 activation. In a rotenone-treated (intragastric 30 mg/(kg·d), 56 d) C57BL-6J mouse model, OE (intragastric 15 mg/(kg·d), 56 d) improved motor function, as indicated by an increased moving distance in the spontaneous activity test and sustained time on the rota-rod test. OE also elevated superoxide dismutase (SOD) activity, decreased malonaldehyde content, and reduced ERK1/2 phosphorylation in the midbrain and striatum of mice treated with rotenone. Furthermore, OE preserved tyrosine hydroxylase-positive neurons and maintained the density of dopaminergic (DAergic) fibers in the substantia nigra pars compacta (SNpc). Some of the effects of OE on PD models were similar to those of the positive control selegiline hydrochloride. Our results demonstrated that OE protects DAergic neurons against rotenone toxicity through reducing oxidative stress and down-regulating stress-related molecules. OE is worth exploring further for its neuroprotectant properties in the prevention and treatment of PD.
J Ethnopharmacol . 2020 Aug 10;258:112893.
Meconopsis horridula Hook. f. & Thomson extract and its alkaloid oleracein E exert cardioprotective effects against acute myocardial ischaemic injury in mice[Pubmed:
32387233
]
Meconopsis horridula Hook. f. & Thomson (MH) is a traditional Tibetan medicine used to promote blood circulation, remove bruises, remove stasis and relieve chest pain which benefit to cardiovascular diseases. Oleracein E (OE), a major tetrahydroisoquinoline alkaloid, can be isolated from MH ethanol extract. The antioxidant and anti-apoptotic effects of OE have been reported by previous pharmacological research. The objective of this article was to investigate the cardioprotective effects of MH extract and OE in an ICR mouse of acute myocardial ischaemic injury. A left anterior descending (LAD) artery ligation mouse model of AMI was established. In vivo, cardiac function after MH and OE treatment was determined through measurement of EF, FS, LVEDd, and LVEDs by echocardiography. The levels of SOD, MDA, CK-MB and LDH in serum were also detected. A TUNEL assay was used to verify apoptosis. Changes in collagen deposition and inflammatory cell infiltration in ischemic myocardial tissue were observed by histopathological examination. In vitro, H9c2 cells were pre-treated with OE for 6 h, and then cultured in serum-free medium with H2O2 for 2 h. CCK8 assay measured cell viability, and flow cytometry determined apoptosis levels and ROS content. The mechanism was explored by western blotting. These results showed that MH and OE significantly affected acute myocardial ischaemia by improving cardiac function and that OE downregulated the expression of related proteins in the MAPK signalling pathway. These findings provide substantial evidence of MH may applicate in clinic, and indicate that such medicines have potential value for the treatment of ischaemia-induced heart disease.
Phytother Res . 2009 Jul;23(7):1032-1035.
Phenolic alkaloids as a new class of antioxidants in Portulaca oleracea[Pubmed:
19140117
]
Antioxidant activities of three phenolic alkaloids, i.e., oleracein A (OA), oleracein B (OB) and Oleracein E (OE), isolated from Portulaca oleracea were determined, based on scavenging activity against 1,1-diphenyl- 2-picryl-hydrazyl (DPPH) radical and inhibitory effect on hydrogen peroxide-induced lipid peroxidation in rat brain homogenates. The DPPH radical scavenging activities of these phenolic alkaloids were lower than caffeic acid but higher than ascorbic acid and alpha-tocopherol, being in the following order: OB > OA > OE. OE was most potent in preventing formation of malondialdehyde (MDA) with an EC(50) value of 73.13 microM, close to that of caffeic acid (72.09 microM). It was demonstrated that phenolic alkaloids served as a new class of antioxidant agents in this plant.
Molecules . 2012 Aug 20;17(8):9939-9946.
Alkaloids isolated from the lateral root of Aconitum carmichaelii[Pubmed:
22907155
]
Two new alkaloids, aconicarmine (1) and aconicaramide (5), were isolated from the EtOH extract of the lateral roots of Aconitum carmichaelii, together with five known compounds: fuziline (2), neoline (3), N-ethylhokbusine B (4), 5-hydroxymethylpyrrole-2-carbaldehyde (6), and Oleracein E (7). Their structures were elucidated by physical and NMR analysis. Pyrrole alkaloids were isolated from A. carmichaelii for the first time. In the in vitro assays, compounds 2 and 3 showed activity against pentobarbital sodiuminduced cardiomyocytes damage by obviously recovering beating rhythm and increasing the cell viability, while compounds 5 and 7 showed moderate antibacterial activity.
Zhongguo Zhong Yao Za Zhi . 2014 Apr;39(7):1152-1156.
[Chemical constituents from a Tibetan medicine Meconopsis horridula][Pubmed:
25011245
]
A phytochemical investigation on the aerial parts of a Tibetan medicine Meconopsis horridula, by solvent extraction, repeated chromatographies on silica gel, Sephadex LH-20, and preparative TLC techniques, led to the isolation of 9 compounds. By spectroscopic analysis and comparison of its 1H and 13C-NMR data with those in literatures, their structures were identified as Oleracein E(1), N-( trans-p-coumaroyl) tyramine (2), chrysoeriol (3), apigenin (4), hydnocarpin (5), p-coumaric acid glucosyl ester (6), stigmast-5-ene-3beta-ylformate (7), 3beta-hydroxy-7alpha-ethoxy-24beta-ethylcholest-5-ene (8), and beta-sitosterol (9), respectively, among which compounds 6-8 were isolated from the genus for the first time,and 1,3 were isolated from the species for the first time. A MTT method was applied to evaluate the cytotoxic activity of compounds 14 against the human hepatocellular liver carcinoma cell line (HepG2), and compound 1 showed significant cytotoxicity against HepG2,with its inhibitory rate of 52.2% at 10 micromol x L(-1).
Phytomedicine . 2021 Dec;93:153750.
Extract and fraction of Musa paradisiaca flower have osteogenic effect and prevent ovariectomy induced osteopenia[Pubmed:
34662767
]
Background: Osteoporosis is an asymptomatic bone disorder leading to altered bone microarchitecture, mineralization and strength. Musa paradisiaca has been reported to have antioxidant and anti-inflammatory effects in various diseases. Its impact on postmenopausal osteoporosis has not been investigated yet. Purpose: The intention of the current study was to evaluate the bone regeneration and osteoprotective potential of extract and fraction of M. paradisiaca flower in ovariectomized (Ovx) Sprague Dawley (SD) rats, a model of post-menopausal bone loss. The study also aims to identify osteogenic compounds from active fraction. Methods: Ethanolic extract (MFE) and butanolic fraction (MFE-Bu) from flower of M. paradisiaca were prepared and their efficacy was tested in rat femur osteotomy model at different doses. Effective dose from both extract (250 mg/kg) and fraction (50 mg/kg) were taken for study in osteopenic bone loss model. PTH was taken as reference standard (20 μg/kg/twice a week). Bones were harvested at autopsy for dynamic and static histomorphometry. Serum was collected for ELISA. Pure compounds were isolated from butanolic fraction (MFE-Bu), and were assessed for their osteogenic effect. Results: MFE and MFE-Bu were observed for their potential in bone healing and prevention of bone loss. Both MFE and MFE-Bu promoted new bone regeneration at injury site as assessed by microCT and calcein dye labeling studies. These also led to restoration of bone microarchitecture deteriorated as a result of osteopenia and improved bone biomechanical properties. Extract as well as the fraction exhibited dual bone anabolic and anti-resorptive properties where they elevated serum procollagen type I N-terminal propeptide (P1NP), a bone formation marker and suppressed serum C-telopeptide of type I collagen (CTX-1), a bone resorption marker. As many as four osteogenic compounds were isolated from MFE-Bu. Oleracein-E was found to be the most potent osteogenic agent based on osteoblast differentiation, mineralization assays, qPCR and protein expression studies. Conclusion: Our studies demonstrates that ethanolic extract from the flower of M. paradisiaca and its butanolic fraction exhibit dual osteogenic and anti-resorptive potential, and have an advantage over PTH which though promotes bone formation but is also bone catabolic in nature.
Bioorg Chem . 2021 Jun;111:104908.
Small organic molecules accelerate the expansion of regulatory T cells[Pubmed:
33895604
]
The regulatory T cells (Treg cells) expressing CD4 + CD25 + FOXP3 + markers are indispensable for the initiation of immune homeostasis and tolerance to self-antigens in both mice and humans. A decrease in regulatory T cells leads to various autoimmune pathologies. Herein, we report three low molecular weight, small organic molecules as a new series of Treg proliferators TRP-1-3. These small molecules were tested for their proliferative effect on regulatory T cells. It was found that TRP-1 (Oleracein E) strongly accelerates the Treg proliferation in vitro in a concentration-dependent manner. The effect was evident for all subsets of Treg cells tested, including naturally occurring, thymus-derived and peripherally-induced or adaptive Treg, indicating an effect independent of the maturation site. Importantly, increased Treg cells numbers by TRP-1 correlated with improved CD4 + CD25 + FOXP3 + expression in vitro, while propidium iodide-based staining showed low TRP-1-induced cytotoxicity. Molecular docking plus simulation studies of these TRP-1-3 with IL-2R, mTOR and TCR receptors suggest a TCR-based Treg cells activation mechanism. Because of its high Treg cells activities and low cellular cytotoxicity, TRP-1-3 may be useful in stimulating ex-vivo/in-vivo, Treg cell-specific responses for therapeutic applications.
Life Sci . 2017 Dec 15;191:211-218.
Phenolic alkaloid oleracein E attenuates oxidative stress and neurotoxicity in AlCl 3-treated mice[Pubmed:
29054451
]
Aims: Chelation therapy and antioxidant supplements have been demonstrated to be useful in ameliorating aluminum (Al) induced neurotoxicity. Oleracein E (OE) is a phenolic antioxidant alkaloid which possesses a rare tetrahydroisoquinoline/pyrrolidone tricyclic skeleton and a catechol moiety. The aim of this study was to investigate whether OE can chelate with Al and alleviate AlCl3-induced oxidative stress and neurotoxicity. Main methods: Kunming mice were administered AlCl3 (40mg/kg/d, i.p., 28days), with co-administration of OE (3mg/kg/d, 15mg/kg/d, i.g.) and the positive control piracetam (PA, 400mg/kg/d, i.g.). The Al contents in the brain and plasma were determined using ICP-MS. Al chelating ability of OE was assayed using UV spectroscopy. MDA, GSH, SOD or CAT, in the brain or plasma were determined. HE staining was used to examine hippocampal morphology alterations. IHC staining was employed to measure the expression of apoptotic-related proteins Bax, Bcl-2 and Caspase-3. Key findings: AlCl3 remarkably increased the brain and plasma Al contents, increased lipid peroxidation and induced hippocampal neuronal damage. OE chelated with Al to form a stable complex. An increase in brain Al content by OE (15mg/kg) likely occurred through chelating with Al, which reduced the toxicity of free Al ion in the brain. OE significantly decreased MDA by regulating some antioxidant biomarkers. Furthermore, OE significantly ameliorated the protein expression changes in some apoptotic indices induced by AlCl3. Significance: The phenolic alkaloid OE, as an antioxidant, Al chelator and apoptosis inhibitor, alleviates oxidative stress and neurotoxicity induced by AlCl3.
Phytomedicine . 2016 May 15;23(5):460-467.
Racemic oleracein E increases the survival rate and attenuates memory impairment in D-galactose/NaNO₂-induced senescent mice[Pubmed:
27064004
]
Background: Compounds that possess a pyrrolidone skeleton are a rich resource for the discovery of nootropic drugs. Oleracein E (OE), which possesses both tetrahydroisoquinoline and pyrrolidone skeletons, was first isolated from the medicinal plant Portulaca oleracea L. and was thought to be an active component in the cognition-improvement effect induced by this herb. The aim of this study was to investigate the effect of OE on cognitive impairment in senescent mice and its underlying mechanism of action. Method: Senescent Kunming mice were established by the intraperitoneal injection of D-galactose (D-gal, 1250 mg/kg/d) and NaNO2 (90 mg/kg/d) for 8 weeks. OE (3 mg/kg/d, 15 mg/kg/d) was orally administered for 8 weeks, and the nootropic drug piracetam (PA, 400 mg/kg/d) was used as a positive control. A Morris water maze was used to assess cognitive ability. GSH and MDA levels and T-AOC, SOD, and CAT activities in the brain or plasma were determined. Hippocampal morphology was observed by HE staining, and expression of the anti-apoptotic protein Bcl-2 and the pro-apoptotic proteins Bax and Caspase-3 was observed by immunohistochemical staining. Results: Large-dosage treatments with D-gal/NaNO2 for 8 weeks significantly reduced survival, impaired spatial memory capacity, compensatorily up-regulated GSH level and T-AOC and SOD activities, decreased CAT activity, and induced hippocampal neuronal damage and apoptosis as reflected by the apparent low expression of Bcl-2 and high expression of Bax and Caspase-3. OE significantly prolonged lifespan and was more potent than PA. Similar to PA, OE at 15 mg/kg/d improved memory capacity. The underlying mechanism of action was related to the reversal of abnormal brain antioxidant biomarkers (GSH, T-AOC, and SOD) to normal levels and the inhibition of hippocampal neuronal apoptosis. Conclusion: OE from P. oleracea is an active compound for improving cognitive function and is also a candidate nootropic drug for the treatment of age-related dementia.
Zhong Yao Cai . 2007 Oct;30(10):1248-1250.
[Study on chemical constituents of Portulaca oleracea][Pubmed:
18300494
]
Objective: To investigate chemical constituents of Portulaca oleracea. Methods: The constituents were isolated by various column chromatography methods, and their structures were elucidated by spectral analysis. Results: Five compounds were isolated from 70% ethanol extract and their structures were elucidated as oleracein A(1), oleracein B(2), Oleracein E(3), hesperidin (4) and caffeic acid (5). Conclusion: Compound 4 and 5 are isolated from Portulaca oleracea for the first time.
Nat Prod Res . 2022 Jan;36(2):595-600.
A novel alkaloid from Portulaca oleracea L. and its anti-inflammatory activity[Pubmed:
32691626
]
A novel alkaloid identified as methyl 8,9-dihydroxy-11-oxo-6,11-dihydro-5H-benzo[d]pyrrolo[1,2-a]azepine-3-carboxylate, named portulacatone A (1) with six known compounds Oleracein E (2), 6,7-dihdroxy-3,4-dihydro-2H-isoquinolin-1-one (3), N-trans-p-coumaroytyramine (4), 9H-carbazole (5), isoaspergin (6) and flavoglaucin (7) were obtained from Portulaca oleracea L., while compounds (5-7) were isolated from the plant for the first time. The new structure was identified by using UHPLC-ESI-Q-TOF/MS, 1D, 2D NMR and the others were proved by 1H-NMR and 13C NMR that comparing with previous reports. It was suggested that the portulacatone A (1) can significantly inhibit the inflammatory factor, interleukin-1β (IL-1β) in the RAW 264.7 cells induced by LPS.