Strictosidine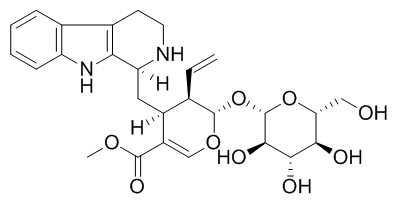 Strictosidine has DNA damaging activity in yeast RS 188N mutant, assessed as drug level required to produce 12 mm zone of inhibition.
Inquire / Order: manager@chemfaces.com
Technical Inquiries: service@chemfaces.com
Tel: +86-27-84237783
Fax: +86-27-84254680

Address:
1 Building, No. 83, CheCheng Rd., Wuhan Economic and Technological Development Zone, Wuhan, Hubei 430056, PRC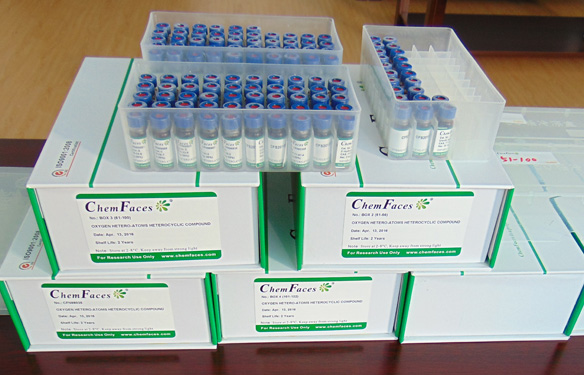 Providing storage is as stated on the product vial and the vial is kept tightly sealed, the product can be stored for up to
24 months(2-8C)
.
Wherever possible, you should prepare and use solutions on the same day. However, if you need to make up stock solutions in advance, we recommend that you store the solution as aliquots in tightly sealed vials at -20C. Generally, these will be useable for up to two weeks. Before use, and prior to opening the vial we recommend that you allow your product to equilibrate to room temperature for at least 1 hour.
Need more advice on solubility, usage and handling? Please email to: service@chemfaces.com
The packaging of the product may have turned upside down during transportation, resulting in the natural compounds adhering to the neck or cap of the vial. take the vial out of its packaging and gently shake to let the compounds fall to the bottom of the vial. for liquid products, centrifuge at 200-500 RPM to gather the liquid at the bottom of the vial. try to avoid loss or contamination during handling.
FASEB J.2022, 36(7):e22387.
Nutrients.2020, 12(3):595.
Korean J Acupunct2020, 37:104-121
Molecules.2020, 25(7):1625.
Am J Chin Med.2016, 44(8):1719-1735
J Traditional Thai Medical Res.2022, 8(1):pp1-14.
Environ Toxicol.2022, 37(3):514-526.
Vietnam Journal of Food Control.2022, 5(3):pp.488-497.
J AOAC Int.2021, 104(6):1634-1651.
Nutr Res Pract.2020, 14(5):478-489.
Proc Natl Acad Sci U S A. 2015 Mar 17;112(11):3205-10.
De novo production of the plant-derived alkaloid strictosidine in yeast.[Pubmed:
25675512
]
The monoterpene indole alkaloids are a large group of plant-derived specialized metabolites, many of which have valuable pharmaceutical or biological activity. There are ∼3,000 monoterpene indole alkaloids produced by thousands of plant species in numerous families. The diverse chemical structures found in this metabolite class originate from Strictosidine, which is the last common biosynthetic intermediate for all monoterpene indole alkaloid enzymatic pathways. Reconstitution of biosynthetic pathways in a heterologous host is a promising strategy for rapid and inexpensive production of complex molecules that are found in plants.
METHODS AND RESULTS:
Here, we demonstrate how Strictosidine can be produced de novo in a Saccharomyces cerevisiae host from 14 known monoterpene indole alkaloid pathway genes, along with an additional seven genes and three gene deletions that enhance secondary metabolism.
CONCLUSIONS:
This system provides an important resource for developing the production of more complex plant-derived alkaloids, engineering of nonnatural derivatives, identification of bottlenecks in monoterpene indole alkaloid biosynthesis, and discovery of new pathway genes in a convenient yeast host.
J Enzyme Inhib Med Chem. 2014 Aug 20:1-7.
Ligand structures of synthetic deoxa-pyranosylamines with raucaffricine and strictosidine glucosidases provide structural insights into their binding and inhibitory behaviours.[Pubmed:
25140865
]

METHODS AND RESULTS:
Insight into the structure and inhibition mechanism of O-β-d-glucosidases by deoxa-pyranosylamine type inhibitors is provided by X-ray analysis of complexes between raucaffricine and Strictosidine glucosidases and N-(cyclohexylmethyl)-, N-(cyclohexyl)- and N-(bromobenzyl)-β-d-gluco-1,5-deoxa-pyranosylamine. All inhibitors anchored exclusively in the catalytic active site by competition with appropriate enzyme substrates.
CONCLUSIONS:
Thus facilitated prospective elucidation of the binding networks with residues located at <3.9 Å distance will enable the development of potent inhibitors suitable for the production of valuable alkaloid glucosides, raucaffricine and Strictosidine, by means of synthesis in Rauvolfia serpentina cell suspension cultures.
Bioorg Med Chem. 2014 Oct 15;22(20):5633-7.
Engineering strictosidine synthase: rational design of a small, focused circular permutation library of the β-propeller fold enzyme.[Pubmed:
24996997
]

METHODS AND RESULTS:
Strictosidine synthases catalyze the formation of Strictosidine, a key intermediate in the biosynthesis of a large variety of monoterpenoid indole alkaloids. Efforts to utilize these biocatalysts for the preparation of Strictosidine analogs have however been of limited success due to the high substrate specificity of these enzymes.
CONCLUSIONS:
We have explored the impact of a protein engineering approach called circular permutation on the activity of Strictosidine synthase from the Indian medicinal plant Rauvolfia serpentina.
Sci Rep. 2015 Feb 4;5:8227.
Co-overexpression of geraniol-10-hydroxylase and strictosidine synthase improves anti-cancer drug camptothecin accumulation in Ophiorrhiza pumila.[Pubmed:
25648209
]
Camptothecin (CPT) belongs to a group of monoterpenoidindole alkaloids (TIAs) and its derivatives such as irinothecan and topothecan have been widely used worldwide for the treatment of cancer, giving rise to rapidly increasing market demands.
METHODS AND RESULTS:
Genes from Catharanthus roseus encoding Strictosidine synthase (STR) and geraniol 10-hydroxylase (G10H), were separately and simultaneously introduced into Ophiorrhiza pumila hairy roots. Overexpression of individual G10H (G lines) significantly improved CPT production with respect to non-transgenic hairy root cultures (NC line) and single Strictosidine synthase overexpressing lines (S lines), indicating that G10H plays a more important role in stimulating CPT accumulation than Strictosidine synthase in O. pumila. Furthermore, co-overexpression of G10H and STR genes (SG Lines) caused a 56% increase on the yields of CPT compared to NC line and single gene transgenic lines, showed that simultaneous introduction of G10H and Strictosidine synthase can produce a synergistic effect on CPT biosynthesis in O. pumila.