Vinpocetine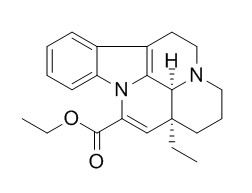 Vinpocetine is a selective inhibitor of voltage-sensitive sodium channel for the treatment of stroke, vascular dementia and Alzheimer's disease. Vinpocetine can attenuate neointimal formation in diabetic rats and inhibit HG-induced VSMCs proliferation, chemokinesis and apoptotic resistance by preventing ROS activation and affecting MAPK, PI3K/Akt, and NF-κB signaling.Vinpocetine has anti-inflammatory activity, can treat inflammation and pain induced by a gram-negative bacterial component by targeting NF-κB activation and NF-κB-related cytokine production in macrophages.
Inquire / Order: manager@chemfaces.com
Technical Inquiries: service@chemfaces.com
Tel: +86-27-84237783
Fax: +86-27-84254680

Address:
1 Building, No. 83, CheCheng Rd., Wuhan Economic and Technological Development Zone, Wuhan, Hubei 430056, PRC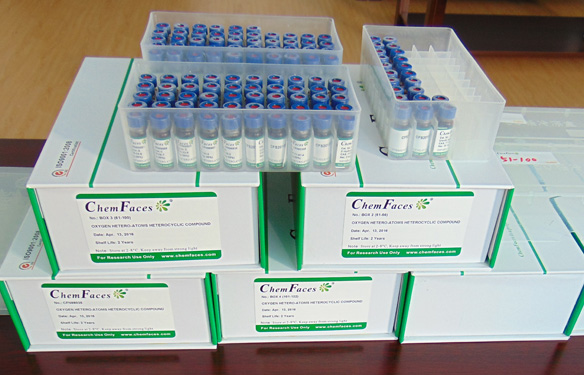 Providing storage is as stated on the product vial and the vial is kept tightly sealed, the product can be stored for up to
24 months(2-8C)
.
Wherever possible, you should prepare and use solutions on the same day. However, if you need to make up stock solutions in advance, we recommend that you store the solution as aliquots in tightly sealed vials at -20C. Generally, these will be useable for up to two weeks. Before use, and prior to opening the vial we recommend that you allow your product to equilibrate to room temperature for at least 1 hour.
Need more advice on solubility, usage and handling? Please email to: service@chemfaces.com
The packaging of the product may have turned upside down during transportation, resulting in the natural compounds adhering to the neck or cap of the vial. take the vial out of its packaging and gently shake to let the compounds fall to the bottom of the vial. for liquid products, centrifuge at 200-500 RPM to gather the liquid at the bottom of the vial. try to avoid loss or contamination during handling.
Plant Cell Physiol.2018, 59(1):128-141
Applied Biological Chemistry 2022, 65,5(2022).
Biomimetics (Basel).2022, 7(4):154.
J Food Biochem.2021, 45(7):e13774.
Bioorg Med Chem.2018, 26(14):4201-4208
J Food Sci.2022, 87(11):4905-4916.
Planta Med.2022, a-1876-3009.
J Cell Mol Med.2021, 25(5):2645-2654.
Turkish Journal of Pharmaceutical Sciences2022, DOI: 10.4274
Molecules2022, 27(12):3824.
Am J Physiol Cell Physiol. 2015 May 1;308(9):C737-49.
Vinpocetine modulates metabolic activity and function during retinal ischemia.[Pubmed:
25696811
]
Vinpocetine protects against a range of degenerative conditions and insults of the central nervous system via multiple modes of action. Little is known, however, of its effects on metabolism. This may be highly relevant, as Vinpocetine is highly protective against ischemia, a process that inhibits normal metabolic function.
METHODS AND RESULTS:
This study uses the ischemic retina as a model to characterize Vinpocetine's effects on metabolism. Vinpocetine reduced the metabolic demand of the retina following ex vivo hypoxia and ischemia to normal levels based on lactate dehydrogenase activity. Vinpocetine delivered similar effects in an in vivo model of retinal ischemia-reperfusion, possibly through increasing glucose availability. Vinpocetine's effects on glucose also appeared to improve glutamate homeostasis in ischemic Müller cells. Other actions of Vinpocetine following ischemia-reperfusion, such as reduced cell death and improved retinal function, were possibly a combination of the drug's actions on metabolism and other retinal pathways. Vinpocetine's metabolic effects appeared independent of its other known actions in ischemia, as it recovered retinal function in a separate metabolic model where the glutamate-to-glutamine metabolic pathway was inhibited in Müller cells.
CONCLUSIONS:
The results of this study indicate that Vinpocetine mediates ischemic damage partly through altered metabolism and has potential beneficial effects as a treatment for ischemia of neuronal tissues.
Neuroscience. 2015 Feb 12;286:393-403.
Vinpocetine attenuates MPTP-induced motor deficit and biochemical abnormalities in Wistar rats.[Pubmed:
25514048
]
Up-regulation in phosphodiesterase 1 (PDE1) expression and decreased levels of cyclic nucleotides (cAMP and cGMP) have been reported in patients and experimental animal models of Parkinson's disease (PD). Phosphodiesterase (PDE) inhibitors have been reported to be beneficial in cognitive and motor deficit states.
METHODS AND RESULTS:
The present study is designed to investigate the effect of Vinpocetine, a PDE1 inhibitor in 1-methyl-4-phenyl-1,2,3,6-tetrahydropyridine (MPTP)-induced experimental PD-like symptoms in rats. To produce stable motor deficit, MPTP was repeatedly administered intranigrally (bilaterally) at an interval of 1 week (days 1, 7 and 14). Following development of stable motor deficit, which was observed after the third infusion of MPTP (day 14) in rats, the animals were treated with Vinpocetine (5-, 10- and 20-mg/kg, i.p.) from days 15 to 28. Movement abnormalities were assessed by a battery of behavioral tests. Moreover, levels of malondialdehyde, nitrite and reduced glutathione were measured in striatal brain homogenate to confirm the role of oxidative and nitrosative stress in PD. Repeated intranigral administration of MPTP produced stable motor deficits, reduced the cyclic nucleotides and dopamine levels and caused elevation in oxidative-nitrosative stress markers. Chronic administration of Vinpocetine (for 14 days) significantly and dose dependently attenuated movement disabilities and oxidative-nitrosative stress in MPTP-treated rats. Moreover, Vinpocetine treatment enhances cyclic nucleotide levels and restores the dopamine level in MPTP-treated rats.
CONCLUSIONS:
The observed results of the present study are indicative of the therapeutic potential of Vinpocetine in PD.
PLoS One. 2014 May 12;9(5):e96894.
Vinpocetine attenuates neointimal hyperplasia in diabetic rat carotid arteries after balloon injury.[Pubmed:
24819198
]
Diabetes exacerbates abnormal vascular smooth muscle cell (VSMC) accumulation in response to arterial wall injury. Vinpocetine has been shown to improve vascular remolding; however, little is known about the direct effects of Vinpocetine on vascular complications mediated by diabetes. The objective of this study was to determine the effects of Vinpocetine on hyperglycemia-facilitated neointimal hyperplasia and explore its possible mechanism.
METHODS AND RESULTS:
Nondiabetic and diabetic rats were subjected to balloon injury of the carotid artery followed by 3-week treatment with either Vinpocetine (10 mg/kg/day) or saline. Morphological analysis and proliferating cell nuclear antigen (PCNA) immunostaining were performed on day 21. Rat VSMCs proliferation was determined with 5-ethynyl-20-deoxyuridine cell proliferation assays. Chemokinesis was monitored with scratch assays, and production of reactive oxygen species (ROS) was assessed using a 2',7'-dichlorodihydrofluorescein diacetate (H2DCFDA) flow cytometric assay. Apoptosis was detected by annexin V-FITC/PI flow cytometric assay. Cell signaling was assessed by immunblotting. Vinpocetine prevented intimal hyperplasia in carotid arteries in both normal (I/M ratio: 93.83 ± 26.45% versus 143.2 ± 38.18%, P<0.05) and diabetic animals (I/M ratio: 120.5 ± 42.55% versus 233.46 ± 33.98%, P<0.05) when compared to saline. The in vitro study demonstrated that Vinpocetine significantly inhibited VSMCs proliferation and chemokinesis as well as ROS generation and apoptotic resistance, which was induced by high glucose (HG) treatment. Vinpocetine significantly abolished HG-induced phosphorylation of Akt and JNK1/2 without affecting their total levels. For downstream targets, HG-induced phosphorylation of IκBα was significantly inhibited by Vinpocetine. Vinpocetine also attenuated HG-enhanced expression of PCNA, cyclin D1 and Bcl-2.
CONCLUSIONS:
Vinpocetine attenuated neointimal formation in diabetic rats and inhibited HG-induced VSMCs proliferation, chemokinesis and apoptotic resistance by preventing ROS activation and affecting MAPK, PI3K/Akt, and NF-κB signaling.
Exp Eye Res. 2014 Oct;127:49-58.
Vinpocetine inhibits amyloid-beta induced activation of NF-κB, NLRP3 inflammasome and cytokine production in retinal pigment epithelial cells.[Pubmed:
25041941
]
Chronic inflammation is a key pathogenic process in age-related macular degeneration (AMD). Amyloid-beta (Aβ) is a constituent of AMD drusen and promotes the activation of NLRP3 inflammasome which facilitates the production of cytokines.
METHODS AND RESULTS:
We investigated the role of transcription factor NF-κB in the activation of inflammasome in the RPE and the effect of Vinpocetine, a dietary supplement with inhibitory effect on NF-κΒ. ARPE19/NF-κB-luciferase reporter cells treated with Aβ demonstrated enhanced NF-κB activation that was significantly suppressed by Vinpocetine. Intraperitoneal injection of Vinpocetine (15 mg/kg) inhibited NF-κB nuclear translocation and reduced the expression and activation of NLRP3, caspase-1, IL-1β, IL-18, and TNF-α in the RPE of adult rats that received intraocular Αβ, as measured by retinal immunohistochemistry and Western blot. Cytokine level in the vitreous was assayed using multiplex suspension arrays and revealed significantly lower concentration of MIP-3α, IL-6, IL-1α, IL-1β, IL-18, and TNF-α in Vinpocetine treated animals. These results suggest that the NF-κB pathway is activated by Aβ in the RPE and signals the priming of NLRP3 inflammasome and the expression of pro-inflammatory cytokines including the inflammasome substrates IL-1β and IL-18. NF-κB inhibition may be an effective approach to stem the chronic inflammatory milieu that underlies the development of AMD.
CONCLUSIONS:
Vinpocetine is a potentially useful anti-inflammatory agent that is well-tolerated in long term use.
Chem Biol Interact. 2015 Jul 25;237:9-17.
Vinpocetine reduces lipopolysaccharide-induced inflammatory pain and neutrophil recruitment in mice by targeting oxidative stress, cytokines and NF-κB.[Pubmed:
25980587
]
In response to lipopolysaccharide (LPS), tissue resident macrophages and recruited neutrophils produce inflammatory mediators through activation of Toll-like receptor 4 (TLR4)/nuclear factor kappa B (NF-κB) signaling pathway. These mediators include inflammatory cytokines and reactive oxygen species that, in turn, sensitize nociceptors and lead to inflammatory pain. Vinpocetine is a nootropic drug widely used to treat cognitive and neurovascular disorders, and more recently its anti-inflammatory properties through inhibition of NF-κB activation have been described.
METHODS AND RESULTS:
In the present study, we used the intraplantar and intraperitoneal LPS stimulus in mice to investigate the effects of Vinpocetine pre-treatment (3, 10, or 30mg/kg by gavage) in hyperalgesia, leukocyte recruitment, oxidative stress, and pro-inflammatory cytokine production (TNF-α, IL-1β, and IL-33). LPS-induced NF-κB activation and cytokine production were investigated using RAW 264.7 macrophage cell in vitro. Vinpocetine (30mg/kg) significantly reduces hyperalgesia to mechanical and thermal stimuli, and myeloperoxidase (MPO) activity (a neutrophil marker) in the plantar paw skin, and also inhibits neutrophil and mononuclear cell recruitment, superoxide anion and nitric oxide production, oxidative stress, and cytokine production (TNF-α, IL-1β and IL-33) in the peritoneal cavity. At least in part, these effects seem to be mediated by direct effects of Vinpocetine on macrophages, since it inhibited the production of the same cytokines (TNF-α, IL-1β and IL-33) and the NF-κB activation in LPS-stimulated RAW 264.7 macrophages.
CONCLUSIONS:
Our results suggest that Vinpocetine represents an important therapeutic approach to treat inflammation and pain induced by a gram-negative bacterial component by targeting NF-κB activation and NF-κB-related cytokine production in macrophages.