Infractin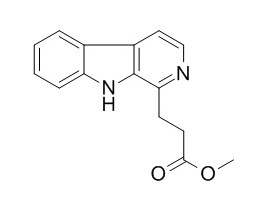 Reference standards.
Inquire / Order: manager@chemfaces.com
Technical Inquiries: service@chemfaces.com
Tel: +86-27-84237783
Fax: +86-27-84254680

Address:
1 Building, No. 83, CheCheng Rd., Wuhan Economic and Technological Development Zone, Wuhan, Hubei 430056, PRC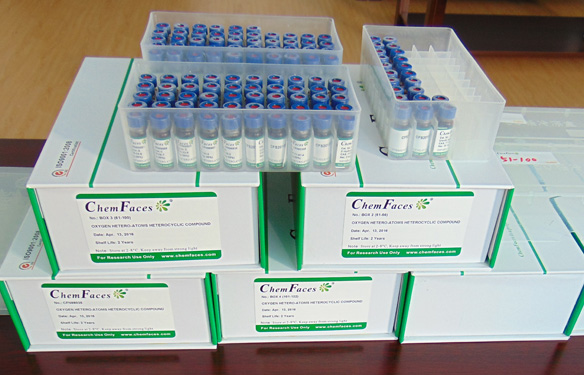 Providing storage is as stated on the product vial and the vial is kept tightly sealed, the product can be stored for up to
24 months(2-8C)
.
Wherever possible, you should prepare and use solutions on the same day. However, if you need to make up stock solutions in advance, we recommend that you store the solution as aliquots in tightly sealed vials at -20C. Generally, these will be useable for up to two weeks. Before use, and prior to opening the vial we recommend that you allow your product to equilibrate to room temperature for at least 1 hour.
Need more advice on solubility, usage and handling? Please email to: service@chemfaces.com
The packaging of the product may have turned upside down during transportation, resulting in the natural compounds adhering to the neck or cap of the vial. take the vial out of its packaging and gently shake to let the compounds fall to the bottom of the vial. for liquid products, centrifuge at 200-500 RPM to gather the liquid at the bottom of the vial. try to avoid loss or contamination during handling.
J Sep Sci.2020, 43(22):4148-4161.
Journal of Functional Foods2022, 98:105271.
PLoS One.2018, 13(4):e0195642
Antioxidants (Basel).2020, 9(6):526.
Sci Rep.2017, 7(1):3249
Food Funct.2022, 13(13):6923-6933.
Biomolecules.2020, 10(2):E184
J. of Agricultural Science2015, 1916-9760
Korean J Pain.2021, 34(4):405-416.
Journal of Research in Pharmacy.2022, 26(6):p1752-1757.
Liebigs Annalen der Chemie, 1993, 1993(2).
Synthesis of Manzamine C, Infractine and 6‐Hydroxyinfractine.[Reference:
WebLink
]

METHODS AND RESULTS:
Manzamine C (1), a β‐carboline alkaloid with antitumor activity isolated from the marine sponge Haliclona sp. was synthesized. The dilithium derivative of 5‐hexynoic acid (6) was alkylated with 7 to give after esterification the methyl 10‐hydroxy‐5‐decynoate (8). The tosylate of 8 was converted into the azide 9 which could be selectively hydrogenated with Lindlar palladium catalyst to give the amino ester 10. Saponification of 10 and acylation with (Boc)2O yielded 11, which was converted with pentafluorophenol into 12. Removal of the Boc group in 12 gave an amino ester as intermediate, which cyclized immediately under high dilution conditions to give the lactam 13 in high yield. Reduction of 13 with LiAlH4 produced the macrocyclic amine 4. The β‐carboline part of 1 was prepared by condensation of N‐benzyltryptamine 14 with the formylacetic acid equivalent 15 to give 16. Dehydrogenation of 16 with Pd‐on‐carbon catalyst led to the orthoester 17, which could be converted into the methyl ester 5 in high overall yield. The 4‐(dimethylamino)pyridine‐catalyzed substitution of the methyl ester function in 5 by the amine 4 gave the amide 29. The analogous reaction of 5 with pyrrolidine or with azacyclotridecane yielded 30 and 31. Reduction of these three amides with LiAlH4 produced 1, 2 and 3.
CONCLUSIONS:
The spectroscopic properties of 1 were identical with those of natural manzamine C. – Condensation of 14 or N‐benzyl‐5‐(benzyloxy)tryptamine (19) with aldehyde 18 yielded the products 20 and 21, which could be dehydrogenated to furnish 22 and 23. From these the methyl esters 24 and 25 with properties identical to those of the known β‐carboline alkaloids Infractine and 6‐hydroxyInfractine could be obtained.