Harmine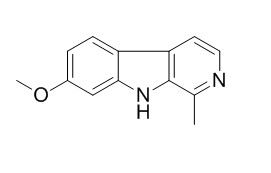 Harmine is a natural dual-specificity tyrosine phosphorylation-regulated kinase ((DYRK)) inhibitor with neuroprotective, anticancer and anti-inflammatory activities. It regulates PPARγ expression through inhibition of the Wnt signaling pathway, it also selectively binds to MAO-A and reversibly inhibits monoamine oxidase A (MAO-A) but not the variant MAO-B. Harmine is able to induce beta cell proliferation, increase islet mass and improve glycemic control. Harmine induces apoptosis and inhibits proliferation, migration and invasion of human gastric cancer cells, which may be mediated by down-regulation of COX-2 expression.
Inquire / Order: manager@chemfaces.com
Technical Inquiries: service@chemfaces.com
Tel: +86-27-84237783
Fax: +86-27-84254680

Address:
1 Building, No. 83, CheCheng Rd., Wuhan Economic and Technological Development Zone, Wuhan, Hubei 430056, PRC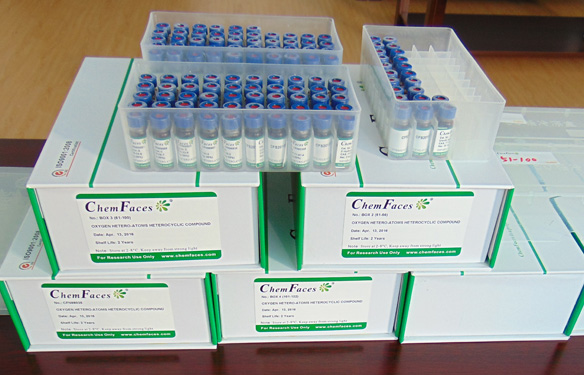 Providing storage is as stated on the product vial and the vial is kept tightly sealed, the product can be stored for up to
24 months(2-8C)
.
Wherever possible, you should prepare and use solutions on the same day. However, if you need to make up stock solutions in advance, we recommend that you store the solution as aliquots in tightly sealed vials at -20C. Generally, these will be useable for up to two weeks. Before use, and prior to opening the vial we recommend that you allow your product to equilibrate to room temperature for at least 1 hour.
Need more advice on solubility, usage and handling? Please email to: service@chemfaces.com
The packaging of the product may have turned upside down during transportation, resulting in the natural compounds adhering to the neck or cap of the vial. take the vial out of its packaging and gently shake to let the compounds fall to the bottom of the vial. for liquid products, centrifuge at 200-500 RPM to gather the liquid at the bottom of the vial. try to avoid loss or contamination during handling.
J Separation Science & Technology2016, 51:1579-1588
Molecules.2020, 25(17):3783.
Food Chem.2022, 378:131975.
Asian J Beauty Cosmetol2022, 20(2):183-191
BioResources J.2020, 15(3).
J Pharmaceutical Research Int.2021, 33(41A):275-284.
J Agric Food Chem.2017, 65(13):2670-2676
Sci Rep.2019, 9(1):4646
Bioorg Med Chem.2018, 26(14):4201-4208
Front Endocrinol (Lausanne).2020, 11:568436.
Expert Opin Drug Deliv. 2014 Jun;11(6):843-54.
Novel self-assembled micelles based on palmitoyl-trimethyl-chitosan for efficient delivery of harmine to liver cancer.[Pubmed:
24655139
]
Polymeric micelles is a safe and effective delivery system, which belong to the targeted delivery system (TDS). An anticancer drug, Harmine(HM) is a hydrophobic drug with much adverse effects when used for treatment of liver cancer. Chitosan (CS) is a polysaccharide and can be modified to be an amphiphilic polmer which could self-assemble into micelles and be applied for delivery of hydrophobic drugs. To synthesize three kinds of novel biodegradable polymers, designated as palmitoyl-trimethyl-CS (TPCS)1, TPCS2 and Lac-TPCS2, and investigate their efficiency and mechanism of delivery HM to liver tumors in vitro and in viro.
METHODS AND RESULTS:
The self-assembled micelles presented satisfactory particle size (~ 200 nm) and drug release characteristics in vitro. It's proved that Lac-TPCS2/HM may enter HepG2 cell through endocytosis. Antitumor experiments in vivo revealed that Lac-TPCS2/HM could significantly inhibit tumor growth and extend the lifetime of mice bearing H22 tumors after intravenous administration. Subsequently in vivo near-infrared fluorescence imaging results demonstrated a satisfactory liver tumor-targeting effect of Lac-TPCS2/HM.
CONCLUSIONS:
Three novel polymers hold great potential in the development of nanomedicine for treatment of liver tumors, in particular Lac-TPCS2 exhibits the greatest antitumor potential through active target effect.
Neurosci Lett. 2014 Nov 7;583:32-6.
Harmine mediated neuroprotection via evaluation of glutamate transporter 1 in a rat model of global cerebral ischemia.[Pubmed:
25238961
]
Global cerebral ischemia (GCI) causes energy deficiency results in excessive release of glutamate from neurons. Astrocytic glutamate transporters play a predominant role in keeping extracellular glutamate concentrations below excitotoxic levels. Glutamate transporter 1 (GLT-1) may account for more than 90% of glutamate uptake in adult forebrain.
METHODS AND RESULTS:
Preclinical findings implicate that Harmine present neuroprotection effects in a rat model of amyotrophic lateral sclerosis disease, and the beneficial effects were specifically due to up-regulation of GLT-1. However, no experiments have explored the potential of Harmine to provide neuroprotection in the setting of GCI. The current study was designed to determine whether Harmine could attenuate cerebral infarction as well as improve neuronal survival after GCI. Furthermore, to test whether the mechanisms were associated with up-regulating of GLT-1, we used a GLT-1 specific inhibitor dihydrokainate (DHK) and analysis the expression of GLT-1 mRNA and protein in cortex of brain. We also examined whether Harmine treatment affected astrocytes activation via immunofluorescence.
CONCLUSIONS:
Our results showed that post-GCI administration of Harmine could attenuate cerebral infarct volume and decrease neurons death. It also caused significantly elevation of GLT-1 mRNA and protein and remarkably attenuation of astrocyte activation. We provide novel clues in understanding the mechanisms of which Harmine exerts its neuroprotective activity in neurological disorders.
Phytomedicine. 2014 Feb 15;21(3):348-55.
Harmine induces apoptosis and inhibits tumor cell proliferation, migration and invasion through down-regulation of cyclooxygenase-2 expression in gastric cancer.[Pubmed:
24176842
]
Cyclooxygenase-2 (COX-2) plays an important role in the carcinogenesis and progression of gastric cancer. Harmine is reported as a promising drug candidate for cancer therapy; however, effects and action mechanism of Harmine on the human gastric cancer cells remain unclear. This study evaluated the anti-tumor effects of Harmine on human gastric cancer both in vitro and in vivo.
METHODS AND RESULTS:
The cell proliferation was determined using MTT colorimetric assay. Apoptosis was measured by DAPI staining and flow cytometry analysis. The wound healing and transwell invasion assays were performed to evaluate the effects of Harmine on the migration and invasion of gastric cancer cells. The expression of COX-2, proliferating cell nuclear antigen (PCNA), Bcl-2, Bax and matrix metalloproteinase-2 (MMP-2) was detected by Western blot analysis. Our results showed that Harmine significantly inhibited cellular proliferation, migration, invasion and induced apoptosis in vitro, as well as inhibited tumor growth in vivo. In addition, Harmine significantly inhibited the expression of COX-2, PCNA, Bcl-2 and MMP-2 as well as increased Bax expression in gastric cancer cells.
CONCLUSIONS:
These results collectively indicate that Harmine induces apoptosis and inhibits proliferation, migration and invasion of human gastric cancer cells, which may be mediated by down-regulation of COX-2 expression.
Nat Med. 2015 Apr;21(4):383-8.
A high-throughput chemical screen reveals that harmine-mediated inhibition of DYRK1A increases human pancreatic beta cell replication.[Pubmed:
25751815
]
Types 1 and 2 diabetes affect some 380 million people worldwide. Both ultimately result from a deficiency of functional pancreatic insulin-producing beta cells. Beta cells proliferate in humans during a brief temporal window beginning around the time of birth, with a peak percentage (~2%) engaged in the cell cycle in the first year of life. In embryonic life and after early childhood, beta cell replication is barely detectable. Whereas beta cell expansion seems an obvious therapeutic approach to beta cell deficiency, adult human beta cells have proven recalcitrant to such efforts. Hence, there remains an urgent need for antidiabetic therapeutic agents that can induce regeneration and expansion of adult human beta cells in vivo or ex vivo.
METHODS AND RESULTS:
Here, using a high-throughput small-molecule screen (HTS), we find that analogs of the small molecule Harmine function as a new class of human beta cell mitogenic compounds. We also define dual-specificity tyrosine-regulated kinase-1a (DYRK1A) as the likely target of Harmine and the nuclear factors of activated T cells (NFAT) family of transcription factors as likely mediators of human beta cell proliferation and differentiation. Using three different mouse and human islet in vivo-based models, we show that Harmine is able to induce beta cell proliferation, increase islet mass and improve glycemic control.
CONCLUSIONS:
These observations suggest that Harmine analogs may have unique therapeutic promise for human diabetes therapy. Enhancing the potency and beta cell specificity of these compounds are important future challenges.