N1,N5,N10-(E)-tri-p-coumaroylspermidine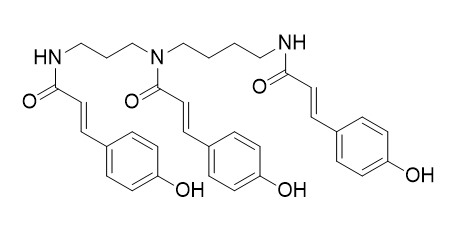 N1,N5,N10-(E)-tri-p-coumaroylspermidine shows free radical-scavenging activity.
Inquire / Order: manager@chemfaces.com
Technical Inquiries: service@chemfaces.com
Tel: +86-27-84237783
Fax: +86-27-84254680

Address:
1 Building, No. 83, CheCheng Rd., Wuhan Economic and Technological Development Zone, Wuhan, Hubei 430056, PRC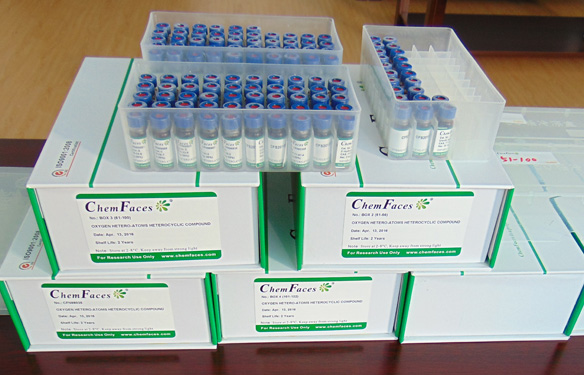 Providing storage is as stated on the product vial and the vial is kept tightly sealed, the product can be stored for up to
24 months(2-8C)
.
Wherever possible, you should prepare and use solutions on the same day. However, if you need to make up stock solutions in advance, we recommend that you store the solution as aliquots in tightly sealed vials at -20C. Generally, these will be useable for up to two weeks. Before use, and prior to opening the vial we recommend that you allow your product to equilibrate to room temperature for at least 1 hour.
Need more advice on solubility, usage and handling? Please email to: service@chemfaces.com
The packaging of the product may have turned upside down during transportation, resulting in the natural compounds adhering to the neck or cap of the vial. take the vial out of its packaging and gently shake to let the compounds fall to the bottom of the vial. for liquid products, centrifuge at 200-500 RPM to gather the liquid at the bottom of the vial. try to avoid loss or contamination during handling.
Molecules.2020, 25(18):4283.
Biomed Pharmacother.2020, 131:110673.
Exp Parasitol.2018, 194:67-78
UDC.2020, 19(4).
Nutr Res Pract.2020, 14(5):478-489.
Environ Toxicol.2020, doi: 10.1002
Int J Mol Sci.2015, 16(1):1232-51
Sci Rep.2021, 11(1):21038.
Theranostics.2023, 13(9):3103-3116.
Korean J. Crop Sci.2018, 63(2):131-139
Natural Product Research, 2007, 21(8):726-732.
Antioxidant hydroxycinnamic acid derivatives isolated from Brazilian bee pollen.[Pubmed:
17616901
]
One novel and three known hydroxycinnamic acid derivatives having antioxidant activities were isolated from a Brazilian bee pollen. They were identified as kaempferol 3-O-[2-O-p-coumaroyl]-α-L-arabinopyranoside, N1,N5,N10-tri-p-coumaroyl spermidine(N1,N5,N10-(E)-tri-p-coumaroylspermidine), N1,N5,N10,N14-tetra-p-coumaroyl spermine, and monocaffeoyl-tri-p-coumaroyl spermine, respectively. The structure of the kaempferol glycoside was established on the basis of spectroscopic and chemical investigations.
CONCLUSIONS:
Among the isolated compounds, monocaffeoyl-tri-p-coumaroyl spermine showed the strongest free radical-scavenging activity, which was almost identical to that of α-tocopherol. On the other hand, the antioxidant effect of tri-p-coumaroyl spermidine on autooxidation of linoleic acid was strongest and nearly equal to that of α-tocopherol.
Journal of Agricultural & Food Chemistry, 1999, 47(3):1223.
Lipid, polyamide, and flavonol phagostimulants for adult western corn rootworm from sunflower (Helianthus annuus L.) pollen.[Pubmed:
10552441
]

METHODS AND RESULTS:
Adult Diabroticites including western corn rootworm (WCR), Diabrotica virgifera virgifera LeConte, consume pollen of corn, squash, sunflower, and other species. Short-chain neutral amino acids in methanol-water extracts of pollen have been previously identified in our laboratory as strong phagostimulants for Diabrotica. Bioassay-driven fractionation was used to characterize the interacting lipid and midpolarity phagostimulants for adult WCR in Giant Gray Stripe sunflower, Helianthus annuus L., pollen. Lipids rich in omega3-linolenic acid including triglycerides, free fatty acids, phosphatidylethanolamines, phosphatidic acids, and phosphatidylcholines were highly phagostimulatory. Other important phagostimulatory components included a hydroxycinnamic acid-polyamine amide, N(1),N(5),N(10)-tri[(E)-p-coumaroyl]spermidine(N1,N5,N10-(E)-tri-p-coumaroylspermidine), and a flavonol, quercetin beta-3-O-glucoside.
CONCLUSIONS:
The structural characteristics of these phagoactive compounds and their role in the pollinivory specialization of rootworm beetles are discussed.