Pinoresinol dimethyl ether
Pinoresinol dimethyl ether, which could be isolated from the wood of the basal tree Humbertieae, show a variety of activities as the inhibitor of cyclic AMP phosphodiesterase.
Inquire / Order: manager@chemfaces.com
Technical Inquiries: service@chemfaces.com
Tel: +86-27-84237783
Fax: +86-27-84254680

Address:
1 Building, No. 83, CheCheng Rd., Wuhan Economic and Technological Development Zone, Wuhan, Hubei 430056, PRC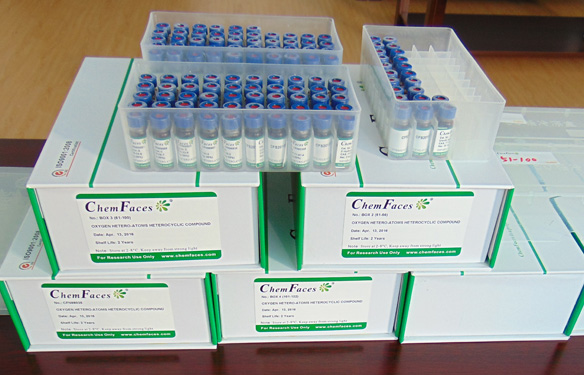 Providing storage is as stated on the product vial and the vial is kept tightly sealed, the product can be stored for up to
24 months(2-8C)
.
Wherever possible, you should prepare and use solutions on the same day. However, if you need to make up stock solutions in advance, we recommend that you store the solution as aliquots in tightly sealed vials at -20C. Generally, these will be useable for up to two weeks. Before use, and prior to opening the vial we recommend that you allow your product to equilibrate to room temperature for at least 1 hour.
Need more advice on solubility, usage and handling? Please email to: service@chemfaces.com
The packaging of the product may have turned upside down during transportation, resulting in the natural compounds adhering to the neck or cap of the vial. take the vial out of its packaging and gently shake to let the compounds fall to the bottom of the vial. for liquid products, centrifuge at 200-500 RPM to gather the liquid at the bottom of the vial. try to avoid loss or contamination during handling.
Pak J Pharm Sci.2019, 32(6):2879-2885
Evid Based Complement Alternat Med.2016, 2016:4357656
Evid Based Complement Alternat Med.2015, 2015:165457
Jour. of Stored Pro & Postharvest Res.2016, 7(3):32-36
The Malaysian journal of pathology2019, 41(3):243-251
J Bone Miner Res.2017, 32(12):2415-2430
Ann Transl Med.2019, 7(23):731
China Pharmacy2015, 26(27)
Process Biochemistry2019, 87:213-220
Phytomedicine.2016, 23(4):331-9
J Nat Prod. 1999 Aug;62(8):1119-22.
Tryptamine derived amides and acetogenins from the seeds of Rollinia mucosa.[Pubmed:
10479316
]

METHODS AND RESULTS:
Bioactivity-directed fractionation of a CHCl(3)-MeOH (1:1) extract prepared from the seeds of Rollinia mucosa led to the isolation of a mixture of eight novel tryptamine amides. Extensive HPLC allowed the isolation of the major component of the mixture, which was characterized as N-lignoceroyltryptamine (6) using a combination of spectroscopic and chemical methods. The minor amides were identified by GC-MS analysis as N-palmitoyltryptamine (1), N-stearoyltryptamine (2), N-arachidoyltryptamine (3), N-behenoyltryptamine (4), N-tricosanoyltryptamine (5), N-pentacosanoyltryptamine (7), and N-cerotoyltryptamine (8). Two lignans (Pinoresinol dimethyl ether and magnolin) and six acetogenins [membranacin (9), desacetyluvaricin (10), rolliniastatin 1, bullatacin, squamocin, and motrilin] were also isolated.
CONCLUSIONS:
The cytotoxicity of membranacin (9) and desacetyluvaricin (10) against six human solid tumor cell lines was determined. The absolute configuration of the former is reported.