Eudesmin
Eudesmin shows antiinflammatory, neuritogenic, anticonvulsant and sedative effects, the mechanism of eudesmin may be related to up-regulation of GABAA and GAD65 expressions, and anti-apoptosis of neuron the in brain.50 microM (+)-eudesmin can induce neurite outgrowth and enhance nerve growth factor (NGF)-mediated neurite outgrowth from PC12 cells by stimulating up-stream MAPK, PKC and PKA pathways.
Inquire / Order: manager@chemfaces.com
Technical Inquiries: service@chemfaces.com
Tel: +86-27-84237783
Fax: +86-27-84254680

Address:
1 Building, No. 83, CheCheng Rd., Wuhan Economic and Technological Development Zone, Wuhan, Hubei 430056, PRC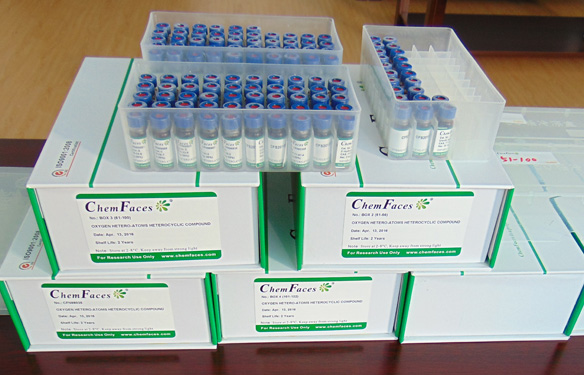 Providing storage is as stated on the product vial and the vial is kept tightly sealed, the product can be stored for up to
24 months(2-8C)
.
Wherever possible, you should prepare and use solutions on the same day. However, if you need to make up stock solutions in advance, we recommend that you store the solution as aliquots in tightly sealed vials at -20C. Generally, these will be useable for up to two weeks. Before use, and prior to opening the vial we recommend that you allow your product to equilibrate to room temperature for at least 1 hour.
Need more advice on solubility, usage and handling? Please email to: service@chemfaces.com
The packaging of the product may have turned upside down during transportation, resulting in the natural compounds adhering to the neck or cap of the vial. take the vial out of its packaging and gently shake to let the compounds fall to the bottom of the vial. for liquid products, centrifuge at 200-500 RPM to gather the liquid at the bottom of the vial. try to avoid loss or contamination during handling.
Plant Cell Tiss Org2020, 1-16
Front Pharmacol.2017, 8:673
South African J of Plant&Soil2018, 29-32
J Sep Sci.2018, 41(9):1938-1946
Phytomedicine.2019, 65:153089
Evid Based Complement Alternat Med.2017, 2017:7383104
Food and Fermentation Industries2019, 45(7):45-51
Virulence.2018, 9(1):588-603
J Nat Med.2017, 71(2):380-388
Molecules.2018, 23(10):E2638
Arch Pharm Res. 1999 Aug;22(4):348-53.
Eudesmin inhibits tumor necrosis factor-alpha production and T cell proliferation.[Pubmed:
10489872
]
Possible antiinflammatory effects of Eudesmin were examined by assessing the effects on tumor necrosis factor (TNF)-alpha production and lymphocyte proliferation as well as cytotoxicity against murine and human macrophages.
METHODS AND RESULTS:
The compound significantly inhibited TNF-alpha production by lipopolysaccharide (LPS)-stimulated murine macrophage RAW264.7 without displaying cytotoxicity suggesting that Eudesmin may inhibit TNF-alpha production without any interference of normal cell function. It also significantly attenuated T cell proliferation stimulated by concanavalin A (Con A) in a dose-dependent manner.
Arch Pharm Res. 2006 Dec;29(12):1114-8.
Effects of (+)-eudesmin from the stem bark of magnolia kobus DC. var. borealis Sarg. on neurite outgrowth in PC12 cells.[Pubmed:
17225460
]

METHODS AND RESULTS:
(+)-Eudesmin [4,8-bis(3,4-dimethoxyphenyl)-3,7-dioxabicyclo[3.3.0]octane] was isolated from the stem bark of Magnolia kobus DC. var. borealis Sarg. and found to have neuritogenic activity. 50 microM (+)-Eudesmin induced neurite outgrowth and enhanced nerve growth factor (NGF)-mediated neurite outgrowth from PC12 cells. At this concentration, (+)-Eudesmin also enhanced NGF-induced neurite-bearing activity and this activity was partially blocked by various protein kinase inhibitors. These included PD98059, a mitogen-activated protein kinase (MAPK) kinase inhibitor. GF109203X, a protein kinase C (PKC) inhibitor and H89, a protein kinase A (PKA) inhibitor.
CONCLUSIONS:
These results suggest that (+)-Eudesmin can induce neurite outgrowth from PC12 cells by stimulating up-stream MAPK, PKC and PKA pathways.
Phytother Res. 2015 Jul;29(7):996-1003
Anticonvulsant and Sedative Effects of Eudesmin isolated from Acorus tatarinowii on mice and rats.[Pubmed:
25851178
]
This paper was designed to investigate anticonvulsant and sedative effects of Eudesmin isolated from Acorus tatarinowii.
METHODS AND RESULTS:
The Eudesmin (5, 10, and 20 mg/kg) was administered intraperitoneally (i.p.). The maximal electroshock test (MES) and pentylenetertrazole (PTZ)-induced seizures in male mice were used to evaluate anticonvulsant activities of Eudesmin, and sedative effects of Eudesmin were evaluated by pentobarbital sodium-induced sleeping time (PST) and locomotor activity in mice. Finally, the mechanisms of Eudesmin were investigated by determining contents of glutamic acid (Glu) and gamma-aminobutyric acid (GABA) in epileptic mice, and expressions of glutamate decarboxylase 65 (GAD65), GABAA , Bcl-2, and caspase-3 in the brain of chronic epileptic rats. Results of MES and PTZ tests revealed that Eudesmin possesses significant anticonvulsant effects, and the PST and locomotor activity tests demonstrated that Eudesmin has significant sedative effects. Furthermore, our study revealed that after treatment with Eudesmin, GABA contents increased, whereas Glu contents decreased, and ratio of Glu/GABA decreased. Our results also indicated that expressions of GAD65, GABAA, and Bcl-2 were up-regulated by treating with Eudesmin, whereas the caspase-3 obviously was down-regulated.
CONCLUSIONS:
In conclusion, Eudesmin has significant anticonvulsant and sedative effects, and the mechanism of Eudesmin may be related to up-regulation of GABAA and GAD65 expressions, and anti-apoptosis of neuron the in brain.
Eur J Pharmacol. 2009 Mar 15;606(1-3):150-4.
The lignan eudesmin extracted from Piper truncatum induced vascular relaxation via activation of endothelial histamine H1 receptors.[Pubmed:
19374838
]
In Brazilian folk medicine, extracts from Piper species are used to reduce blood pressure. Previously, we demonstrated the vasodilatory activity of crude extracts from leaves of Piper truncatum explaining their possible use in the treatment of hypertension in traditional medicine.
METHODS AND RESULTS:
In the present study, we investigated the effects of Eudesmin, a lignan isolated from hexane extract of leaves from Piper truncatum, on the contractility of rat aortas and the possible mechanisms involved in its vascular action. Eudesmin induced an intense concentration-dependent relaxation of aortic rings precontracted with phenylephrine. The concentration of Eudesmin necessary to reduce phenylephrine-induced aortic contraction by 50% (IC(50)) was 10.69+/-0.67 microg/ml. Eudesmin-induced vasodilation required an intact endothelium since vascular relaxation was inhibited by mechanic removal of endothelium, and by pretreatment with nitric oxide synthase inhibitor and soluble guanylate cyclase inhibitor. Relaxation induced by Eudesmin was also impaired in the presence of indomethacin and diphenhydramine, a cyclooxygenase inhibitor and an antagonist of type 1 histamine receptor (H(1)), respectively. IC(50) was increased to 18.1+/-1.8 and 18.1+/-2.6 microg/ml (P<0.05; n=6) after exposure to indomethacin and diphenhydramine, respectively. Atropine (muscarinic receptor antagonist), propranolol (beta-adrenoceptor antagonist) and glibenclamide (ATP-sensitive K(+) channel blocker) did not alter the effect of Eudesmin.
CONCLUSIONS:
These results indicate that Eudesmin-induced vascular relaxation in rat aorta is mediated by release of nitric oxide and prostanoid through the involvement of histamine receptor present in the endothelial cells.