Pinoresinol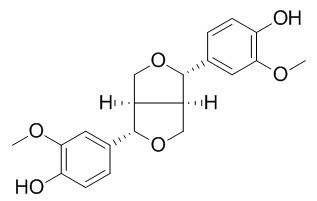 Pinoresinol has antiinflammatory, hepatoprotective, and fungicidal activities, it can protect pial microcirculation from I-reperfusion injury, to increase nitric oxide release and to reduce oxidative stress preserving pial blood flow distribution; it may exert pharmacologically interesting effects via modulation of the insulin-like signalling pathway in C. elegans. Pinoresinol causes an upregulation of the CDK inhibitor p21(WAF1/Cip1) both at mRNA and protein levels, inhibits NF-kappaB and activating protein 1 (AP-1).
Inquire / Order: manager@chemfaces.com
Technical Inquiries: service@chemfaces.com
Tel: +86-27-84237783
Fax: +86-27-84254680

Address:
1 Building, No. 83, CheCheng Rd., Wuhan Economic and Technological Development Zone, Wuhan, Hubei 430056, PRC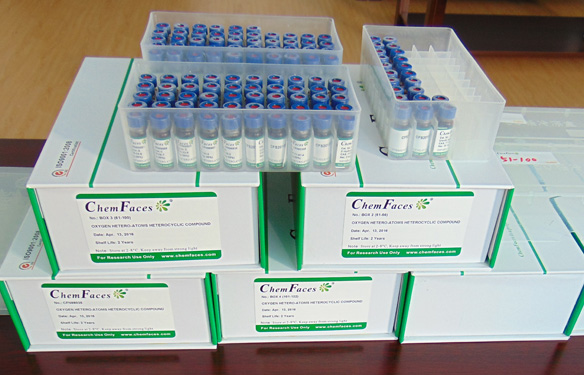 Providing storage is as stated on the product vial and the vial is kept tightly sealed, the product can be stored for up to
24 months(2-8C)
.
Wherever possible, you should prepare and use solutions on the same day. However, if you need to make up stock solutions in advance, we recommend that you store the solution as aliquots in tightly sealed vials at -20C. Generally, these will be useable for up to two weeks. Before use, and prior to opening the vial we recommend that you allow your product to equilibrate to room temperature for at least 1 hour.
Need more advice on solubility, usage and handling? Please email to: service@chemfaces.com
The packaging of the product may have turned upside down during transportation, resulting in the natural compounds adhering to the neck or cap of the vial. take the vial out of its packaging and gently shake to let the compounds fall to the bottom of the vial. for liquid products, centrifuge at 200-500 RPM to gather the liquid at the bottom of the vial. try to avoid loss or contamination during handling.
J Chromatogr Sci.2015, 53(5):824-9
Cardiovasc Toxicol.2019, 19(4):297-305
Viruses.2017, 9(10)
Exp Parasitol.2015, 153:160-4
The Korea Journal of Herbology2019, 34(2):25-32
J Med Food.2019, 22(10):1067-1077
Sci. Rep.2015, 14-23
Postharvest Biol Tec2019, 149:18-26
Journal of Life Science2017, 233-240
New Zealand J. Forestry Sci.2014, 44:17
J Nutr. 2012 Oct;142(10):1798-805.
Among plant lignans, pinoresinol has the strongest antiinflammatory properties in human intestinal Caco-2 cells.[Pubmed:
22955517
]
Dietary lignans show some promising health benefits, but little is known about their fate and activities in the small intestine. The purpose of this study was thus to investigate whether plant lignans are taken up by intestinal cells and modulate the intestinal inflammatory response using the Caco-2 cell model.
METHODS AND RESULTS:
Six lignan standards [secoisolariciresinol diglucoside (SDG), secoisolariciresinol (SECO), Pinoresinol (PINO), lariciresinol, matairesinol (MAT), and hydroxymatairesinol] and their colonic metabolites [enterolactone (ENL) and enterodiol] were studied. First, differentiated cells were exposed to SDG, SECO, PINO, or ENL at increasing concentrations for 4 h, and their cellular contents (before and after deconjugation) were determined by HPLC. Second, in IL-1β-stimulated confluent and/or differentiated cells, lignan effects were tested on different soluble proinflammatory mediators quantified by enzyme immunoassays and on the NF-κB activation pathway by using cells transiently transfected. SECO, PINO, and ENL, but not SDG, were taken up and partly conjugated by cells, which is a saturable conjugation process. PINO was the most efficiently conjugated (75% of total in cells). In inflamed cells, PINO significantly reduced IL-6 by 65% and 30% in confluent and differentiated cells, respectively, and cyclooxygenase (COX)-2-derived prostaglandin E(2) by 62% in confluent cells. In contrast, MAT increased significantly COX-2-derived prostaglandin E(2) in confluent cells. Moreover, PINO dose-dependently decreased IL-6 and macrophage chemoattractant protein-1 secretions and NF-κB activity.
CONCLUSIONS:
Our findings suggest that plant lignans can be absorbed and metabolized in the small intestine and, among the plant lignans tested, PINO exhibited the strongest antiinflammatory properties by acting on the NF-κB signaling pathway, possibly in relation to its furofuran structure and/or its intestinal metabolism.
Molecules. 2010 May 14;15(5):3507-16.
Antifungal effect of (+)-pinoresinol isolated from Sambucus williamsii.[Pubmed:
20657496
]
In this study, we investigated the antifungal activity and mechanism of action of (+)-Pinoresinol, a biphenolic compound isolated from the herb Sambucus williamsii,used in traditional medicine. (+)-Pinoresinol displays potent antifungal properties without hemolytic effects on human erythrocytes.
METHODS AND RESULTS:
To understand the antifungal mechanism of (+)-Pinoresinol, we conducted fluorescence experiments on the human pathogen Candida albicans. Fluorescence analysis using 1,6-diphenyl-1,3,5-hexatriene (DPH) indicated that the (+)-Pinoresinol caused damage to the fungal plasma membrane. This result was confirmed by using rhodamine-labeled giant unilamellar vesicle (GUV) experiments.
CONCLUSIONS:
Therefore, the present study indicates that (+)-Pinoresinol possesses fungicidal activities and therapeutic potential as an antifungal agent for the treatment of fungal infectious diseases in humans.
Phytother Res. 2015 Jun;29(6):894-901.
The Lignan Pinoresinol Induces Nuclear Translocation of DAF-16 in Caenorhabditis elegans but has No Effect on Life Span.[Pubmed:
25826281
]
The lignan Pinoresinol is a constituent of flaxseed, sesame seeds and olive oil. Because of different molecular effects reported for this compound, e.g. antioxidative activity, Pinoresinol is suggested to cause positive effects on humans.
METHODS AND RESULTS:
Because experimental data are limited, we have analysed the effects of the lignan on the nematode Caenorhabditis elegans: in spite of a strong antioxidative capacity detected in an in vitro assay, no antioxidative effects were detectable in vivo. In analogy to this result, no modulation of the sensitivity against thermal stress was detectable. However, incubation with Pinoresinol caused an enhanced nuclear accumulation of the transcription factor DAF-16 (insulin/IGF-like signalling pathway). Using a strain with an enhanced oxidative stress level (mev-1 mutant), we clearly see an increase in stress resistance caused by this lignan, but no change in reactive oxygen species. Furthermore, we investigated the effects of Pinoresinol on the life span of the nematode, but no modulation was found, neither in wild-type nor in mev-1 mutant nematodes.
CONCLUSIONS:
These results suggest that Pinoresinol may exert pharmacologically interesting effects via modulation of the insulin-like signalling pathway in C. elegans as well as in other species like mammals due to the evolutionary conservation of this signalling pathway.
Nutr Cancer. 2013;65(8):1208-18.
Pinoresinol inhibits proliferation and induces differentiation on human HL60 leukemia cells.[Pubmed:
24099079
]
Pinoresinol (PIN), one of the simplest lignans, is the precursor of other dietary lignans that are present in whole-grain cereals, legumes, fruits, and other vegetables. Several experimental and epidemiological evidences suggest that lignans may prevent human cancer in different organs.
METHODS AND RESULTS:
In this study we investigated the chemopreventive properties of PIN on cell lines derived from different sites either expressing or not the functional tumor suppressor protein p53. It was found that PIN inhibited the proliferation of p53 wild type colon and prostate tumor cells (HCT116 and LNCaP) while in breast cells the inhibition of growth was observed only in p53 mutant cells (MDA-MB-231). A potent antiproliferative activity of PIN was also observed on p53 null cells HL60 (IC50% 8 μM), their multidrug resistant variant HL60R (IC50% 32 μM) and K562. On HL60 cells, PIN caused a block of cell cycle in the G0/G1 phase, induced a weak proapoptotic effect but it was a good trigger of differentiation (NBT reduction and CD11b expression).
CONCLUSIONS:
PIN caused an upregulation of the CDK inhibitor p21(WAF1/Cip1) both at mRNA and protein levels so suggesting that this could be a mechanism by which PIN reduced proliferation and induced differentiation on HL60 cells.
Microcirculation. 2015 Jan;22(1):79-90.
Effects of oleuropein and pinoresinol on microvascular damage induced by hypoperfusion and reperfusion in rat pial circulation.[Pubmed:
25243351
]
The present study was aimed to assess the in vivo acute effects of oleuropein or/and Pinoresinol, polyphenols widely diffused in natural sources, on rat pial microvascular responses during transient BCCAO and reperfusion.
METHODS AND RESULTS:
Rat pial microcirculation was visualized by fluorescence microscopy through a closed cranial window. Pial arterioles were classified into five orders of branching. Capillaries were assigned order 0, the smallest arterioles order 1 and the largest ones order 5. Rats subjected to BCCAO and reperfusion showed: arteriolar diameter decrease, microvascular leakage, leukocyte adhesion in venules, and reduction in capillary perfusion. Pretreatment with oleuropein or Pinoresinol, a higher dose before BCCAO determined dilation in all arteriolar orders RE. Microvascular leakage was reduced as well as leukocyte adhesion and ROS formation, while capillary perfusion was protected. Inhibition of endothelium nitric oxide synthase prior to oleuropein or Pinoresinol reduced the effect of these polyphenols on pial arteriolar diameter and leakage. These substances, administered together, prevented microvascular damage to a larger extent.
CONCLUSIONS:
Oleuropein and Pinoresinol were both able to protect pial microcirculation from I-reperfusion injury, to increase nitric oxide release and to reduce oxidative stress preserving pial blood flow distribution.
J Pharmacol Sci. 2010;112(1):105-12.
Hepatoprotective effect of pinoresinol on carbon tetrachloride-induced hepatic damage in mice.[Pubmed:
20093790
]
Forsythiae Fructus is known to have diuretic, anti-bacterial, and anti-inflammatory activities. This study examined the hepatoprotective effects of Pinoresinol, a lignan isolated from Forsythiae Fructus, against carbon tetrachloride (CCl(4))-induced liver injury.
METHODS AND RESULTS:
Mice were treated intraperitoneally with vehicle or Pinoresinol (25, 50, 100, and 200 mg/kg) 30 min before and 2 h after CCl4 (20 microl/kg) injection. In the vehicle-treated CCl(4 )group, serum aminotransferase activities were significantly increased 24 h after CCl4 injection, and these increases were attenuated by Pinoresinol at all doses. Hepatic glutathione contents were significantly decreased and lipid peroxidation was increased after CCl4 treatment. These changes were attenuated by 50 and 100 mg/kg of Pinoresinol. The levels of protein and mRNA expression of inflammatory mediators, including tumor necrosis factor-alpha, inducible nitric oxide synthase, and cyclooxygenase-2, were significantly increased after CCl4 injection; and these increases were attenuated by Pinoresinol. Nuclear translocation of nuclear factor-kappaB (NF-kappaB) and phosphorylation of c-Jun, one of the components of activating protein 1 (AP-1), were inhibited by Pinoresinol.
CONCLUSIONS:
Our results suggest that Pinoresinol ameliorates CCl4)-induced acute liver injury, and this protection is likely due to anti-oxidative activity and down-regulation of inflammatory mediators through inhibition of NF-kappaB and AP-1.