Phillygenin
Phillyrin, (+)-Phillygenin, and (-)-phillygenin exert the strongest inhibitory activities on NO production with IC(50) values.
Inquire / Order: manager@chemfaces.com
Technical Inquiries: service@chemfaces.com
Tel: +86-27-84237783
Fax: +86-27-84254680

Address:
1 Building, No. 83, CheCheng Rd., Wuhan Economic and Technological Development Zone, Wuhan, Hubei 430056, PRC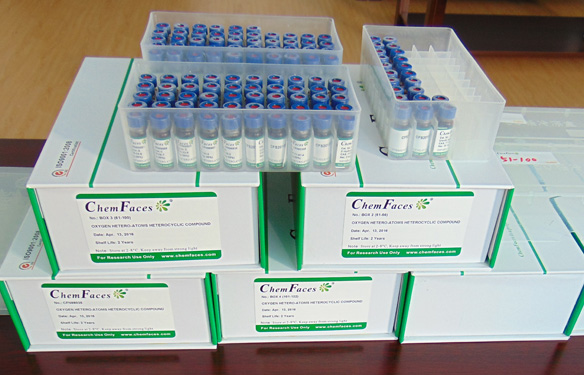 Providing storage is as stated on the product vial and the vial is kept tightly sealed, the product can be stored for up to
24 months(2-8C)
.
Wherever possible, you should prepare and use solutions on the same day. However, if you need to make up stock solutions in advance, we recommend that you store the solution as aliquots in tightly sealed vials at -20C. Generally, these will be useable for up to two weeks. Before use, and prior to opening the vial we recommend that you allow your product to equilibrate to room temperature for at least 1 hour.
Need more advice on solubility, usage and handling? Please email to: service@chemfaces.com
The packaging of the product may have turned upside down during transportation, resulting in the natural compounds adhering to the neck or cap of the vial. take the vial out of its packaging and gently shake to let the compounds fall to the bottom of the vial. for liquid products, centrifuge at 200-500 RPM to gather the liquid at the bottom of the vial. try to avoid loss or contamination during handling.
Evid Based Complement Alternat Med.2015, 2015:165457
RSC Advances2017, 86
J Chromatogr B Analyt Technol Biomed Life Sci.2020, 1149:122123.
Proc Natl Acad Sci USA.2016, 113(30):E4407-1
Pharmacognosy Journal2019, 11,6:1235-1241
Int J Oncol.2016, 49(4):1497-504
Environ Toxicol.2019, 34(12):1354-1362
Food Research International2016, 106-113
Biol Pharm Bull.2020, 43(10):1534-1541.
The Malaysian journal of pathology2019, 41(3):243-251
Spectrochim Acta A Mol Biomol Spectrosc. 2012 Jan;85(1):120-6.
Interaction between phillygenin and human serum albumin based on spectroscopic and molecular docking.[Pubmed:
22000638
]

METHODS AND RESULTS:
In this paper, the interaction of human serum albumin (HSA) with Phillygenin was investigated by fluorescence, circular dichroism (CD), UV-vis spectroscopic and molecular docking methods under physiological conditions. The Stern-Volmer analysis indicated that the fluorescence quenching of HSA by Phillygenin resulted from static mechanism, and the binding constants were 1.71×10(5), 1.61×10(5) and 1.47×10(4) at 300, 305 and 310K, respectively. The results of UV-vis spectra show that the secondary structure of the protein has been changed in the presence of Phillygenin. The CD spectra showed that HSA conformation was altered by Phillygenin with a major reduction of α-helix and an increase in β-sheet and random coil structures, indicating a partial protein unfolding. The distance between donor (HSA) and acceptor (Phillygenin) was calculated to be 3.52nm and the results of synchronous fluorescence spectra showed that binding of Phillygenin to HSA can induce conformational changes in HSA. Molecular docking experiments found that Phillygenin binds with HSA at IIIA domain of hydrophobic pocket with hydrogen bond interactions. The ionic bonds were formed with the O (4), O (5) and O (6) of Phillygenin with nitrogen of ASN109, ARG186 and LEU115, respectively. The hydrogen bonds are formed between O (2) of Phillygenin and SER419. In the presence of copper (II), iron (III) and alcohol, the apparent association constant K(A) and the number of binding sites of Phillygenin on HSA were both decreased in the range of 88.84-91.97% and 16.09-18.85%, respectively.
CONCLUSIONS:
In view of the evidence presented, it is expected to enrich our knowledge of the interaction dynamics of Phillygenin to the important plasma protein HSA, and it is also expected to provide important information of designs of new inspired drugs.