Secologanin dimethyl acetal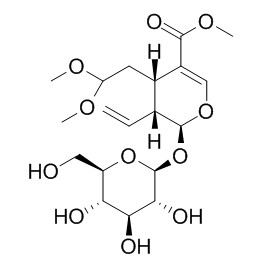 Secologanin dimethyl acetal induces significant neurite outgrowth.
Inquire / Order: manager@chemfaces.com
Technical Inquiries: service@chemfaces.com
Tel: +86-27-84237783
Fax: +86-27-84254680

Address:
1 Building, No. 83, CheCheng Rd., Wuhan Economic and Technological Development Zone, Wuhan, Hubei 430056, PRC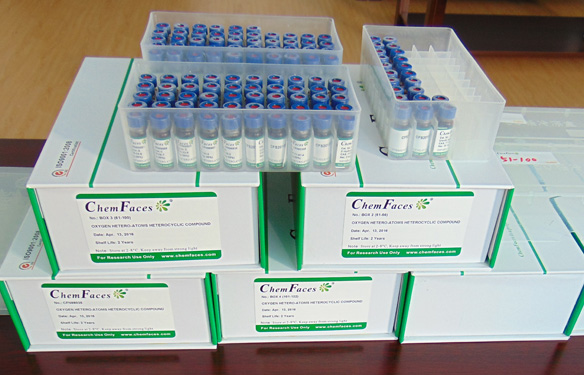 Providing storage is as stated on the product vial and the vial is kept tightly sealed, the product can be stored for up to
24 months(2-8C)
.
Wherever possible, you should prepare and use solutions on the same day. However, if you need to make up stock solutions in advance, we recommend that you store the solution as aliquots in tightly sealed vials at -20C. Generally, these will be useable for up to two weeks. Before use, and prior to opening the vial we recommend that you allow your product to equilibrate to room temperature for at least 1 hour.
Need more advice on solubility, usage and handling? Please email to: service@chemfaces.com
The packaging of the product may have turned upside down during transportation, resulting in the natural compounds adhering to the neck or cap of the vial. take the vial out of its packaging and gently shake to let the compounds fall to the bottom of the vial. for liquid products, centrifuge at 200-500 RPM to gather the liquid at the bottom of the vial. try to avoid loss or contamination during handling.
Int J Oncol.2019, 55(1):320-330
Sci Rep.2019, 9(1):6429
Neuropharmacology2019, 151437
Plant Cell Physiol.2018, 59(1):128-141
J Pharm Biomed Anal.2019, 164:119-127
Biol Pharm Bull.2018, 41(1):65-72
BMC Complement Altern Med.2017, 17(1):393
Neurochem Int.2020, 133:104629
Curr Eye Res.2018, 43(1):27-34
Exp Parasitol.2018, 194:67-78
J Nat Med. 2011 Jan;65(1):186-90.
New physiological function of secoiridoids: neuritogenic activity in PC12h cells.[Pubmed:
20652643
]
Previously, we have reported that geniposide isolated from an extract of Gardenia fructus has neuritogenic activity in PC12h cells, a subclone of rat pheochromocytoma cells. Furthermore, we have indicated that several geniposide-related iridoid compounds also had similar potent neuritogenic activity.
METHODS AND RESULTS:
In this study, we have examined the effects of various secoiridoid compounds [K-1, sweroside; K-2, swertiamarin; K-3, gentiopicroside; K-4, 6'-O-β-D: -glucopyranosylsweroside; K-5, 6'-O-β-D: -glucopyranosylgentiopicroside; K-6, 6'-O-β-D: -glucopyranosylswertiamarin; K-7, 5'-O-β-D: -glucopyranosylamarogentin; K-8, 5'-O-β-D: -glucopyranosylamaroswertin; H-1, n-butyl vogeloside; H-2, n-butyl epivogeloside; H-3, (7S)-secologanin butyl methyl acetal; H-4, (7R)-secologanin butyl methyl acetal; H-5, Secologanin dimethyl acetal] isolated from various medicinal herbs. The secoiridoids H-1, H-2, H-3, H-4, and H-5 induced significant neurite outgrowth. Among these H-series compounds, H-2 was the most potent neuritogenic compound. Among the K-series compounds, K-1, K-2, K-3, and K-8 showed the most potent activity.
CONCLUSIONS:
These results suggest that secoiridoids have neuritogenic activity in PC12h cells and that these secoiridoid compounds are promising starting compounds for the development of neurotrophic factor-like and iridoid compounds.