Morroniside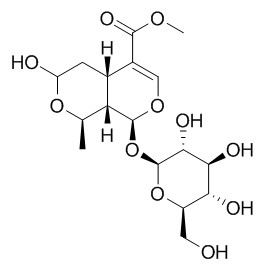 Morroniside has therapeutic effects on diabetic angiopathies, renal damage, lipid metabolism and inflammation and bone resorption. Morroniside can notably protect the brain from damage induced by focal cerebral ischemia which might be related to morroniside antioxidant and anti-apoptotic properties in the brain.Morroniside can decrease the level of cycloxygenase(Cox) and it may be the mechanism of morroniside on inhibiting the platelet aggregation induced by ADP in rabbits.
Inquire / Order: manager@chemfaces.com
Technical Inquiries: service@chemfaces.com
Tel: +86-27-84237783
Fax: +86-27-84254680

Address:
1 Building, No. 83, CheCheng Rd., Wuhan Economic and Technological Development Zone, Wuhan, Hubei 430056, PRC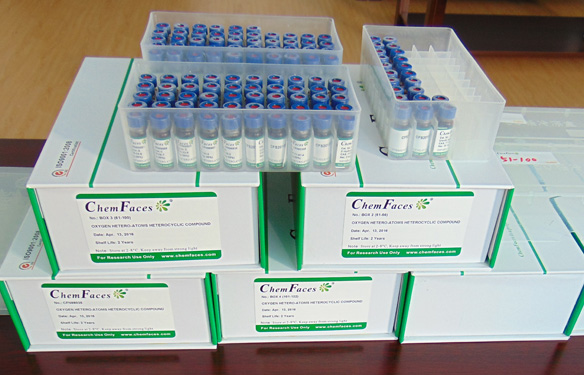 Providing storage is as stated on the product vial and the vial is kept tightly sealed, the product can be stored for up to
24 months(2-8C)
.
Wherever possible, you should prepare and use solutions on the same day. However, if you need to make up stock solutions in advance, we recommend that you store the solution as aliquots in tightly sealed vials at -20C. Generally, these will be useable for up to two weeks. Before use, and prior to opening the vial we recommend that you allow your product to equilibrate to room temperature for at least 1 hour.
Need more advice on solubility, usage and handling? Please email to: service@chemfaces.com
The packaging of the product may have turned upside down during transportation, resulting in the natural compounds adhering to the neck or cap of the vial. take the vial out of its packaging and gently shake to let the compounds fall to the bottom of the vial. for liquid products, centrifuge at 200-500 RPM to gather the liquid at the bottom of the vial. try to avoid loss or contamination during handling.
Sci Rep.2019, 9:19059
Planta Med.2016, 82(13):1208-16
Nat Commun.2019, 10(1):2745
FASEB J.2019, 33(8):9685-9694
Ind Crops Prod.2015, 67:185-191
Phytomedicine.2016, 23(4):331-9
Front Pharmacol.2019, 10:1226
Plant Cell Physiol.2018, 59(1):128-141
Biochem Biophys Res Commun.2019, 518(4):732-738
Molecules.2018, 23(12):E3103
Can J Physiol Pharmacol. 2006 Dec;84(12):1267-73.
Morroniside and loganin extracted from Cornus officinalis have protective effects on rat mesangial cell proliferation exposed to advanced glycation end products by preventing oxidative stress.[Pubmed:
17487235
]
Advanced glycation end products (AGE) are involved in the alterations of renal mesangial cell (MCs) growth, a feature of early stages of diabetic nephropathy (DN).
METHODS AND RESULTS:
We postulate that Morroniside and loganin, 2 components extracted from Cornus officinalis, may ameliorate the detrimental effects of AGE-induced MCs proliferation by preventing oxidative stress. Rat MCs cultured in AGE milieu were treated with Morroniside and loganin. Results showed that Morroniside and loganin inhibited AGE-induced MC proliferation as measured by 3-(4,5-dimethylthiazol-2-yl)-2,5-diphenyltetrazolium bromide (MTT) method. Fluorescence microscopy revealed that the Morroniside and loganin improved the morphological changes of MCs. Flow cytometric analysis showed that Morroniside and loganin inhibited the cell cycle of rat MCs. Furthermore, the level of reactive oxygen species was significantly reduced, and the activities of superoxide dismutase and glutathione peroxidase were markedly increased, whereas the level of malondialdehyde was not significantly reduced.
CONCLUSIONS:
These results suggest that Morroniside and loganin regulate MC growth by preventing oxidative stress. Thus, this study provides a molecular basis for the use of Morroniside and loganin in the early stages of DN.
Eur J Pharmacol. 2014 Sep 5;738:214-21.
Promoting neurogenesis via Wnt/β-catenin signaling pathway accounts for the neurorestorative effects of morroniside against cerebral ischemia injury.[Pubmed:
24876057
]
Ischemic stroke is a leading cause of mortality and permanent disability in adults worldwide. Neurogenesis triggered by ischemia in the adult mammalian brain may provide insights into stroke treatment. Morroniside is an active component of sarcocarp of C. officinalis that have shown neuroprotective effects. The aim of the present study is to test whether Morroniside promotes neurogenesis via Wnt/β-catenin signaling pathway for brain recovery in a rat model of focal cerebral ischemia.
METHODS AND RESULTS:
Morroniside was administered intragastrically once daily at the concentrations of 30, 90 and 270 mg/kg for 7 days post-ischemia. Neurological functions were detected by Ludmila Belayev score tests. Endogenous neural stem cells responses were investigated with immunofluorescence staining of Ki-67 and Nestin to identify the neurogenesis in the subventricular zone (SVZ). The expression of proteins involved in and related to Wnt/β-catenin signaling pathway was detected by western blotting analysis. Morroniside significantly promoted neurogenesis for brain recovery 7 days post-ischemia. Increased expression of Wnt 3a, β-catenin and T-cell transcription factor-4 (Tcf-4), along with activation of downstream transcription factors Pax6 and neurogenin2 (Ngn2), indicated that the neurorestorative effects of Morroniside may be associated with Wnt/β-catenin signaling pathway.
CONCLUSIONS:
These data provide support for understanding the mechanisms of Morroniside in neurorestorative effects and suggest a potential new strategy for ischemic stroke treatment.
J Cell Mol Med. 2015 Aug;19(8):1877-86.
Protein kinase B and extracellular signal-regulated kinase contribute to the chondroprotective effect of morroniside on osteoarthritis chondrocytes.[Pubmed:
25754021
]
Despite extensive studies on the multifaceted roles of Morroniside, the main active constituent of iridoid glycoside from Corni Fructus, the effect of Morroniside on osteoarthritis (OA) chondrocytes remains poorly understood.
METHODS AND RESULTS:
Here, we investigated the influence of Morroniside on cultured human OA chondrocytes and a rat experimental model of OA. The results showed that Morroniside enhanced the cell viability and the levels of proliferating cell nuclear antigen expression (PCNA), type II collagen and aggrecan in human OA chondrocytes, indicating that Morroniside promoted chondrocyte survival and matrix synthesis. Furthermore, different doses of Morroniside activated protein kinase B (AKT) and extracellular signal-regulated kinase (ERK) in human OA chondrocytes, and in turn, triggered AKT/S6 and ERK/P70S6K/S6 pathway, respectively. The PI3K/AKT inhibitor LY294002 or the MEK/ERK inhibitor U0126 attenuated the effect of Morroniside on human OA chondrocytes, indicating that the activation of AKT and ERK contributed to the regulation of Morroniside in human OA chondrocytes. In addition, the intra-articular injection of Morroniside elevated the level of proteoglycans in cartilage matrix and the thickness of articular cartilage in a rat experimental model of OA, with the increase of AKT and ERK activation.
CONCLUSIONS:
As a consequence, Morroniside has chondroprotective effect on OA chondrocytes, and may have the therapeutic potential for OA treatment.
J Pharmacol Sci. 2015 Apr;127(4):414-8.
Induction of CYP3A by morroniside in rats.[Pubmed:
25953268
]
Morroniside is one of the most important iridoid glycosides in the herbal drug Cornus officinalis Sieb. et Zucc.
METHODS AND RESULTS:
The current study was designed to investigate the ex vivo and in vivo effects of Morroniside on CYP3A activity in rats after treatment with Morroniside for 7 days (at 10, 30, 90 mg/kg, i.g.). Morroniside was found to induce CYP3A. According to the ex vivo experiment, the activity of CYP3A was measured by the quantification of 1-hydroxymidazolam, which was the metabolite from CYP3A probe substrate, midazolam. The concentration of 1-hydroxymidazolam was determined by using a validated liquid chromatography coupled with tandem mass spectrometry detection (LC-MS/MS) method. The levels of messenger RNA (mRNA) and protein of CYP3A were determined by reverse transcriptase-polymerase chain reaction (RT-PCR) and western blotting analysis, respectively. The pharmacokinetics of midazolam in rats after treatment with Morroniside for 7 days (at 10, 30, 90 mg/kg, i.g.) were investigated in vivo. After treatment with Morroniside, the activity, mRNA and protein expression of CYP3A were significantly induced and the absorbance and bioavailability of midazolam in rats were reduced.
CONCLUSIONS:
The results indicated that Morroniside could induce the activity of CYP3A.
PLoS One. 2014 Jun 30;9(6):e101194.
Morroniside improves microvascular functional integrity of the neurovascular unit after cerebral ischemia.[Pubmed:
24979385
]
Treating the vascular elements within the neurovascular unit is essential for protecting and repairing the brain after stroke. Acute injury on endothelial systems results in the disruption of blood-brain barrier (BBB), while post-ischemic angiogenesis plays an important role in delayed functional recovery. Here, we considered alterations in microvessel integrity to be targets for brain recovery, and tested the natural compound Morroniside as a therapeutic approach to restore the vascular elements of injured tissue in a rat model of focal cerebral ischemia.
METHODS AND RESULTS:
Sprague-Dawley rats were subjected to middle cerebral artery occlusion (MCAO) model, and Morroniside was then administered intragastrically once a day at doses of 30, 90, and 270 mg/kg. BBB integrity and associated factors were analyzed to identify cerebrovascular permeability 3 days after MCAO. The recruitment of endothelial progenitor cells (EPCs), the expression of angiogenic factors and the new vessel formation in the peri-infarct cortex of rats were examined 7 days after MCAO to identify the angiogenesis. We demonstrated that at 3 days post-ischemia, Morroniside preserved neurovascular unit function by ameliorating BBB injury. By 7 days post-ischemia, Morroniside amplified angiogenesis, in part by enhancing endothelial progenitor cell proliferation and expression of angiogenic factors. Morever, the increase in the amount of vWF+ vessels induced by ischemia could be extended to 28 days after administration of Morroniside, indicating the crucial role of Morroniside in angiogenesis during the chronic phase.
CONCLUSIONS:
Taken together, our findings suggested that Morroniside might offer a novel therapeutic approach for promoting microvascular integrity recovery and provide a thoroughly new direction for stroke therapy.
Mol Med Rep. 2013 May;7(5):1565-70.
Morroniside promotes bone marrow mesenchymal stem cell proliferation in rats.[Pubmed:
23546017
]
The aim of this study was to explore the mechanism underlying the promotive effect of Morroniside on rat mesenchymal stem cell (RMSC) proliferation and to provide an experimental basis for the development of potential new drugs.
METHODS AND RESULTS:
RMSCs were obtained from the bone marrow of Sprague-Dawley rats aged 3-4 months. The proliferation of primary and subcultured RMSCs in the high‑, medium‑ and low‑concentration Morroniside intervention and blank control groups was observed using light microscopy. Cell proliferation and survival conditions were detected using methyl thiazolyl tetrazolium (MTT) colorimetric tests. Light microscopy and the MTT assay revealed that RMSC adherence time in the Morroniside groups was shorter compared with that of the control group. Twelve hours after the media of primary RMSCs were changed, the number of adherent cells in the Morroniside groups increased and an elongated cell morphology was observed. The cells at the fourth passage in the Morroniside groups fused completely 12‑16 h after inoculation and then rapidly entered into the logarithmic phase. The primary RMSCs of the Morroniside intervention groups grew into typical bone marrow mesenchymal stem cell (BMSC) colonies after 4 days of Morroniside treatment and their fusion rate had reached 80% after 9‑11 days. By contrast, the cell fusion rate of the control group only reached 75-80% after 14 days of Morroniside treatment.
CONCLUSIONS:
Morroniside exhibited a similar promotive effect on proliferation in primary and subcultured RMSCs. Morroniside may promote RMSC proliferation through secreted factors, cell-to-cell interactions and/or the interactions between cellular adhesion molecules and extracellular matrices (ECMs). However, the specific mechanism underlying this effect remains to be fully elucidated.
Chinese Journal of Rehabilitation Theory & Practice, 2012, 18(4):331-2.
Effects of Morroniside on Cycloxygenase after Platelet Aggregation Induced by Adenosine Diphosphate in Rabbits.[Reference:
WebLink
]
To investigate the effect of Morroniside on cycloxygenase(Cox) in the condition of platelet aggregation induced by adenosine diphosphate(ADP) in rabbits.
METHODS AND RESULTS:
The levels of Cox induced by ADP in different groups were detected by enzyme-linked immunosorbent assay(ELISA). Compared with the control group,all the Morroniside groups significantly inhibited the increase of Cox induced by ADP(P0.001),which had concentration dependence,and the inhibition rate of high dose group was 30%.
CONCLUSIONS:
Morroniside can decrease the level of Cox and it may be the mechanism of Morroniside on inhibiting the platelet aggregation induced by ADP in rabbits.