Oleoside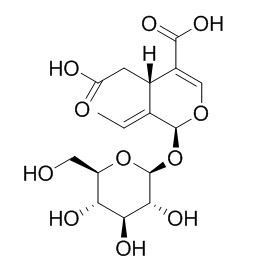 Oleacein is a strong Angiotensin Converting Enzyme (ACE)-inhibitor (IC50 = 26 uM).
Inquire / Order: manager@chemfaces.com
Technical Inquiries: service@chemfaces.com
Tel: +86-27-84237783
Fax: +86-27-84254680

Address:
1 Building, No. 83, CheCheng Rd., Wuhan Economic and Technological Development Zone, Wuhan, Hubei 430056, PRC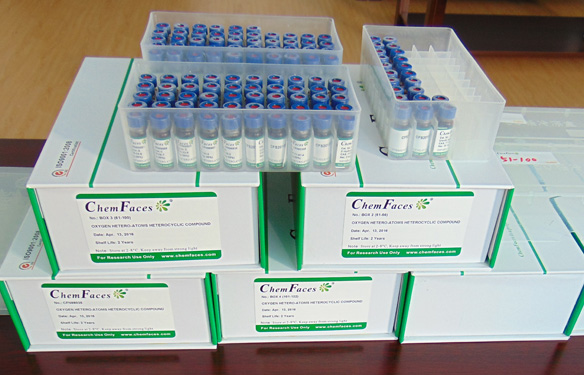 Providing storage is as stated on the product vial and the vial is kept tightly sealed, the product can be stored for up to
24 months(2-8C)
.
Wherever possible, you should prepare and use solutions on the same day. However, if you need to make up stock solutions in advance, we recommend that you store the solution as aliquots in tightly sealed vials at -20C. Generally, these will be useable for up to two weeks. Before use, and prior to opening the vial we recommend that you allow your product to equilibrate to room temperature for at least 1 hour.
Need more advice on solubility, usage and handling? Please email to: service@chemfaces.com
The packaging of the product may have turned upside down during transportation, resulting in the natural compounds adhering to the neck or cap of the vial. take the vial out of its packaging and gently shake to let the compounds fall to the bottom of the vial. for liquid products, centrifuge at 200-500 RPM to gather the liquid at the bottom of the vial. try to avoid loss or contamination during handling.
Nutr Metab (Lond).2019, 16:31
Anticancer Res.2018, 38(4):2127-2135
BMC Complement Altern Med.2014, 14:352
J Med Food.2019, 22(10):1067-1077
Phytother Res.2018, 32(12):2551-2559
The Korea Journal of Herbology2016, 29-35
J Mol Recognit.2020, 33(2):e2819
Molecules.2019, 25(1):E103
Front Pharmacol.2017, 8:673
Planta Med.2019, 85(4):347-355
Phytomedicine, 1996, 2(4):319-25.
Isolation of an angiotensin converting enzyme (ACE) inhibitor from Olea europaea and Olea lancea.[Pubmed:
23194770
]

METHODS AND RESULTS:
The aqueous extract of the leaves of Olea europaea and Olea lancea both inhibited Angiotensin Converting Enzyme (ACE) in vitro. A bioassay-directed fractionation resulted in the isolation of a strong ACE-inhibitor namely the secoiridoid 2-(3,4-dihydroxyphenyl)ethyl 4-formyl-3-(2-oxoethyl)-4 E-hexenoate (oleacein) (IC(50) = 26 μM). Five secoiridoid glycosides (oleuropein, ligstroside, excelcioside, Oleoside 11-methyl ester, Oleoside) isolated from Oleaceous plants showed no significant ACE-inhibition whereas, after enzymatic hydrolysis, the ACE-inhibition at 0.33 mg/ml was between 64% to 95%. Secoiridoids have not been described previously in the literature as inhibitors of ACE.
CONCLUSIONS:
Oleacein showed a low toxicity in the brine shrimp (Artemia satina) lethality test (LC(50) (24 h) = 969 ppm).