Noricaritin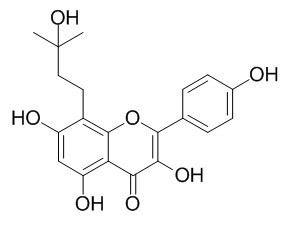 Reference standards.
Inquire / Order: manager@chemfaces.com
Technical Inquiries: service@chemfaces.com
Tel: +86-27-84237783
Fax: +86-27-84254680

Address:
1 Building, No. 83, CheCheng Rd., Wuhan Economic and Technological Development Zone, Wuhan, Hubei 430056, PRC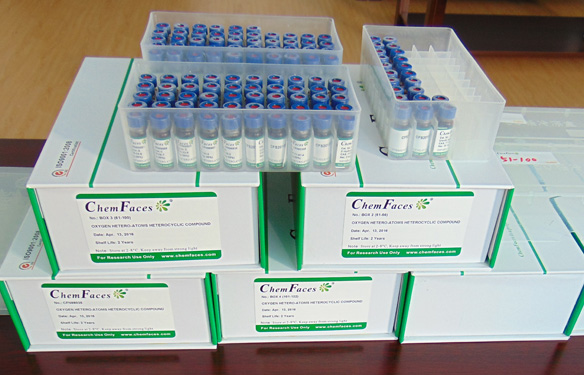 Providing storage is as stated on the product vial and the vial is kept tightly sealed, the product can be stored for up to
24 months(2-8C)
.
Wherever possible, you should prepare and use solutions on the same day. However, if you need to make up stock solutions in advance, we recommend that you store the solution as aliquots in tightly sealed vials at -20C. Generally, these will be useable for up to two weeks. Before use, and prior to opening the vial we recommend that you allow your product to equilibrate to room temperature for at least 1 hour.
Need more advice on solubility, usage and handling? Please email to: service@chemfaces.com
The packaging of the product may have turned upside down during transportation, resulting in the natural compounds adhering to the neck or cap of the vial. take the vial out of its packaging and gently shake to let the compounds fall to the bottom of the vial. for liquid products, centrifuge at 200-500 RPM to gather the liquid at the bottom of the vial. try to avoid loss or contamination during handling.
J Clin Med.2019, 8(10):E1664
Cell Death Dis.2019, 10(12):882
J Sci Food Agric.2018, 98(3):1153-1161
Food Chem.2019, 276:768-775
Sci Rep. 2018, 462(8)
Appl. Sci.2020, 10,1304
Molecules. 2013, 18(7):7376-88
Phytochemistry.2017, 141:162-170
Process Biochemistry2019, 87:213-220
Front Immunol.2018, 9:2091
Polymers for Advanced Technologies, 2016.
Micro‐porous composite scaffolds of photo‐crosslinked poly(trimethylene carbonate) and nano‐hydroxyapatite prepared by low‐temperature extrusion‐based additive manufacturing.[Reference:
WebLink
]

METHODS AND RESULTS:
1. About ten substances of a flavonoid nature have been found in the leaves ofPhellodendron sachalinense (F. Schm.) Sarg. andPh. amurense Rupr. 2. The two species of cork tree each contain two new flavonoids, which have been called phelloside and dihydrophelloside. The results of chemical and spectroscopic studies have permitted phelloside to be characterized as the 7,γ-di-O-β-D-glucopyranoside of Noricaritin and dihydrophelloside as the 7,γ-di-O-β-D-glucopyranoside of dihydroNoricaritin, the base of which contains kaempferol and aromadendrin.
CONCLUSIONS:
3. Amurensin (the 7-β-D-glucopyranoside of Noricaritin) and icariside-1 (the λ-O-β-D-glucopyranoside of Noricaritin) have been isolated as intermediates in the stepwise hydrolysis of phelloside; the latter has not been previously found in the Amur and Japanese cork trees.