Icaritin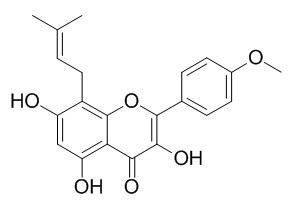 Icaritin, a potent inhibitor of transcription factor SREBPs, which exhibits a variety of biological activities, such as activation of cancer cell apoptosis and inhibition of growth, hormone regulation, protection against beta amyloid-induced neurotoxicity, and promotion of neuronal and cardiac cellular differentiation. Icaritin shows potent anti-leukemia activity on chronic myeloid leukemia in vitro and in vivo by regulating MAPK/ERK/JNK and JAK2/STAT3 /AKT signalings.
Inquire / Order: manager@chemfaces.com
Technical Inquiries: service@chemfaces.com
Tel: +86-27-84237783
Fax: +86-27-84254680

Address:
1 Building, No. 83, CheCheng Rd., Wuhan Economic and Technological Development Zone, Wuhan, Hubei 430056, PRC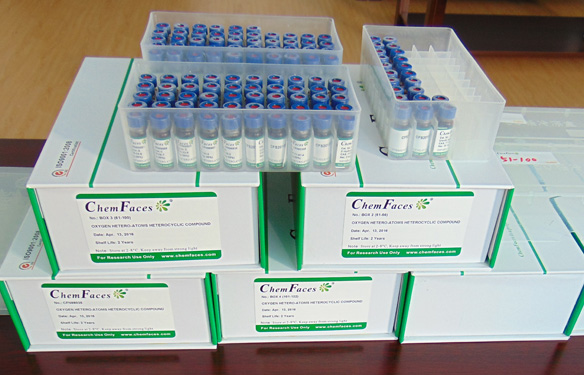 Providing storage is as stated on the product vial and the vial is kept tightly sealed, the product can be stored for up to
24 months(2-8C)
.
Wherever possible, you should prepare and use solutions on the same day. However, if you need to make up stock solutions in advance, we recommend that you store the solution as aliquots in tightly sealed vials at -20C. Generally, these will be useable for up to two weeks. Before use, and prior to opening the vial we recommend that you allow your product to equilibrate to room temperature for at least 1 hour.
Need more advice on solubility, usage and handling? Please email to: service@chemfaces.com
The packaging of the product may have turned upside down during transportation, resulting in the natural compounds adhering to the neck or cap of the vial. take the vial out of its packaging and gently shake to let the compounds fall to the bottom of the vial. for liquid products, centrifuge at 200-500 RPM to gather the liquid at the bottom of the vial. try to avoid loss or contamination during handling.
J Mater Chem B.2019, 7(39):5896-5919
Evid Based Complement Alternat Med.2016, 2016:1739760
Plant Growth Regulation2020, 90(2):383-392
Exp Biol Med (Maywood).2019, 244(18):1665-1679
J Ethnopharmacol.2019, 235:406-414
Acta Agriculturae Scandinavica2015, 381-383
Nat Prod Sci.2014, 20(3):182-190
Toxicol In Vitro.2018, 52:94-105
Molecules.2019, 24(12):E2286
Genes Genomics.2020, 10.1007
Oncotarget. 2015 Apr 30;6(12):10460-72.
Icaritin suppresses multiple myeloma, by inhibiting IL-6/JAK2/STAT3.[Pubmed:
25865044
]
Icaritin is an active prenylflavonoid derived from Epimedium genus, a traditional Chinese medicine. Icaritin has a wide range of pharmacological and biological activities, including cardiovascular function improvement, hormone regulation and antitumor activity.
METHODS AND RESULTS:
Here, we investigated the effect of Icaritin on multiple myeloma (MM) in vitro and in vivo. Icaritin inhibited cell growth of MM cell line and primary MM cells. In contrast, Icaritin had low or no cytotoxic effect on normal hematopoiesis. We also demonstrated that in MM xenograft mouse models, Icaritin suppressed tumor growth and decreased serum IL-6 and IgE levels, but did not show adverse reactions such as body weight loss. The anti-MM activity of Icaritin was mainly mediated by inhibiting IL-6/JAK2/STAT3 signaling.
CONCLUSIONS:
We suggest that Icaritin can be further tested in clinical trials in MM.
Eur J Pharmacol. 2004 Nov 19;504(3):147-53.
Proliferation-stimulating effects of icaritin and desmethylicaritin in MCF-7 cells.[Pubmed:
15541416
]
Icariin, Icaritin and desmethylIcaritin are constituents of Epimedium with a similar structure to genistein and daidzein.
CONCLUSIONS:
Using the modified MCF-7 cell proliferation assay (E-SCREEN assessment system), these compounds were tested for their estrogen-like activities. Icaritin and desmethylIcaritin, but not icariin, strongly stimulated the proliferation of MCF-7/BUS cells. Cell cycle analysis revealed that the proliferation stimulatory effect was associated with a marked increase in the number of MCF-7/BUS cells in S phase and a significant increase in the G2/M population, with effects similar to those of estradiol. These actions were dose dependent (range from 1 nM to 10 microM) and could be significantly inhibited by the specific estrogen receptor antagonist ICI 182,780 [7 alpha-[9(4,4,5,5,5-pentafluoropentyl)sulfinyl]nonyl)-estra-1,3,5(10)-triene-3,17beta-diol)]. The estrogen receptor-regulated progesterone receptor and PS2 mRNA levels were increased by treatment with Icaritin or desmethylIcaritin within 24 h and the effects were also reversed by ICI 182,780.
CONCLUSIONS:
It was concluded that Icaritin and desmethylIcaritin are novel phytoestrogens and that the estrogenic effects of Icaritin and desmethylIcaritin are mediated by the estrogen receptor.
Phytomedicine. 2014 Oct 15;21(12):1633-7.
Synergistic inhibitory effect of Icariside II with Icaritin from Herba Epimedii on pre-osteoclastic RAW264.7 cell growth.[Pubmed:
25442270
]
Increasing evidence shows the therapeutic superiority of herbal extracts in comparison to isolated single constituents. One of the reasons may be attributed to the synergy effect of compound combinations. Flavonoids from Herba Epimedii have been shown to have therapeutic effect against bone loss. Our previous study showed that Icariside II inhibited pre-osteoclast RAW264.7 growth. The aim of this study was to investigate whether the activity of Icariside II is synergized by other components of Herba Epimedii.
METHODS AND RESULTS:
The inhibitory activity of Icariside II was significantly enhanced in the presence of the extract of Herba Epimedii (EHE) at the ratio of 1:1, 1:5 and 1:10. Icaritin, another flavonoid constituent, was shown here to inhibit RAW264.7 growth in a dose-dependent manner. Further, we found that Icariside II, together with Icaritin, synergistically inhibited RAW264.7 growth. The synergistic effect is significant when the ratio of Icariside II and Icaritin was 10:1, 5:1, 1:1, 1:2, and 1:5, respectively.
CONCLUSIONS:
In conclusion, Icaritin were an active component. The inhibitory activity of Icariside II on pre-osteoclast RAW264.7 growth was synergized by Icaritin, which maybe contribute to the efficiency of Herba Epimedii extract on curing bone-related diseases, such as osteoporosis.
Mol Med Rep. 2015 Apr;11(4):3094-100.
Anticancer agent icaritin induces apoptosis through caspase-dependent pathways in human hepatocellular carcinoma cells.[Pubmed:
25434584
]
Icaritin is an active ingredient derived from the plant Herba epimedium, which exhibits various pharmacological and biological activities. However, the function, and the underlying mechanisms of Icaritin on the growth of SMMC‑7721 human hepatoma cells have yet to be elucidated.
METHODS AND RESULTS:
The present study aimed to investigate the function and underlying mechanisms of Icaritin in the growth of SMMC‑7721 cells. The cells were treated with varying concentrations of Icaritin for 12, 24 and 48 h, respectively, prior to cytotoxic analysis. Apoptosis of SMMC‑7721 cells following treatment with Icaritin was measured using flow cytometry. The gene expression of mitochondria‑ and Fas‑mediated caspase‑dependent pathways was detected by reverse transcription‑quantitative polymerase chain reaction and western blotting. Statistical analysis was performed by Student's t‑test and one‑way analysis or variance. The present study demonstrated that treatment with Icaritin significantly inhibited growth, and induced apoptosis of SMMC‑7721 cells, in a time‑ and dose‑dependent manner. In addition, Icaritin triggered the mitochondrial/caspase apoptotic pathway, by decreasing the Bcl‑2/Bax protein ratio and increasing activation of caspase‑3. Icaritin also activated the Fas‑mediated apoptosis pathway, as was evident by the increased expression levels of Fas and activation of caspase‑8.
CONCLUSIONS:
These data suggest that Icaritin may be a potent growth inhibitor and induce apoptosis of SMMC‑7721 cells through the mitochondria‑ and Fas‑mediated caspase‑dependent pathways. The present study may provide experimental evidence for preclinical and clinical evaluations of Icaritin for HCC therapy.
Neuroscience. 2007 Mar 30;145(3):911-22.
Neuroprotective effects of icaritin against beta amyloid-induced neurotoxicity in primary cultured rat neuronal cells via estrogen-dependent pathway.[Pubmed:
17321691
]
Beta-amyloid protein (Abeta) is the hallmark of pathogenic neurotoxins which contribute greatly to Alzheimer's disease (AD)-associated cascade including severe neuronal loss.
METHODS AND RESULTS:
In present study, Icaritin, an active natural ingredient from a Chinese plant, Epimedium sagittatum maxim, was investigated to assess its neuroprotective effect against the toxicity induced with Abeta(25-35) in primary cultured rat cortical neuronal cells as well as the underlying mechanisms. Abeta(25-35) induced neuronal toxicity, characterized by decreased cell viability, lactate dehydrogenase (LDH) release, and neuronal DNA condensation, which is associated with both the loss of membrane potential and the alteration of the expression of Bcl-2 family proteins. The phenotype alternation induced by Abeta(25-35) could be reversed by Icaritin. Furthermore, the neuroprotective effects of Icaritin mentioned above were estrogen receptor dependent due to the blocking action induced by estrogen receptor antagonist ICI 182,780 and well matched binding affinity with estrogen receptor by a receptor-ligand docking experiment.
CONCLUSIONS:
Mitogen-activated protein kinase/extracellular signal-regulated kinase kinase inhibitor PD98059 weakened the protective effects, which implied mitogen-activated protein kinase/extracellular signal-regulated kinase pathway may also be involved in and partly contributed to the neuroprotective effects of Icaritin.
Zhong Nan Da Xue Xue Bao Yi Xue Ban. 2015 May;40(5):517-21.
A study on the effect of icaritin on rat chondrocytes.[Pubmed:
26032072
]
To investigate the eff ect of Icaritin on proliferation and apoptosis in rat chondrocytes and to provide new theory for osteochondropathy treatment.
METHODS AND RESULTS:
Icaritin (with a purity of 99%) at different concentrations (0, 4, 8, 16, 32, 64 μmol/L) was incubated with rat chondrocytes for different time. The cell proliferation and apoptosis was assayed by MTT and fl ow cytometry, respectively. Compared with the control group, the cell proliferation was increased in the groups with Icaritin at 4 or 8 μmol/L (P<0.05), whereas the proliferation was decreased in the groups with Icaritin at 16, 32 or 64 μmol/L groups compared to the control group (P<0.05); the cell apoptosis ratio in the group with Icaritin at 4 μmol/L was obviously lower than that in the control group aft er incubation of Icaritin for 24 h and 48 h. Beyond 4 μmol/L, the higher concentration of Icaritin, the higher apoptosis ratio of cell. However, it did not show a time-dependent manner at a same concentration of Icaritin.
CONCLUSIONS:
The Icaritin at low concentration (4 or 8 μmol/L) can promote rat chondrocyte proliferation and inhibit cell apoptosis, while the effect of Icaritin on rat chondrocyte at high concentration was reversed.
PLoS One. 2011;6(8):e23720.
Icaritin shows potent anti-leukemia activity on chronic myeloid leukemia in vitro and in vivo by regulating MAPK/ERK/JNK and JAK2/STAT3 /AKT signalings.[Pubmed:
21887305
]
To explore the effects of Icaritin on chronic myeloid leukemia (CML) cells and underlying mechanisms.
METHODS AND RESULTS:
CML cells were incubated with various concentration of Icaritin for 48 hours, the cell proliferation was analyzed by MTT and the apoptosis was assessed with Annexin V and Hoechst 33258 staining. Cell hemoglobinization was determined. Western blotting was used to evaluate the expressions of MAPK/ERK/JNK signal pathway and Jak-2/Phorpho-Stat3/Phorsph-Akt network-related protein. NOD-SCID nude mice were applied to demonstrate the anti-leukemia effect of Icaritin in vivo. Icaritin potently inhibited proliferation of K562 cells (IC50 was 8 µM) and primary CML cells (IC50 was 13.4 µM for CML-CP and 18 µM for CML-BC), induced CML cells apoptosis and promoted the erythroid differentiation of K562 cells with time-dependent manner. Furthermore, Icaritin was able to suppress the growth of primary CD34+ leukemia cells (CML) and Imatinib-resistant cells, and to induce apoptosis. In mouse leukemia model, Icaritin could prolong lifespan of NOD-SCID nude mice inoculated with K562 cells as effective as Imatinib without suppression of bone marrow. Icaritin could up-regulate phospho-JNK or phospho-C-Jun and down-regulate phospho-ERK, phospho-P-38, Jak-2, phospho-Stat3 and phospho-Akt expression with dose- or time-dependent manner. Icaritin had no influence both on c-Abl and phospho-c-Abl protein expression and mRNA levels of Bcr/Abl.
CONCLUSIONS:
Icaritin from Chinese herb medicine may be a potential anti-CML agent with low adverse effect. The mechanism of anti-leukemia for Icaritin is involved in the regulation of Bcr/Abl downstream signaling. Icaritin may be useful for an alternative therapeutic choice of Imatinib-resistant forms of CML.