Cudraflavone B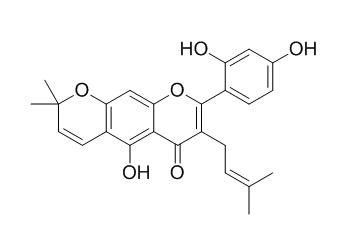 Cudraflavone B has anti-proliferative activity, mouse brain monoamine oxidase (MAO) inhibitory effects, apoptotic actions in human gastric carcinoma cells and mouse melanoma cells, and hepatoprotective activity. It may be a lead for the development of a potential candidate for human oral squamous cell carcinoma cells.
Inquire / Order: manager@chemfaces.com
Technical Inquiries: service@chemfaces.com
Tel: +86-27-84237783
Fax: +86-27-84254680

Address:
1 Building, No. 83, CheCheng Rd., Wuhan Economic and Technological Development Zone, Wuhan, Hubei 430056, PRC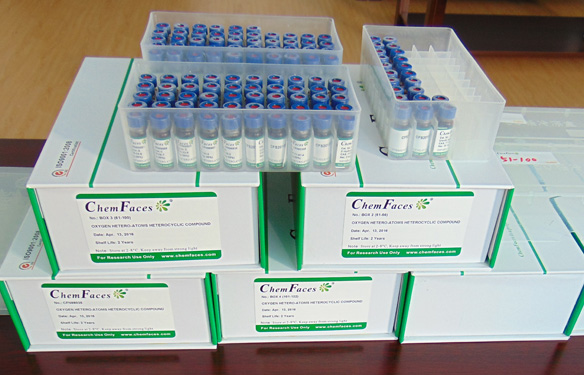 Providing storage is as stated on the product vial and the vial is kept tightly sealed, the product can be stored for up to
24 months(2-8C)
.
Wherever possible, you should prepare and use solutions on the same day. However, if you need to make up stock solutions in advance, we recommend that you store the solution as aliquots in tightly sealed vials at -20C. Generally, these will be useable for up to two weeks. Before use, and prior to opening the vial we recommend that you allow your product to equilibrate to room temperature for at least 1 hour.
Need more advice on solubility, usage and handling? Please email to: service@chemfaces.com
The packaging of the product may have turned upside down during transportation, resulting in the natural compounds adhering to the neck or cap of the vial. take the vial out of its packaging and gently shake to let the compounds fall to the bottom of the vial. for liquid products, centrifuge at 200-500 RPM to gather the liquid at the bottom of the vial. try to avoid loss or contamination during handling.
Int Immunopharmacol.2019, 71:22-31
J of the Korean Society of Cosmetics and Cosmetology2018, 399-406
J Basic Clin Physiol Pharmacol.2016, 27(1):1-8
Oncotarget.2015, 6(31):30831-49
Chemistry of Plant Materials.2016, 33-46
J of Applied Pharmaceutical Science2020, 10(1):077-082
Vojnosanit Pregl2016, 75(00):391-391
J Chromatogr B Analyt Technol Biomed Life Sci. 2017, 1064:115-123
Sci Rep.2019, 9:19059
Food Chem.2017, 221:1135-1144
J Nat Prod. 2013 Sep 27;76(9):1586-91.
Prenylated and geranylated flavonoids increase production of reactive oxygen species in mouse macrophages but inhibit the inflammatory response.[Pubmed:
23947936
]
In this study, four prenylated and geranylated flavonoids, Cudraflavone B (1), pomiferin (2), osajin (3), and diplacone (4), were tested for their antioxidant and anti-inflammatory effects and to identify any potential relationships between chemical structure and antioxidant or anti-inflammatory properties.
METHODS AND RESULTS:
The selected flavonoids were examined in cell-free models to prove their ability to scavenge superoxide radicals, hydrogen peroxide, and hypochlorous acid. Further, the ability of the flavonoids to influence the formation of reactive oxygen species in the murine macrophage cell line J774.A1 was tested in the presence and absence of lipopolysaccharide (LPS). The ability of flavonoids to inhibit LPS-induced IκB-α degradation and COX-2 expression was used as a model for the inflammatory response.
CONCLUSIONS:
The present results indicated that the antioxidant activity was dependent on the chemical structure, where the catechol moiety is especially crucial for this effect. The most potent antioxidant activities in cell-free models were observed for diplacone (4), whereas Cudraflavone B (1) and osajin (3) showed a pro-oxidant effect in J774.A1 cells. All flavonoids tested were able to inhibit IκB-α degradation, but only diplacone (4) also down-regulated COX-2 expression.
Molecules. 2014 Jul 24;19(8):10818-31.
Cudarflavone B provides neuroprotection against glutamate-induced mouse hippocampal HT22 cell damage through the Nrf2 and PI3K/Akt signaling pathways.[Pubmed:
25061726
]
Oxidative cell damage contributes to neuronal degeneration in many central nervous system (CNS) diseases such as Alzheimer's disease, Parkinson's disease, and ischemia. Nrf2 signaling-mediated heme oxygenase (HO)-1 expression acts against oxidants that are thought to play a key role in the pathogenesis of neuronal diseases. Cudraflavone B is a prenylated flavone isolated from C. tricuspidata which has shown anti-proliferative activity, mouse brain monoamine oxidase (MAO) inhibitory effects, apoptotic actions in human gastric carcinoma cells and mouse melanoma cells, and hepatoprotective activity.
METHODS AND RESULTS:
In this study, Cudraflavone B showed neuroprotective effects and reactive oxygen species (ROS) inhibition against glutamate-induced neurotoxicity by inducing the expression of HO-1 in mouse hippocampal HT22 cells. Furthermore, Cudraflavone B caused the nuclear accumulation of nuclear factor-E2-related factor 2 (Nrf2) and increased the promoter activity of antioxidant response elements (ARE) in mouse hippocampal HT22 cells. In addition, we found that the Nrf2-midiated HO-1 expression by Cudraflavone B is involved in the cell protective response and ROS reductions, and Cudraflavone B-induced expression of HO-1 was mediated through the phosphatidylinositol 3-kinase (PI3K)/Akt pathway in HT22 cells.
CONCLUSIONS:
Our results demonstrated the potential application of naturally occurring Cudraflavone B as a therapeutic agent from neurodegenerative disease.