Nepodin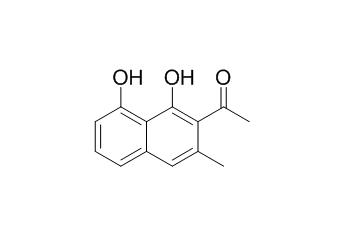 Nepodin has antimalarial, and anti-inflammatory activities, it shows significant cyclooxygenase (COX) inhibitory activity. Nepodin has an antidiabetic effect, which is at least partly mediated by stimulation of GLUT4 translocation via AMPK activation by nepodin.
Inquire / Order: manager@chemfaces.com
Technical Inquiries: service@chemfaces.com
Tel: +86-27-84237783
Fax: +86-27-84254680

Address:
1 Building, No. 83, CheCheng Rd., Wuhan Economic and Technological Development Zone, Wuhan, Hubei 430056, PRC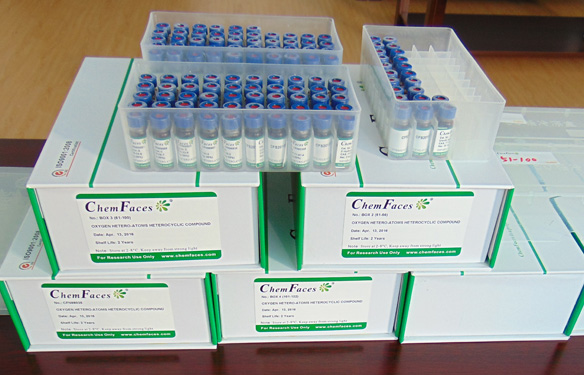 Providing storage is as stated on the product vial and the vial is kept tightly sealed, the product can be stored for up to
24 months(2-8C)
.
Wherever possible, you should prepare and use solutions on the same day. However, if you need to make up stock solutions in advance, we recommend that you store the solution as aliquots in tightly sealed vials at -20C. Generally, these will be useable for up to two weeks. Before use, and prior to opening the vial we recommend that you allow your product to equilibrate to room temperature for at least 1 hour.
Need more advice on solubility, usage and handling? Please email to: service@chemfaces.com
The packaging of the product may have turned upside down during transportation, resulting in the natural compounds adhering to the neck or cap of the vial. take the vial out of its packaging and gently shake to let the compounds fall to the bottom of the vial. for liquid products, centrifuge at 200-500 RPM to gather the liquid at the bottom of the vial. try to avoid loss or contamination during handling.
Evid Based Complement Alternat Med.2018, 2018:4580627
Int J Mol Sci.2018, 19(9):E2601
Korean j.of Pharm.2017, 70-76
BMC Pharmacol Toxicol.2018, 19(1):5
J Sep Sci.2020, 201901140
BMC Complement Altern Med.2019, 19(1):339
HortTechnology2016, 26(6):816-819
Biomed Pharmacother.2019, 116:108987
J of the Korean Society of Cosmetics and Cosmetology2018, 399-406
Molecules.2019, 24(10):E1930
Biofactors. 2014 Jul-Aug;40(4):436-47.
Antidiabetic effect of nepodin, a component of Rumex roots, and its modes of action in vitro and in vivo.[Pubmed:
24756979
]
Many active components derived from edible natural resources such as plant extracts have recently attracted attention for their potential use as functional foods or drugs for preventing and treating metabolic diseases such as diabetes.
METHODS AND RESULTS:
To obtain a novel modulator of glucose metabolism, we conducted screening of a small compound library in cultured L6 myotubes. We identified Nepodin that stimulated glucose uptake dose-dependently in differentiated L6 myotubes. The stimulatory effect of Nepodin on glucose uptake was abrogated by a 5'-adenosine monophosphate-activated protein kinase (AMPK) inhibitor. In addition, Nepodin stimulated the phosphorylation of AMPK. Nepodin also stimulated the translocation of GLUT4 to the plasma membrane in L6 myoblasts transfected with a Glut4 cDNA-coding vector and in differentiated L6 myotubes. In in vivo study, Nepodin suppressed the increases in fasting blood glucose levels and improved the glucose intolerance of C57BL/KsJ-db/db mice, a type 2 diabetic animal model. Nepodin rescued the impaired phosphorylation of AMPK in the skeletal muscle of db/db mice.
CONCLUSIONS:
These results suggest that Nepodin has an antidiabetic effect, which is at least partly mediated by stimulation of GLUT4 translocation via AMPK activation by Nepodin.
Arch Pharm Res. 2013 Apr;36(4):430-5.
Antimalarial activity of nepodin isolated from Rumex crispus.[Pubmed:
23440579
]
The purpose of this study is to define the antimalarial activity of Rumex crispus.
METHODS AND RESULTS:
To identify an active compound that is isolated from R. crispus, bioassay-based chromatographic fractionation and purification is carried out from 70 % ethanol extract of R. crispus; then, an active compound, Nepodin, is identified by spectroscopic analysis. Anitmalarial activity is measured by PfNDH2 assay, cytotoxicity, and animal test. From NADH:quinone oxidoreductase enzyme (PfNDAH2) assay, Nepodin exhibited significant IC50 values that were 0.74 ± 0.07 and 0.79 ± 0.06 μg/ml against P. falciparum chloroquine-sensitive (3D7) and P. falciparum chloroquine-resistant (S20), respectively. Nepodin showed a potential selective inhibition (SI index: ratio of 50 % cytotoxic concentration to 50 % effective anti-plasmodial concentration) of 161.6 and 151.4 against P. falciparum 3D7 and P. falciparum S20. In the animal test, all groups of Nepodin treatment of 10, 50, and 250 mg/kg were active with a parasitemia suppression of 97.1 ± 3.3, 99.1 ± 3.7, and 99.1 ± 2.6 %, respectively. The survival time with Nepodin treatment was increased by 14.6 ± 2.5, 16.2 ± 1.5, and 19.8 ± 1.7 days at each dose, respectively.
CONCLUSIONS:
This study newly identified the plant R. crispus containing Nepodin, which is a potential antimalarial compound. It exhibited the inhibitory activity of PfNDH2 and prolonged the survival time on the group of Nepodin treatment; moreover, it inhibited the parasitemia in the animal test.
J Agric Food Chem. 2012 Oct 24;60(42):10415-9.
Isolation and identification of Flavobacterium columnare and Streptococcus iniae antibacterial compounds from the terrestrial plant Atraphaxis laetevirens.[Pubmed:
23030835
]
Columnaris disease, enteric septicemia of catfish, and streptococcosis are common bacterial diseases of certain freshwater fish and are caused by Flavobacterium columnare , Edwardsiella ictaluri , and Streptococcus iniae , respectively.
METHODS AND RESULTS:
During the process of evaluating several species of plants to isolate and identify compounds with toxicity against these bacteria, a promising extract from the aerial parts of the terrestrial plant Atraphaxis laetevirens (Ledeb.) Jaub. et Spach (Polygonaceae Juss.) was selected for bioassay-guided fractionation using a rapid microplate bioassay. The active dichloromethane extract was subjected to liquid-liquid partitioning, and active fractions were further separated by normal-phase column chromatography and normal-phase high-performance liquid chromatography (HPLC). Nepodin (3) and emodin (4) were isolated from two fractions with strong toxicities against S. iniae .
CONCLUSIONS:
A chloroform fraction was further separated by normal-phase column chromatography to yield two active fractions against F. columnare , and these fractions contained chrysophanol (1), physcion (2), and Nepodin (3). Compound 1 had strong activity, and compound 3 had moderate activity against F. columnare , while compounds 2 and 4 were not toxic at the concentrations tested.
Eur J Med Chem. 2014 Jun 10;80:47-56.
Synthesis, biological evaluation, molecular docking and theoretical evaluation of ADMET properties of nepodin and chrysophanol derivatives as potential cyclooxygenase (COX-1, COX-2) inhibitors.[Pubmed:
24763362
]
Nepodin and chrysophanol, isolated from Rumex nepalensis roots, showed significant cyclooxygenase (COX) inhibitory activity.
METHODS AND RESULTS:
To further optimize these lead molecules and study structure activity relationship (SAR), eighteen derivatives of Nepodin and nine derivatives of chrysophanol were synthesized and evaluated for COX-1 and COX-2 inhibitory potential. Among the synthesized compounds, four Nepodin (1f, 1g, 1h and 1i) and three chrysophanol (2e, 2f and 2h) derivatives displayed more pronounced COX-2 inhibition than their respective lead molecule. Further, compounds 1f, 1g, 2e and 2h exhibited better anti-inflammatory activity than ibuprofen in carrageenan-induced rat paw edema assay.
CONCLUSIONS:
Taking into account the in vitro and in vivo results, molecular docking and in silico prediction of ADMET properties of compounds were carried out respectively.