Neoisoastilbin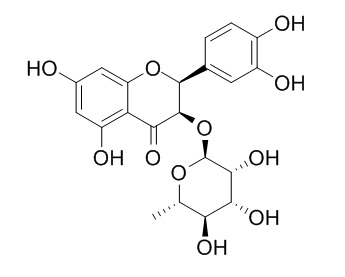 Neoisoastilbin may have antioxidant and anti-inflammatory activities.
Inquire / Order: manager@chemfaces.com
Technical Inquiries: service@chemfaces.com
Tel: +86-27-84237783
Fax: +86-27-84254680

Address:
1 Building, No. 83, CheCheng Rd., Wuhan Economic and Technological Development Zone, Wuhan, Hubei 430056, PRC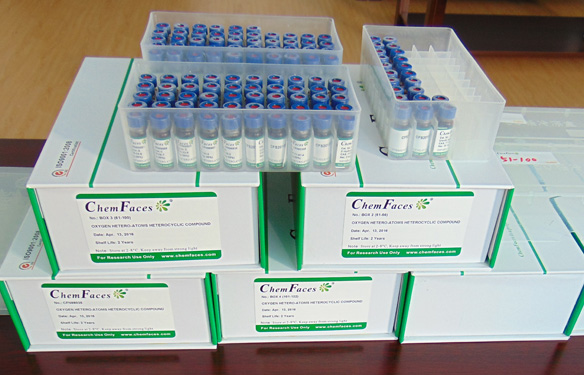 Providing storage is as stated on the product vial and the vial is kept tightly sealed, the product can be stored for up to
24 months(2-8C)
.
Wherever possible, you should prepare and use solutions on the same day. However, if you need to make up stock solutions in advance, we recommend that you store the solution as aliquots in tightly sealed vials at -20C. Generally, these will be useable for up to two weeks. Before use, and prior to opening the vial we recommend that you allow your product to equilibrate to room temperature for at least 1 hour.
Need more advice on solubility, usage and handling? Please email to: service@chemfaces.com
The packaging of the product may have turned upside down during transportation, resulting in the natural compounds adhering to the neck or cap of the vial. take the vial out of its packaging and gently shake to let the compounds fall to the bottom of the vial. for liquid products, centrifuge at 200-500 RPM to gather the liquid at the bottom of the vial. try to avoid loss or contamination during handling.
Korean J. Medicinal Crop Sci.2018, 26(2):148-156
Mol Pharm.2018, 15(8):3285-3296
Front Immunol.2018, 9:2655
Exp Biol Med (Maywood).2019, 244(16):1463-1474
Life Sci.2018, 209:498-506
Invest New Drugs.2017, 35(2):166-179
J Chromatogr Sci.2015, 53(5):824-9
Journal of Food Hygiene and Safety2019, 34(5):413-420
J Sci Food Agric.2018, 98(3):1153-1161
ACS Nano.2018, 12(4):3385-3396
Evid Based Complement Alternat Med. 2014;2014:910438.
Antioxidant and Anti-Inflammatory Activities of Phenolic-Enriched Extracts of Smilax glabra.[Pubmed:
25477999
]
Smilax glabra Roxb. has been used for a long time as both food and folk medicine.
METHODS AND RESULTS:
In the present study, phenolic-enriched extract of S. glabra (PEESG) was extracted with 70% ethanol and purified by HP-20 column chromatography. Its antioxidant and anti-inflammatory activities were evaluated by radical scavenging assay, reducing power determination, and lipopolysaccharide (LPS)-induced RAW264.7 cells assays, respectively. PEESG exhibited obviously scavenging capacity for DPPH and ABTS radicals, as well as significant reducing power for ferric ion. Particularly, PEESG (12.5-50 μg/mL) showed a significantly higher efficiency for scavenging ABTS than that of ascorbic acid and no significant difference with ascorbic acid for DPPH scavenging. PEESG also possessed a significant suppression effect on proinflammatory mediators production, such as nitric oxide (NO), tumor necrosis factor-α (TNF-α), and interleukin-6 (IL-6), in LPS-induced RAW264.7 cells. In addition, the main ingredients of PEESG were identified using ultrahigh pressure liquid chromatography coupled to electrospray mass spectrometry (U-HPLC-ESI-MS). Seventeen components, including 5-O-caffeoylshikimic acid, neoastilbin, astilbin, Neoisoastilbin, isoastilbin, engetin and isoengeletin were identified.
CONCLUSIONS:
These findings strongly suggest the potential of PEESG as a natural antioxidant and anti-inflammatory agent.
J Pharm Biomed Anal. 2013 Apr 15;77:44-8.
Macrophage biospecific extraction and HPLC-ESI-MSn analysis for screening immunological active components in Smilacis Glabrae Rhizoma.[Pubmed:
23384550
]
A cell-permeable membrane, as typified by Transwell insert Permeable Supports, permit accurate repeatable invasion assays, has been developed as a tool for screening immunological active components in Smilacis Glabrae Rhizoma (SGR).
METHODS AND RESULTS:
In this research, components in the water extract of SGR (ESGR) might conjugate with the receptors or other targets on macrophages which invaded Transwell inserts, and then the eluate which contained components biospecific binding to macrophages was identified by HPLC-ESI-MS(n) analysis. Six compounds, which could interact with macrophages, were detected and identified. Among these compounds, taxifolin (2) and astilbin (4) were identified by comparing with the chromatography of standards, while the four others including 5-O-caffeoylshikimic acid (1), neoastilbin (3), Neoisoastilbin (5) and isoastilbin (6), were elucidated by their structure clearage characterizations of tandem mass spectrometry. Then compound 1 was isolated and purified from SGR, along with 2 and 4, was applied to the macrophage migration and adhesion assay in HUVEC (Human Umbilical Vein Endothelial Cells) -macrophages co-incultured Transwell system for immunological activity assessment. The results showed that compounds 1, 2 and 4 with concentration of 5μM (H), 500nM (M) and 50nM (L) could remarkably inhibit the macrophage migration and adhesion (Vs AGEs (Advanced Glycation End Produces) group, 1-L, 2-H and 4-L groups: p<0.05; other groups: p<0.01). Moreover, 1 and 4 showed satisfactory dose-effect relationship.
CONCLUSIONS:
In conclusion, the application of macrophage biospecific extraction coupled with HPLC-ESI-MS(n) analysis is a rapid, simple and reliable method for screening immunological active components from Traditional Chinese Medicine.