Neoastilbin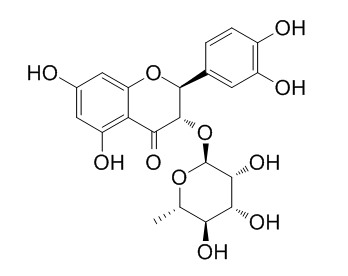 Neoastilbin may have antioxidant and anti-inflammatory activities, it shows potent inhibition of lens aldose reductase.
Inquire / Order: manager@chemfaces.com
Technical Inquiries: service@chemfaces.com
Tel: +86-27-84237783
Fax: +86-27-84254680

Address:
1 Building, No. 83, CheCheng Rd., Wuhan Economic and Technological Development Zone, Wuhan, Hubei 430056, PRC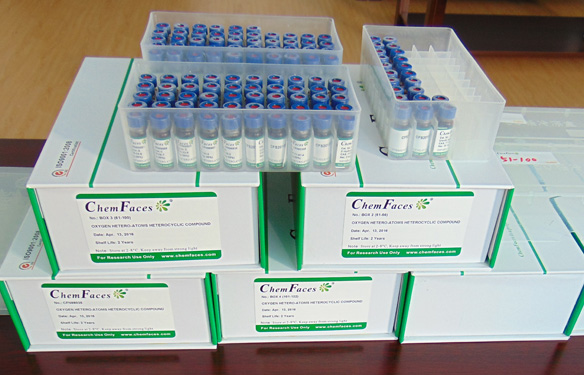 Providing storage is as stated on the product vial and the vial is kept tightly sealed, the product can be stored for up to
24 months(2-8C)
.
Wherever possible, you should prepare and use solutions on the same day. However, if you need to make up stock solutions in advance, we recommend that you store the solution as aliquots in tightly sealed vials at -20C. Generally, these will be useable for up to two weeks. Before use, and prior to opening the vial we recommend that you allow your product to equilibrate to room temperature for at least 1 hour.
Need more advice on solubility, usage and handling? Please email to: service@chemfaces.com
The packaging of the product may have turned upside down during transportation, resulting in the natural compounds adhering to the neck or cap of the vial. take the vial out of its packaging and gently shake to let the compounds fall to the bottom of the vial. for liquid products, centrifuge at 200-500 RPM to gather the liquid at the bottom of the vial. try to avoid loss or contamination during handling.
Mol Med Rep.2015, 12(5):7789-95
Int J Mol Sci.2019, 20(23):E6071
Nat Plants.2016, 3:16205
JPC-Journal of Planar Chromatography 2017, 30(2)
Food Chem.2018, 252:207-214
Kor. J. Herbol.2019, 34(2):59-66
Chem Biol Interact.2016, 260:168-175
Molecules2020, 25(4):892
Antioxidants (Basel).2019, 8(8):E307
Journal of Ginseng Research2019, 10.1016
Evid Based Complement Alternat Med. 2014;2014:910438.
Antioxidant and Anti-Inflammatory Activities of Phenolic-Enriched Extracts of Smilax glabra.[Pubmed:
25477999
]
Smilax glabra Roxb. has been used for a long time as both food and folk medicine.
METHODS AND RESULTS:
In the present study, phenolic-enriched extract of S. glabra (PEESG) was extracted with 70% ethanol and purified by HP-20 column chromatography. Its antioxidant and anti-inflammatory activities were evaluated by radical scavenging assay, reducing power determination, and lipopolysaccharide (LPS)-induced RAW264.7 cells assays, respectively. PEESG exhibited obviously scavenging capacity for DPPH and ABTS radicals, as well as significant reducing power for ferric ion. Particularly, PEESG (12.5–50 μg/mL) showed a significantly higher efficiency for scavenging ABTS than that of ascorbic acid and no significant difference with ascorbic acid for DPPH scavenging. PEESG also possessed a significant suppression effect on proinflammatory mediators production, such as nitric oxide (NO), tumor necrosis factor- α (TNF- α ), and interleukin-6 (IL-6), in LPS-induced RAW264.7 cells. In addition, the main ingredients of PEESG were identified using ultrahigh pressure liquid chromatography coupled to electrospray mass spectrometry (U-HPLC-ESI-MS). Seventeen components, including 5-O-caffeoylshikimic acid, Neoastilbin, astilbin, neoisoastilbin, isoastilbin, engetin and isoengeletin were identified.
CONCLUSIONS:
These findings strongly suggest the potential of PEESG as a natural antioxidant and anti-inflammatory agent.
Experientia. 1996 Jun 15;52(6):564-7.
Inhibition of aldose reductase by dihydroflavonols in Engelhardtia chrysolepis and effects on other enzymes.[Pubmed:
8698090
]

METHODS AND RESULTS:
Astilbin and Neoastilbin, dihydroflavonol rhamnosides from Engelhardtia chrysolepis, showed potent inhibition of lens aldose reductase.
CONCLUSIONS:
Kinetic analysis showed astilbin exhibited uncompetitive inhibition against both dl-glyceraldehyde and NADPH. These taxifolin glycosides were selective inhibitors of aldose reductase with no inhibition of NADH oxidase.
Zhongguo Zhong Yao Za Zhi. 2004 Sep;29(9):867-70.
Studies on dihydroflavonol glycosides from rhizome of Smilax glabra.[Pubmed:
15575206
]
To investigate the chemical constituents from the rhizomes of Smilax glabra.
METHODS AND RESULTS:
The compounds were isolated by column chromatography with silica gel, Diaion HP-20 and ODS as packing materials, and HPLC. Their structures were determined on the basis of their spectral evidence. 5 dihydro-flavonol glycosides were identified as: astilbin (1), Neoastilbin (2), isoastilbin (3), neoisoastilbin (4), (2R, 3R)-taxifolin-3'-O-beta-D-pyranglucoside (5).
CONCLUSIONS:
Compounds 2, 4, 5 were isolated from this plant for the first time.