Isoastilbin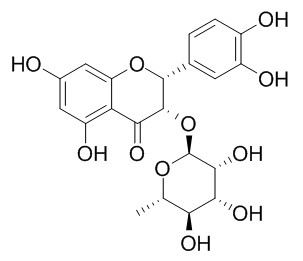 Isoastilbin has anti-acne and tyrosinase inhibition properties.Isoastilbin, neoastilbin, astilbin and taxifolin have antimicrobial activities, they depress the growth of Streptococcus sobrinus (S. sobrinus) over a concentration range of 9.32-42.7 ug/ml and show GTase inhibitory activity with IC50 values in the range 27.4-57.3 ug/ml.
Inquire / Order: manager@chemfaces.com
Technical Inquiries: service@chemfaces.com
Tel: +86-27-84237783
Fax: +86-27-84254680

Address:
1 Building, No. 83, CheCheng Rd., Wuhan Economic and Technological Development Zone, Wuhan, Hubei 430056, PRC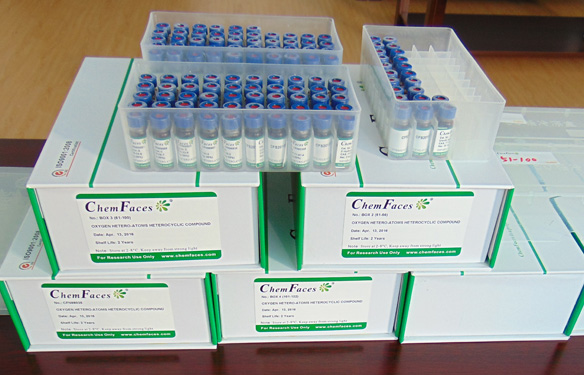 Providing storage is as stated on the product vial and the vial is kept tightly sealed, the product can be stored for up to
24 months(2-8C)
.
Wherever possible, you should prepare and use solutions on the same day. However, if you need to make up stock solutions in advance, we recommend that you store the solution as aliquots in tightly sealed vials at -20C. Generally, these will be useable for up to two weeks. Before use, and prior to opening the vial we recommend that you allow your product to equilibrate to room temperature for at least 1 hour.
Need more advice on solubility, usage and handling? Please email to: service@chemfaces.com
The packaging of the product may have turned upside down during transportation, resulting in the natural compounds adhering to the neck or cap of the vial. take the vial out of its packaging and gently shake to let the compounds fall to the bottom of the vial. for liquid products, centrifuge at 200-500 RPM to gather the liquid at the bottom of the vial. try to avoid loss or contamination during handling.
Sci Rep.2015, 5:13194
Oncology Letters2018, 4690-4696
Arch Toxicol.2017, 91(10):3225-3245
Invest New Drugs.2017, 35(2):166-179
Exp Parasitol.2017, 183:160-166
J Chromatogr A.2017, 1518:46-58
J Ethnopharmacol.2020, 249:112396
Phytochem Anal.2013, 24(5):493-503
ARPN Journal of Eng.& Applied Sci.2016, 2199-2204
Cancer Manag Res.2019, 11:483-500
J. Wood Sci., 2009, 55(4):308-13.
Antimicrobial activity against Streptococcus sobrinus and glucosyltransferase inhibitory activity of taxifolin and some flavanonol rhamnosides from kempas (Koompassia malaccensis) extracts[Reference:
WebLink
]
Twenty plant materials collected from the islands of Java and Kalimantan in Indonesia were extracted with 50% aqueous ethanol (crude extract).
METHODS AND RESULTS:
The crude extracts were assayed for antimicrobial activities against Streptococcus sobrinus and for glucosyltransferase (GTase) inhibition. Fourteen extracts inhibited the growth of S. sobrinus by more than 50% and six extracts inhibited GTase activity by more than 50% at a concentration of 100 μg/ml. Koompassia malaccensis (kempas) extracts showed 90% depression of S. sobrinus growth and 80% inhibition of GTase activity at a concentration of 100 μg/ml. Kempas crude extracts were subjected to column chromatography using Sephadex LH-20 and then preparative high-performance liquid chromatography to isolate four compounds A, B, C, and D. These compounds were identified as taxifolin and the flavanonol rhamnoside isomers neoastilbin, astilbin, and Isoastilbin, respectively, from 1H and 13C nuclear magnetic resonance (NMR) spectra and other two-dimensional NMR techniques (COSY, HMBC, and HMQC). Each compound depressed the growth of S. sobrinus over a concentration range of 9.3242.7 μg/ml and showed GTase inhibitory activity with IC₅₀ values in the range 27.4-57.3 μg/ml.
CONCLUSIONS:
Taxifolin and flavanonol rhamnoside isomers isolated for the first time from kempas could be potent compounds for preventing dental caries.
Wood Research Journal ,2010, 1(1):45-9.
Anti-acne and Tyrosinase Inhibition Properties of Taxifolin and Some Flavanonol Rhamnosides from Kempas ( Koompassia malaccensis )[Reference:
WebLink
]
Taxifolin (1) and some flavanonol rhamnosides (neoastilbin (2), astilbin (3), and Isoastilbin (4)) have been isolated from kempas (Koompassia malaccensis). Our previous research about antimicrobial activity against Streptococcus sobrinus and glucosyltransferase inhibitory activity of these compounds have been reported.
METHODS AND RESULTS:
Now, we carried out the antiacne and tyrosinase inhibition properties of all four compounds. Antimicrobial against Propionibacterium acnes, P. acnes lipase inhibitory activity and antioxidant activity were established for anti-acne activity. Tyrosinase inhibition property was measured using L-tyrosine and L-DOPA as substrate. The results for anti-acne showed that no antimicrobial activity against P. acnes for all compounds, the best lipase inhibition properties showed on compound 4 with IC50 about 1.36 g/ml, and % inhibition for antioxidant at concentration 10 g/ml are 31.16, 25.64, 28.47, and 31.01% respectively. Tyrosinase inhibition of compound 1 at concentration 1 mg/ml is 24.12% for monophenolase and 5.18% for diphenolase. Compound 2 has tyrosinase inhibition about 25.95% (monophenolase) and 14.18% (diphenolase) at concentration 1 mg/ml. Compound 3 has tyrosinase inhibition about 27.17% (monophenolase) and 6.23% (diphenolase) at same concentration, while compound 4 has tyrosinase inhibition about 11.17% (monophenolase) and 9.75% (diphenolase).
Yao Xue Xue Bao. 1996;31(10):761-3.
Studies on the structure of isoastilbin.[Pubmed:
9863244
]
A new compound was isolated from Smilax glabra Roxb., named Isoastilbin. It was identified as 5, 7, 3', 5'-tetrahydroxyl-flavanonol-3-O-alpha-L-rhamnopyranoside by means of chemical and spectrometric analysis (UV, IR, 1H-NMR, 13C-NMR, 2DNMR and FAB-MS).