Juglanin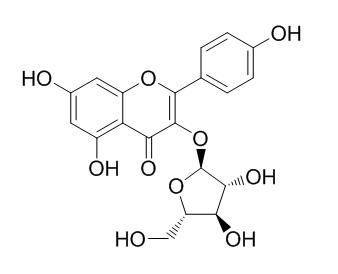 Juglanin has anti-tumor, antioxidant,and hepatoprotective activities. Juglanin shows protective effects on fructose-induced hepatitis by inhibiting inflammation and apoptosis through TLR4 and JAK2/STAT3 signaling pathways in fructose-fed rats. Juglanin can lead to G2/M phase arrest, induce apoptosis as well as autophagy through the ROS/JNK signaling pathway in human breast cancer cells
Inquire / Order: manager@chemfaces.com
Technical Inquiries: service@chemfaces.com
Tel: +86-27-84237783
Fax: +86-27-84254680

Address:
1 Building, No. 83, CheCheng Rd., Wuhan Economic and Technological Development Zone, Wuhan, Hubei 430056, PRC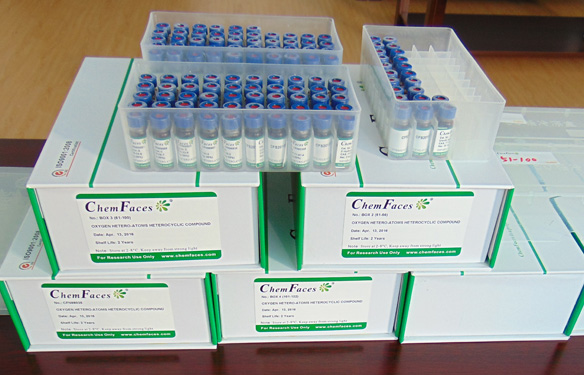 Providing storage is as stated on the product vial and the vial is kept tightly sealed, the product can be stored for up to
24 months(2-8C)
.
Wherever possible, you should prepare and use solutions on the same day. However, if you need to make up stock solutions in advance, we recommend that you store the solution as aliquots in tightly sealed vials at -20C. Generally, these will be useable for up to two weeks. Before use, and prior to opening the vial we recommend that you allow your product to equilibrate to room temperature for at least 1 hour.
Need more advice on solubility, usage and handling? Please email to: service@chemfaces.com
The packaging of the product may have turned upside down during transportation, resulting in the natural compounds adhering to the neck or cap of the vial. take the vial out of its packaging and gently shake to let the compounds fall to the bottom of the vial. for liquid products, centrifuge at 200-500 RPM to gather the liquid at the bottom of the vial. try to avoid loss or contamination during handling.
FEMS Microbiol Lett.2017, 364(11)
International. J. of Food Properties 2017, 20:S131-S140
Nutrients.2018, 10(10)
Nutrients2020, 12(2):488
Chinese Pharmacological Bulletin2019, 35(8):1120-1125
Naunyn Schmiedebergs Arch Pharmacol.2017, 390(10):1073-1083
Drug Des Devel Ther.2020, 14:61-71
Nutrients.2019, 12(1)
Molecules.2019, 24(4):E744
Molecules.2019, 24(1):E159
Biomedicine & Pharmacotherapy, 2016 ,81 :318-28.
The protective effect of juglanin on fructose-induced hepatitis by inhibiting inflammation and apoptosis through TLR4 and JAK2/STAT3 signaling pathways in fructose-fed rats.[Pubmed:
27261609
]
High fructose-feeding is an essential causative factor leading to the development and progression of hepatitis associated with high levels of endotoxin (LPS). Juglanin, as a natural compound extracted from the crude Polygonum aviculare, displayed inhibitory activity against inflammation response and cancer growth. However, researches about its role on anti-inflammation and apoptosis are far from available.
METHODS AND RESULTS:
Here, it is the first time that Juglanin was administrated to investigate whether it inhibits fructose-feeding-induced hepatitis in rats and to elucidate the possible mechanism by which Juglanin might recover it. Fructose-feeding rats were orally administrated with Juglanin of 5, 10 and 20mg/kg for 6 weeks, respectively. Juglanin exerted prevention of fructose-feeding-stimulated increased LPS levels, accelerated alanine transaminase (ALT), aspartate transaminase (AST) and alkaline phosphatase (ALP) and up-regulated inflammatory cytokines expression in serum, mainly including tumor necrosis factor-alpha (TNF-a), Interleukin 1beta (IL-1β), Interleukin 6 (IL-6) and Interleukin 18 (IL-18). Meanwhile, toll-like receptor 4 (TLR4)-modulated mitogen-activated protein kinase (MAPK)/nuclear factor kappa B (NF-κB) and apoptosis-related Janus kinase 2 (JAK2)/signal transducer and activator of transcription 3 (STAT3) signaling pathway are involved in the progression of hepatic injury and inflammation. And Juglanin was found to suppress fructose-feeding-induced activation of these signaling pathways compared with the model group administrated only with fructose.
CONCLUSIONS:
These results indicate that Juglanin represses inflammatory response and apoptosis via TLR4-regulated MAPK/NF-κB and JAK2/STAT3 signaling pathway respectively in rats with hepatitis induced by LPS for fructose-feeding. Treatment of Juglanin might be an effective therapeutic strategy for preventing hepatitis.
Biomed Pharmacother. 2017 Jan;85:303-312.
Juglanin induces apoptosis and autophagy in human breast cancer progression via ROS/JNK promotion.[Pubmed:
27899257
]
Breast cancer is one of the most common primary malignant tumors of among women, the long-term survival of which has stagnated in the past decades. Juglanin as a natural production mainly extracted from green walnut husks of Juglans mandshurica has been defined as the functional composition among a series of compounds. It showed powerful protective effect in various diseases by inhibiting inflammation and tumor cells growth. However, the effect of Juglanin on human breast cancer and the underlying mechanisms remains to be elucidated.
METHODS AND RESULTS:
We reported here that Juglanin could inhibit cell proliferation by leading to G2/M phase arrest. Exposure to Juglanin resulted in the activation of cleaved caspase -3, -8, and -9, indicating that Juglanin induced apoptosis. Autophagy occurred in Juglanin-treated cells as evidenced by formation of autophagosome and up-regulation of LC3B-II. The Juglanin-induced cell death was significantly restored by the combination of autophagy and apoptosis. Further, Juglanin also induced JNK activation and ROS production. The JNK inhibitor attenuated Juglanin-caused apoptosis and autophagy significantly while ROS scavenger could reverse them. In addition, the ROS scavenger also inhibited G2/M phase arrest and phosphorylated JNK. Of note, we found that Juglanin had the similar effects on breast cancer cells. Finally, Juglanin inhibited tumor growth in the mouse xenograft model in vivo.
CONCLUSIONS:
Together, our results suggested that Juglanin led to G2/M phase arrest, induced apoptosis as well as autophagy through the ROS/JNK signaling pathway in human breast cancer cells. Hence, Juglanin might be a promising candidate for development of anti-tumor drugs targeting breast cancer.
Arch Pharm Res. 2010 Feb;33(2):203-8.
Two new C-glucosyl benzoic acids and flavonoids from Mallotus nanus and their antioxidant activity.[Pubmed:
20195819
]

METHODS AND RESULTS:
Two new 2-C-beta-D-glucopyranosyl benzoic acid derivatives named mallonanosides A (1) and B (2) were isolated from the methanolic extract of the leaves of Mallotus nanus along with five known flavonoids, kaempferin (3), Juglanin (4), quercitrin (5), myricitrin (6), and rhoifolin (7). Their structures were established on the basis of spectral and chemical evidence.
CONCLUSIONS:
Their antioxidant activities were shown to depend on the number of hydroxyl groups, and the location and species of sugar moiety.