Fragransin B1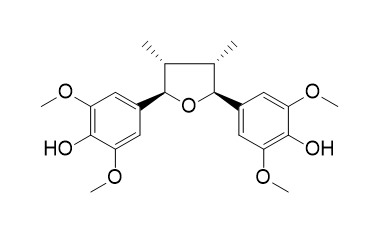 Fragransin B1 has antiprotozoal activity and is cytotoxic to rat myoblast L6 cells.
Inquire / Order: manager@chemfaces.com
Technical Inquiries: service@chemfaces.com
Tel: +86-27-84237783
Fax: +86-27-84254680

Address:
1 Building, No. 83, CheCheng Rd., Wuhan Economic and Technological Development Zone, Wuhan, Hubei 430056, PRC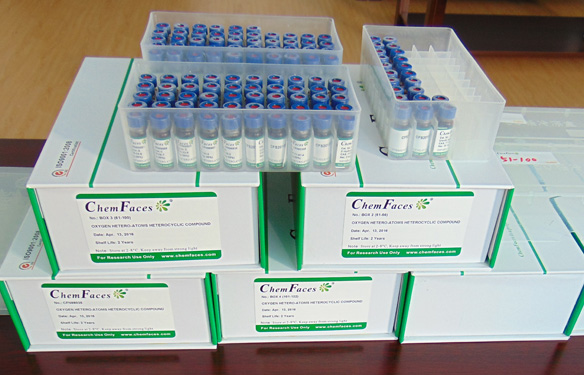 Providing storage is as stated on the product vial and the vial is kept tightly sealed, the product can be stored for up to
24 months(2-8C)
.
Wherever possible, you should prepare and use solutions on the same day. However, if you need to make up stock solutions in advance, we recommend that you store the solution as aliquots in tightly sealed vials at -20C. Generally, these will be useable for up to two weeks. Before use, and prior to opening the vial we recommend that you allow your product to equilibrate to room temperature for at least 1 hour.
Need more advice on solubility, usage and handling? Please email to: service@chemfaces.com
The packaging of the product may have turned upside down during transportation, resulting in the natural compounds adhering to the neck or cap of the vial. take the vial out of its packaging and gently shake to let the compounds fall to the bottom of the vial. for liquid products, centrifuge at 200-500 RPM to gather the liquid at the bottom of the vial. try to avoid loss or contamination during handling.
Applied Biological Chemistry 2022, 65,5(2022).
Front Immunol.2020, 11:598556.
Food Chem.2023, 404(Pt A):134517.
Sci Rep.2019, 9:12132
Journal of Ginseng Research2021, 15 June.
J Nat Prod.2017, 80(4):854-863
J Sci Food Agric.2022, 102(4):1628-1639
J. of Agricultural Science2015, 1916-9760
J Sep Sci.2018, 41(7):1682-1690
Nutr Metab (Lond).2019, 16:31
Molecules . 2020 Jun 19;25(12):2825.
Lignans, Amides, and Saponins from Haplophyllum tuberculatum and Their Antiprotozoal Activity[Pubmed:
32575379
]
A screening of Sudanese medicinal plants for antiprotozoal activities revealed that the chloroform and water fractions of the ethanolic root extract of Haplophyllum tuberculatum exhibited appreciable bioactivity against Leishmania donovani. The antileishmanial activity was tracked by HPLC-based activity profiling, and eight compounds were isolated from the chloroform fraction. These included lignans tetrahydrofuroguaiacin B (1), nectandrin B (2), furoguaiaoxidin (7), and 3,3'-dimethoxy-4,4'-dihydroxylignan-9-ol (10), and four cinnamoylphenethyl amides, namely dihydro-feruloyltyramine (5), (E)-N-feruloyltyramine (6), N,N'-diferuloylputrescine (8), and 7'-ethoxy-feruloyltyramine (9). The water fraction yielded steroid saponins 11-13. Compounds 1, 2, and 5-13 are reported for the first time from Haplophyllum species and the family Rutaceae. The antiprotozoal activity of the compounds plus two stereoisomeric tetrahydrofuran lignans-fragransin B2 (3) and Fragransin B1 (4)-was determined against Leishmania donovani amastigotes, Plasmodium falciparum, and Trypanosoma brucei rhodesiense bloodstream forms, along with their cytotoxicity to rat myoblast L6 cells. Nectandrin B (2) exhibited the highest activity against L. donovani (IC50 4.5 μM) and the highest selectivity index (25.5).
Nat Prod Res . 2019 Apr;33(8):1204-1208.
Phytochemical investigation on Myristica fragrans stem bark[Pubmed:
29607669
]
Myristica fragrans Houtt., the source of very important spice 'nutmeg' used world over is native to India, Indonesia, Sri Lanka, South Africa and Southeast Asia. Phytochemical investigation of M. fragrans stem bark led to the isolation of bis-aryl dimethyl tetrahydrofuran lignans, such as grandisin [(7S,8S,7'S,8'S)-3,3',4,4',5,5'-hexamethoxy-7,7',8,8'-lignan] and (7S,8S,7'R,8'R)-3,3',4,4',5,5'-hexamethoxy-7,7',8,8'-lignan along with important lignans and neolignans, licarinA, licarin B, odoratisol A, (2S, 3R)-7-methoxy-3-methyl-5-((E)-prop-1-enyl)-2-(5-methoxy,3,4-methylenedioxyphenyl)-2,3-dihydrobenzofuran, elemicin, Fragransin B1, raphidecursinol B, erythro-(7S,8R)-Δ8'-4,7-dihydroxy-3,5,3'-trimethoxy-8-O-4'-neolignan, erythro-(7S,8R)-Δ8'-7-hydroxy-3,4,3',5'-tetramethoxy-8-O-4'-neolignan, surinamensin.and β-sitosterol. Structures of the 12 compounds isolated were unambiguously identified by various spectroscopic methods. The former two compounds were isolated from M. fragrans for the first time. Furthermore, the X-ray crystal structure of odoratisol A is reported in this paper for the first time.
Chem Pharm Bull (Tokyo) . 2008 Aug;56(8):1143-1146.
Three new compounds from Kadsura longipedunculata[Pubmed:
18670115
]
Two new tetrahydrofuran lignans, kadlongirins A and B (1, 2), a new cadinane-type sesquiterpenoid, 2,7-dihydroxy-11,12-dehydrocalamenene (3), together with seven known lignans, grandisin, Fragransin B1, vladirol F, kadsuralignan C, otobaphenol, isoanwulignan, and 4-[4-(3,4-dimethoxyphenyl)-2,3-dimethylbutyl]-2-methoxy-phenol, were isolated from the leaves and stems of Kadsura longipedunculata. The structures of these new compounds were elucidated by spectroscopic methods. Compound 2 exhibited weak anti-human immunodeficiency virus-1 activity with an EC50 value of 16.0 microg/ml, and therapeutic index (TI) value of 6.7.